SB 50 – THE MORE
HOMES ACT

Senate Bill 50 would have legalized more homes near key job centers and public transportation. It included strong protections against displacement for renters and vulnerable communities in those areas.
The bill sought to ensure that the benefits of public investments in transportation and other amenities like parks, health care providers, and good schools are broadly accessible to Californians of all incomes. It proposed a default zoning program for cities that chose not to adopt their own local plans.
SB 50's default program would've allowed more density on sites that are either within ½ mile of high-quality public transportation or within a job-rich, high-opportunity neighborhood close to key job centers. In both cases, the bill included specific requirements to provide low-income housing in new development to ensure that market-rate construction is always coupled with affordable units for the lowest income Californians.
In addition to relieving California's acute housing shortage and affordability crisis, it would have been a major contributor to climate mitigation by reducing pollution from car travel.
Click here for the official fact sheet.
Click here for the MapCraft analysis of SB 50.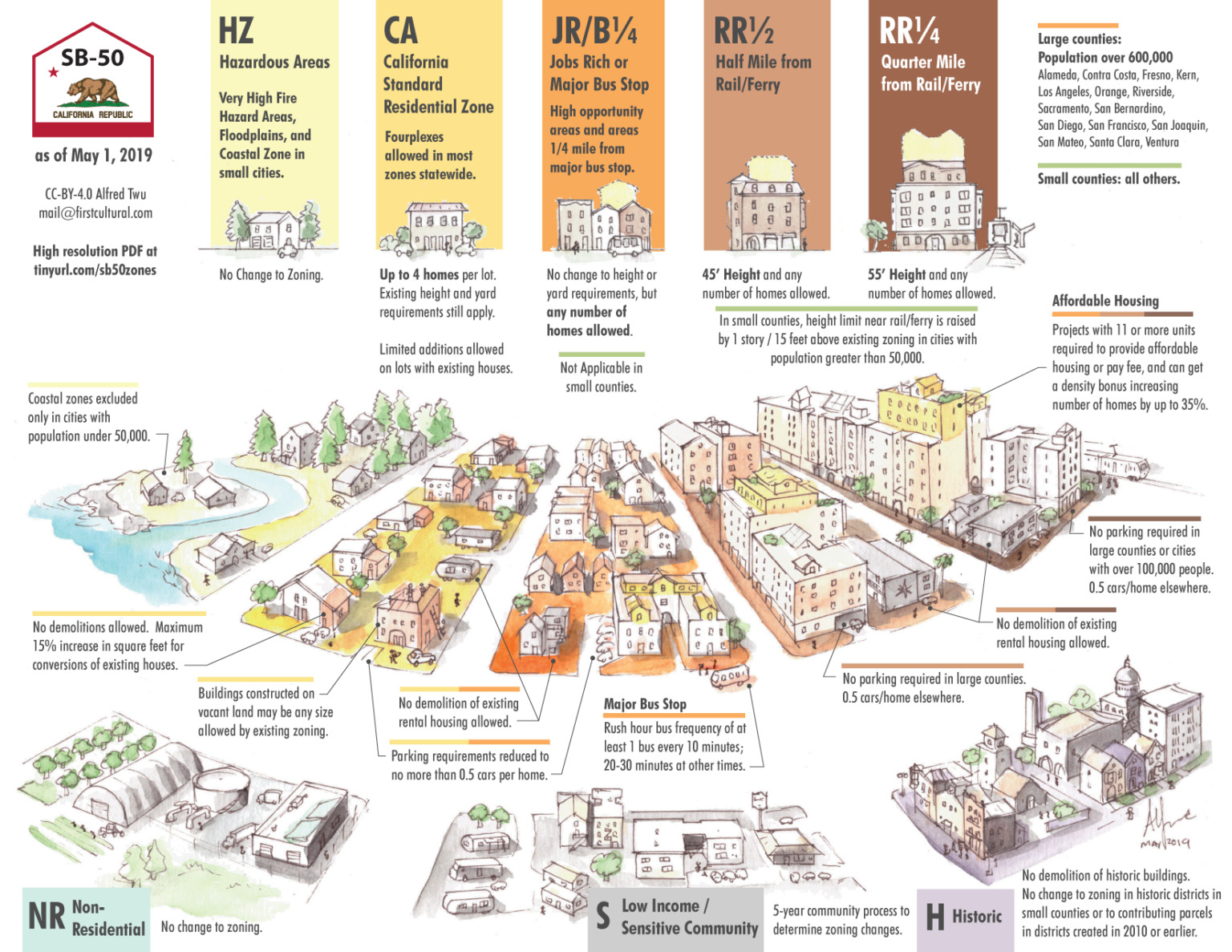 Author: Senator Scott Wiener (D, SD 11)
Co-authors:
Sen. Anna Caballero (D-Salinas)
Sen. Ben Hueso (D-San Diego)
Sen. Mike McGuire (D-Healdsburg)
Sen. John Moorlach (R-Costa Mesa)
Sen. Richard Roth (D-Riverside)
Sen. Nancy Skinner (D-Berkeley)
Asm. Kansen Chu (D-San Jose)
Asm. Tyler Diep (R-Westminster)
Asm. Vince Fong (R-Bakersfield)
Asm. Ash Kalra (D-San Jose)
Asm. Kevin Kiley (R-Rocklin)
Asm. Evan Low (D-Campbell)
Asm. Kevin McCarty (D-Sacramento)
Asm. Sharon Quirk-Silva (D- Fullerton)
Asm. Robert Rivas (D-Hollister)
Asm. Phil Ting (D-San Francisco)
Asm. Buffy Wicks (D-Oakland)
Sponsors: California YIMBY, along with the Non-Profit Housing Association of Northern California and the California Association of Realtors
Resolution:
After being held in Appropriations in 2019, the Senate failed to advance SB 50 in January 2020.
Senate Floor (1/30/2020): 18 Yes / 15 No