AB 68 – The Housing and Climate
Solutions Act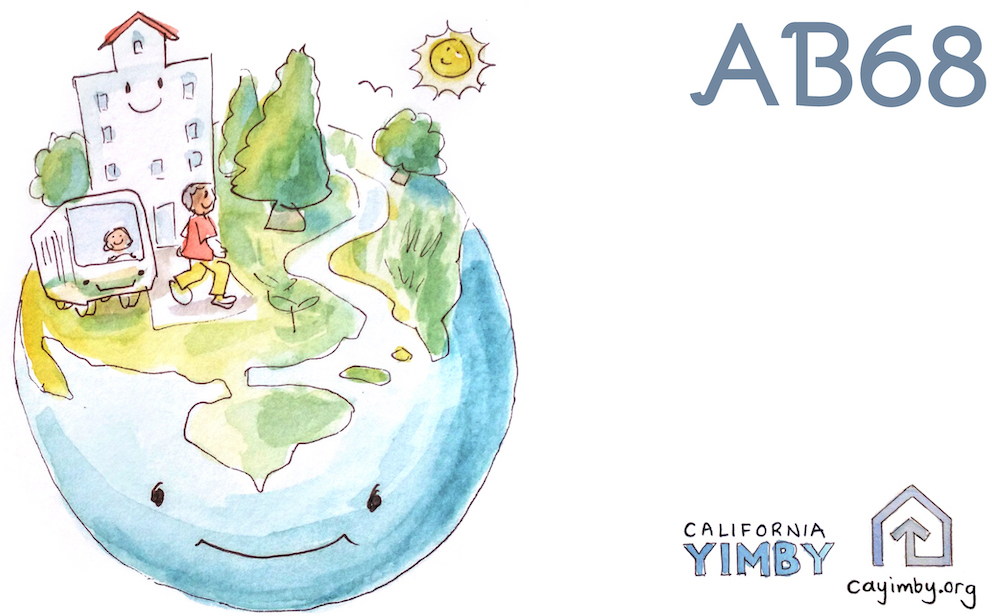 AB 68 will help alleviate California's housing crisis and reduce climate change risk by streamlining approvals for new homes near jobs, schools, transit, and other resources, and in areas local governments have already identified as a priority for infill housing. By accelerating development of new homes away from areas of high fire and flood risk, and increasing the number of homes that can be built in walkable and transit-adjacent neighborhoods, AB 68 will make California more affordable and sustainable, while reducing the pollution that causes climate change.
California's housing shortage and affordability crisis is increasing the pollution that causes climate change, exacerbating the risk of deadly and destructive wildfires while simultaneously forcing more Californians to live in harms' way. According to climate scientists, the number one thing coastal California cities can do to address climate change is to legalize infill, multi-family housing near jobs, schools, and transit.
For decades, planners and climate experts have known that restrictions and bans on multi-family, infill housing in our cities force new housing growth into remote areas that are more vulnerable to wildfires, flooding, and other climate-related impacts. These housing bans also lead to more pollution from cars, since residents must drive further from their homes to get to work, go to the grocery store, or take their children to school.
Low-income residents and communities of color are disproportionately impacted by these housing policies. Many traditionally whiter, wealthier communities near job centers have passed policies that prevent the construction of smaller, more naturally-affordable housing, forcing local workers and their families to endure long commutes to find housing they can afford.
This often means moving to areas that are more vulnerable to climate-driven disasters. Right now, one quarter of Californians live in an area that is considered high risk for a catastrophic wildfire.
AB 68 will make it faster, cheaper, and easier to build housing near jobs, schools, parks, transit, and other resources, and in areas local governments have already identified as good locations for housing.
Under existing state law, local governments have developed plans called "Sustainable Communities Strategies" (SCS) and Master Environmental Impact Reports (EIR), designed to help a region build more homes to accommodate growth while minimizing the pollution that causes climate change. By focusing growth in existing communities, these plans also help protect environmentally sensitive lands.
AB 68 will accelerate approvals for new homes in areas that local governments have already determined to be "climate safe" in their SCS and MEIR plans.
To ensure development occurs in an environmentally responsible manner and creates more equitable housing opportunities, AB 68 provides for streamlined approvals for increased housing density in areas within walking distance of resources like parks, schools, transit stops, grocery stores, and small businesses.
The bill also creates new sustainability criteria for the development of homes on natural and working lands outside of existing communities. Under the proposed criteria, local governments must demonstrate that housing growth on natural and working lands, such as farms and open space, is necessary to meet local housing needs.
The criteria are designed to reduce the impacts of sprawl development in areas prone to wildfires and floods, while protecting natural and working lands that are critical for climate resilience.
Author: Ward (D, AD 78)
Co-sponsors: California YIMBY, The Nature Conservancy
Resources:
Media: