AB 1401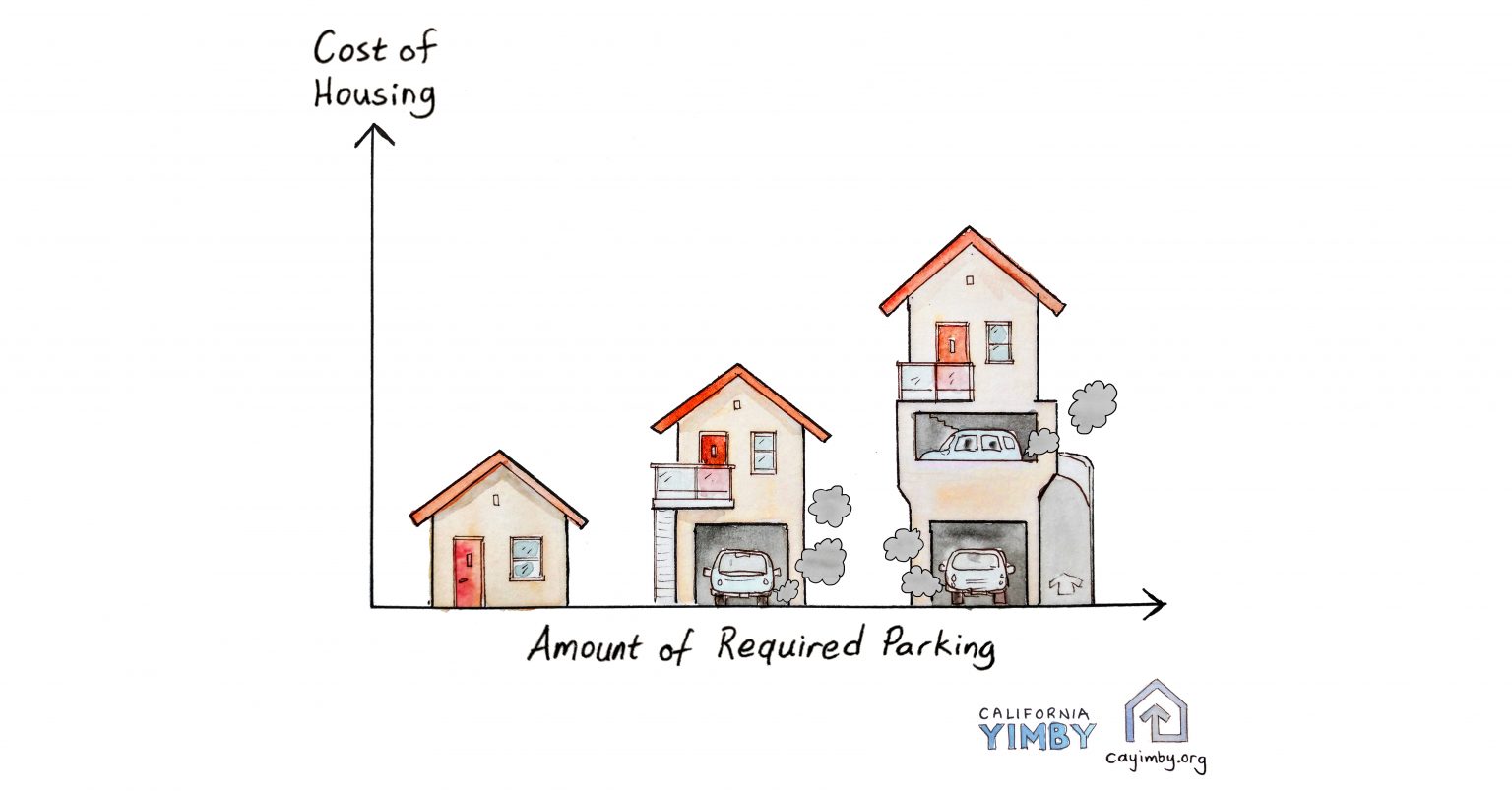 AB 1401 will eliminate parking mandates for homes and commercial buildings near transit, or in neighborhoods with low rates of car use in counties with more than 600,000 residents.
Parking mandates, which are common in cities throughout California, increase the cost of housing — a single parking space can add $80,000 or more to the cost of construction — and drive up the pollution that causes climate change.
Eliminating parking mandates will give Californians more choices about whether they want to pay for parking, or have lower-cost housing in walkable, transit-accessible neighborhoods. California cities are currently over-producing parking — Los Angeles alone has 200 square miles of parking — largely because of rules that require the construction of parking with each new unit of housing or commercial business. AB 1401 increases housing choice and will make it easier to provide lower-cost, walkable- and transit-accessible housing across the state.
Updates:
8/27/2021: Although AB 1401 received strong support in the Assembly, it was held by the Senate Appropriations Committee.
Resources:
Author: Friedman (D, AD 43)
Coauthors: Lee (D, AD 25), Skinner (D, SD 9), and Wiener (D, SD 11)
Co-Sponsors: California YIMBY, San Francisco Bay Area Planning and Urban Research Association (SPUR), Abundant Housing LA, Council of Infill Builders
Press Coverage
Will 2021 be the year California's moves forward on transportation policies? – The Willits News
Bill Would Eliminate Problematic Minimum Parking Requirements – Streets Blog Cal
Eliminate parking requirements: Housing people is more important than housing cars – LA Times
Cities Need Housing. Parking Requirements Make it Harder. – Bloomberg City Lab
Supporters
SPUR (co-sponsor)
California YIMBY (co-sponsor)
Council of Infill Builders (co-sponsor)
Abundant Housing LA (co-sponsor)
350 Bay Area Action
ActiveSGV, a Project of Community Partners Bay Area Council
Bay Area Rapid Transit (BART)
California Apartment Association
California Building Industry Association (CBIA)
California Interfaith Power & Light
California Restaurant Association
Casita Coalition
Central City Association
Chan Zuckerberg Initiative
Circulate San Diego
City of Berkeley's Council District 2
East Bay for Everyone
Fieldstead and Company, INC.
Greenbelt Alliance
Hello Housing
Housing Action Coalition
LISC San Diego
Local Government Commission
Midpen Housing
Modular Building Institute
Mountain View Yimby
Natural Resources Defense Council (NRDC)
Northern Neighbors
Peninsula for Everyone
People for Housing – Orange County
San Francisco Yimby
Silicon Valley Leadership Group
South Bay Yimby
South Pasadena Residents for Responsible Growth
Streets for All
Streets for People Bay Area
Terner Center for Housing Innovation At the University of California, Berkeley
Terry Taplin, City Council Member, City of Berkeley
The Two Hundred
Tmg Partners
West Third Street Parking and Public Improvement Association
Yimby Action
Zach Hilton, City Council Member, City of Gilroy
7 Individuals