The HomeWork: October
7, 2020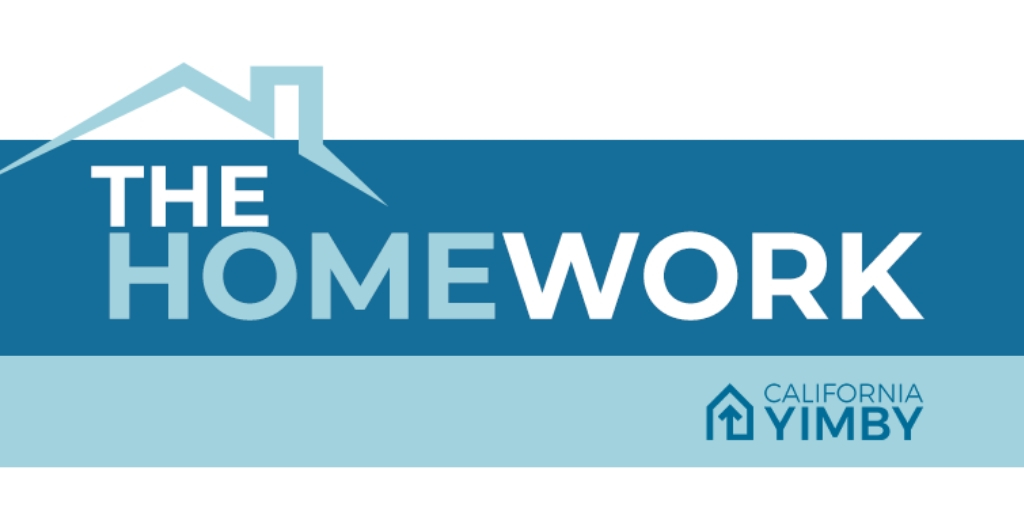 Welcome to the October 7, 2020 Main edition of The HomeWork, the official newsletter of California YIMBY — legislative updates, news clips, housing research and analysis, and the latest writings from the California YIMBY team.
---
News from Sacramento
The Governor signed all but one of the major housing bills we were tracking. AB 69, which would have created a $500 million revolving loan fund for ADU construction, was vetoed over concerns about the cost. But the following housing bills sponsored or co-sponsored by California YIMBY are now state law:
AB 725, which will require cities to include fourplexes as a part of their plans for "missing middle" housing
AB 1851, which will allow faith-based organizations to convert underutilized parking lots to housing
AB 3182, which will make it legal for renters to live in properties managed by a Homeowners' Association (HOA) and help expand development of ADUs
The Governor expressed interest in financing ADUs, but vetoed AB 69 because he thought the form AB 69 took would hurt the state's credit rating. We will likely see some form of ADU finance incentive return in future sessions.
This will likely be one of the last updates from Sacramento until December, when the new class of legislators will be sworn in. In the meantime, if you have an idea for a YIMBY law, please reach out to Louis Mirante at louis@cayimby.org.
Thanks everyone for your support this year!
---
Housing Research & Analysis
The Planet is Begging Us to Drive Less
Climate disasters are mounting across the Golden State. While wildfires are currently raging from north to south, our neighbors are also contending with worsening heat waves and floods — and unless we act urgently, things will only get hotter in years to come.
According to numerous assessments by climate researchers, climate action will require that we reduce the number of miles we drive significantly — at least 30%, by some measures. The UN's Intergovernmental Panel on Climate Change (IPCC) estimates that we will need to reach net zero global CO2 emissions by 2050 to prevent an average temperature increase of 1.5 degrees Celsius.
But transportation infrastructure lasts a long time. A freeway expansion, or gas-guzzling SUV purchased today, will continue to pollute for decades. A new paper by Alarfaj et al (2020) from Carnegie Mellon University explains why drastic reductions in car travel have to be a part of the solution.
Key takeaways:
While there has been progress in decarbonizing electricity, global emissions from transportation are growing.
In order to meet our emissions reduction goals, we would need a market penetration of Electric Vehicles (EVs) at a rate of 67-84%, and a near-total decarbonization of electricity.
Currently, EVs make up just 0.43% of cars on the road. We're not going to meet our emission reduction goals without major policy interventions to reduce demand for cars, while at the same time decarbonizing electricity and ramping up EV adoption.
---
Progressive Transfer Taxes Can Help Fix Housing Inequality
Shane Phillips of UCLA's Lewis Center for Regional Policy Studies has a bold new proposal to raise hundreds of millions of dollars for affordable housing in Los Angeles by taxing real property sales. Key to this proposal is a formula for redressing property tax inequalities by raising transfer taxes on the sale of properties with low effective property tax rates. Such a progressive tax would capture some of the windfall value that California property owners have accrued under Proposition 13. So how does it work?
Key takeaways:
Los Angeles levies remarkably low transfer taxes, while San Francisco has collected $150 million more per year from transfer taxes with just a fraction of the population.
By raising marginal real estate transfer tax rates at a progressive grade, Los Angeles could raise $600 million to $1 billion per year — up to 10% of its annual budget.
By adding a transfer tax multiplier on the difference between assessed value and sale price, properties with low effective property taxes would net even higher taxes at sale.
---
Houser Headlines
---
YIMBY Social—Top Posts
---
Share the good word
We welcome your ideas and feedback — send story tips and ideas to Homework@cayimby.org.
Did someone forward this email to you? Sign up to get it here.