The HomeWork: May
15, 2023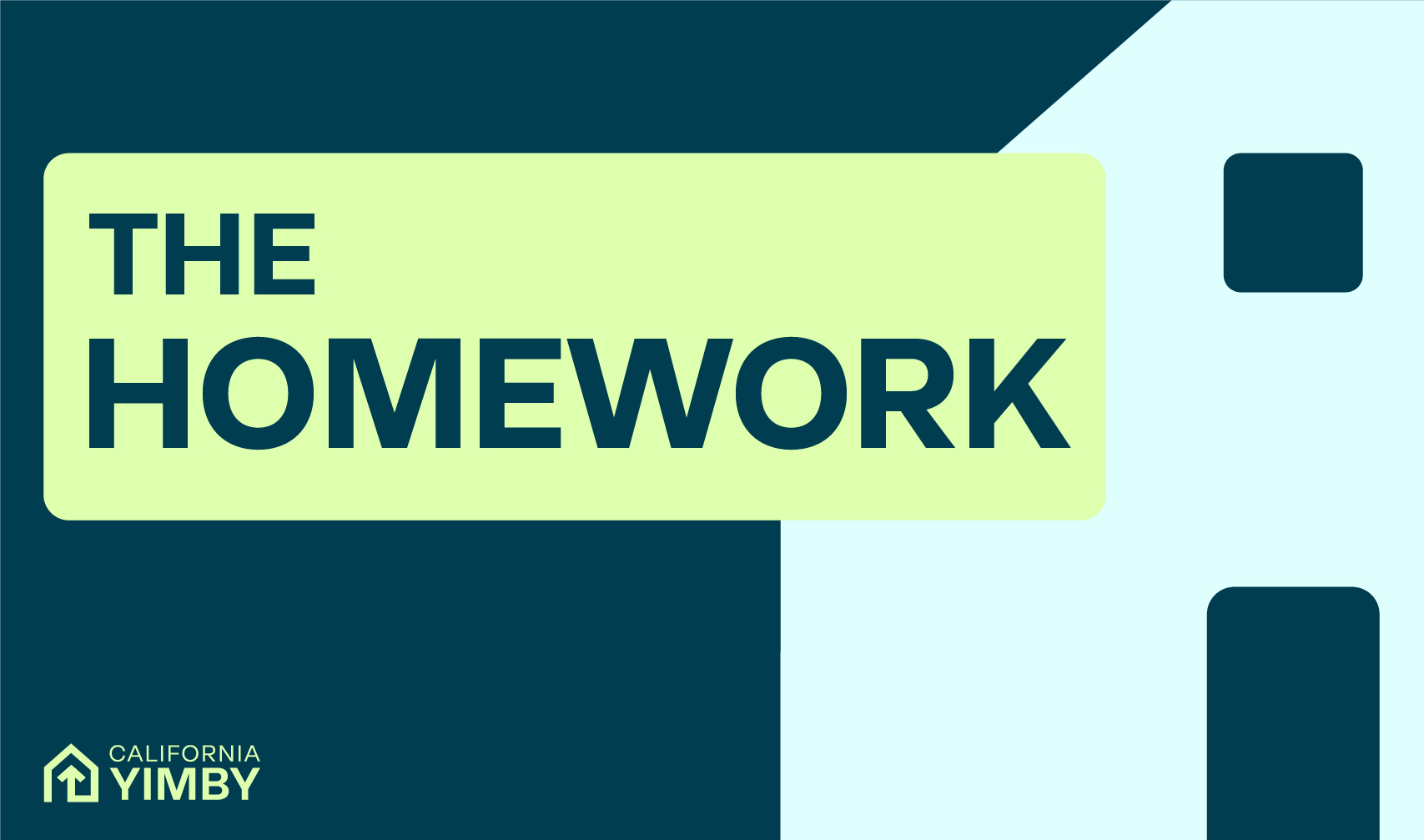 Welcome to the May 15, 2023 Main edition of The Homework, the official newsletter of California YIMBY — legislative updates, news clips, housing research and analysis, and the latest writings from the California YIMBY team.
Housing Research & Analysis
The legislature has wrapped up its first round of policy committees, and all bills with a fiscal cost attached are now in their respective appropriations committee.
The following California YIMBY sponsored and high-priority bills are in the appropriations committee (California YIMBY sponsored bills are starred):
California YIMBY also has one sponsored bill that is going straight to the Assembly Floor: AB 976 (Ting), which will permanently extend the ability of property owners to build affordable, rental accessory dwelling units (ADUs) by extending the rental unit provisions of 2020's AB 881, which expire in 2025.
The suspense hearing for the Assembly and Senate Appropriations Committee is expected to be on May 18th. Suspense hearings determine which bills make it out of appropriations, are amended, or will be held in committee.
To stay current on what housing bills California YIMBY is sponsoring, supporting, and watching, you can now use our Abstract link to track with us.
We will have more housing legislation news in the coming weeks as bills are refined, amended, and scheduled for committee hearings. To stay up to date on committee action, and to receive alerts for bills and other legislative activities, join our Rapid Response team.
Housing Research & Analysis
Meet Me in the Missing Middle: Sound Housing Advice from AARP
In a new report, researchers at AARP explain why state-level action is needed to legalize "missing middle" housing – housing affordable to the vast majority of middle-income households – drawing lessons from past attempts. The bulk of the report is spent outlining model, state-level legislation for legalizing missing middle housing.
Key takeaways:
Missing middle housing is key to building affordable, equitable, and sustainable communities, but it's illegal to build in most neighborhoods today.


A small but growing number of cities and states—including California—have made efforts to legalize missing middle housing, to varying degrees of success.


The report outlines model legislation for legalizing missing middle housing that can be modified based on local political considerations and norms.


Water, Water Everywhere? Depends on Where You Look
Can the San Francisco Bay Area grow sustainably with a limited water supply? A recent study by SPUR and the Pacific Institute shows that more dense development in urban areas can ensure that the region's growing population does not add excess water demand to California's drought-stricken water infrastructure.
Key takeaways:
By 2070, the Bay Area can add 2.1 million jobs, 6.8 million people and 2.2 million homes by 2070 without straining the water supply.


This projected population growth can offset all of its increased water consumption with efficiency gains through infrastructure improvements and urban density.


By implementing even more ambitious plans (there are 18 recommendations in total), the Bay Area could even grow more while using less water than today.
Houser Headlines
YIMBY Social – Top Posts
Share the good word
We welcome your ideas and feedback — send story tips and ideas to Homework@cayimby.org.