The HomeWork: February
22, 2023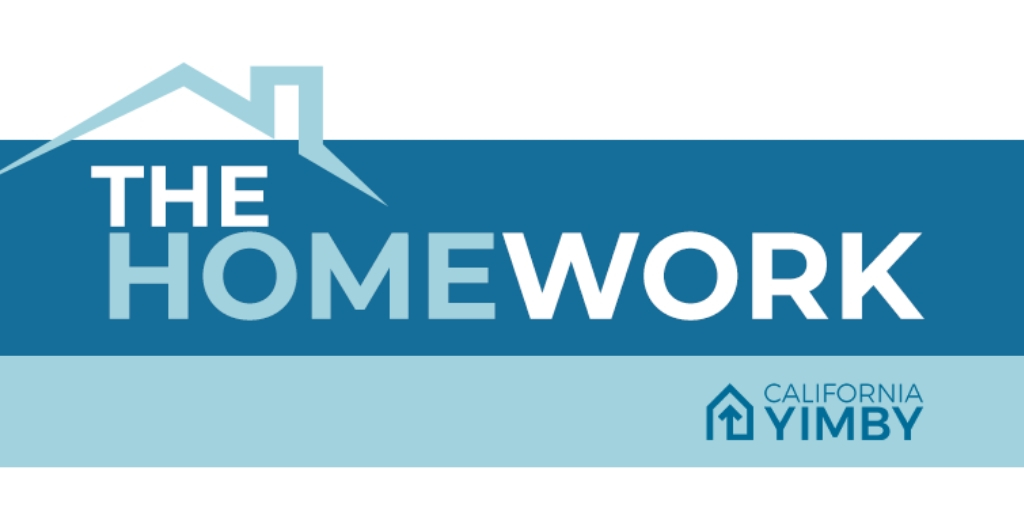 Welcome to the February 22, 2023 Main edition of The Homework, the official newsletter of California YIMBY — legislative updates, news clips, housing research and analysis, and the latest writings from the California YIMBY team.
News from Sacramento
Last Friday, February 17, was the deadline for members of the Legislature to introduce new bills this Session, and it's another potentially big year for housing policy.
California YIMBY is still reviewing all the housing legislation that's been submitted. Here are some of the priority housing bills we're sponsoring for this legislative session:
We will have more housing legislation news, includion additional legislation California YIMBY will sponsor, in the coming weeks as bills are refined and amended prior to committee hearings, which are expected to begin in March. To stay up to date on committee action, and to receive alerts for bills and other legislative activities, join our Rapid Response team.
Housing Research & Analysis
How NIMBYs Hijacked CEQA
The SoFi Stadium in Los Angeles is a testament to the ability of elected officials to streamline new developments to accelerate construction and save money. The stadium famously qualified for streamlining under the California Environmental Quality Act, or CEQA – a courtesy that is commonly extended to not just stadiums, but freeways, government structures, and other large, "popular" projects.
But just blocks away from SoFi, proposed affordable housing developments continue to be endlessly bogged down by the misuse of environmental litigation. Thus begins "Twisted Fate: How California's Premier Environmental Law Has Worsened the State's Housing Crisis, and How To Fix It," a recent publication by attorney Noah DeWitt in the Pepperdine Law Review.
Key takeaways:
CEQA as it exists today is a far cry from the original vision for the law, and a major barrier to infill multifamily housing production.


Many recent efforts to reform CEQA have struggled to pass. Worse yet, many recent reforms that have passed have produced underwhelming results.


California could learn from successful environmental review reform efforts in Massachusetts, Minnesota, and New York.
Is SB 9 Working? Here's What Early Data Reveals
In 2021, the passage of SB 9 in California made history by ending single-unit zoning, and making it legal to build up to four homes on properties that had previously only permitted one. The bill made headlines, as single-unit zoning had long been seen as the "third rail" of land use policy – untouchable, and beyond reform.
But the results one year after the law took effect—as detailed in "California's HOME Act Turns One: Data and Insights from the First Year of Senate Bill 9" by David Garcia and Muhammad Alameldin of the Terner Center for Housing Innovation at UC Berkeley—are less inspiring, suggesting that "clean-up" legislation may be needed to realize the law's intended benefits.
Key takeaways:
SB 9 aimed to legalize duplexes and fourplexes in residential districts across California. Yet recent research suggests that many municipalities are adopting local ordinances that subvert the law.


The data largely reflects this: most of the municipalities surveyed didn't permit a single SB 9 unit in 2022, while Los Angeles permitted fewer than 40 units—a far cry from the permitting boom we've seen with accessory dwelling units (ADUs).


Legislators can ensure that the law fully realizes its potential by extending many of the substantive and procedural protections afforded to ADUs to SB 9 projects, such as liberal design standards, low impact fees, and streamlined permitting.
Houser Headlines
YIMBY Social – Top Posts

Follow California YIMBY on TikTok! https://www.tiktok.com/@cayimby
Share the good word
We welcome your ideas and feedback — send story tips and ideas to Homework@cayimby.org.