The HomeWork: August
31, 2023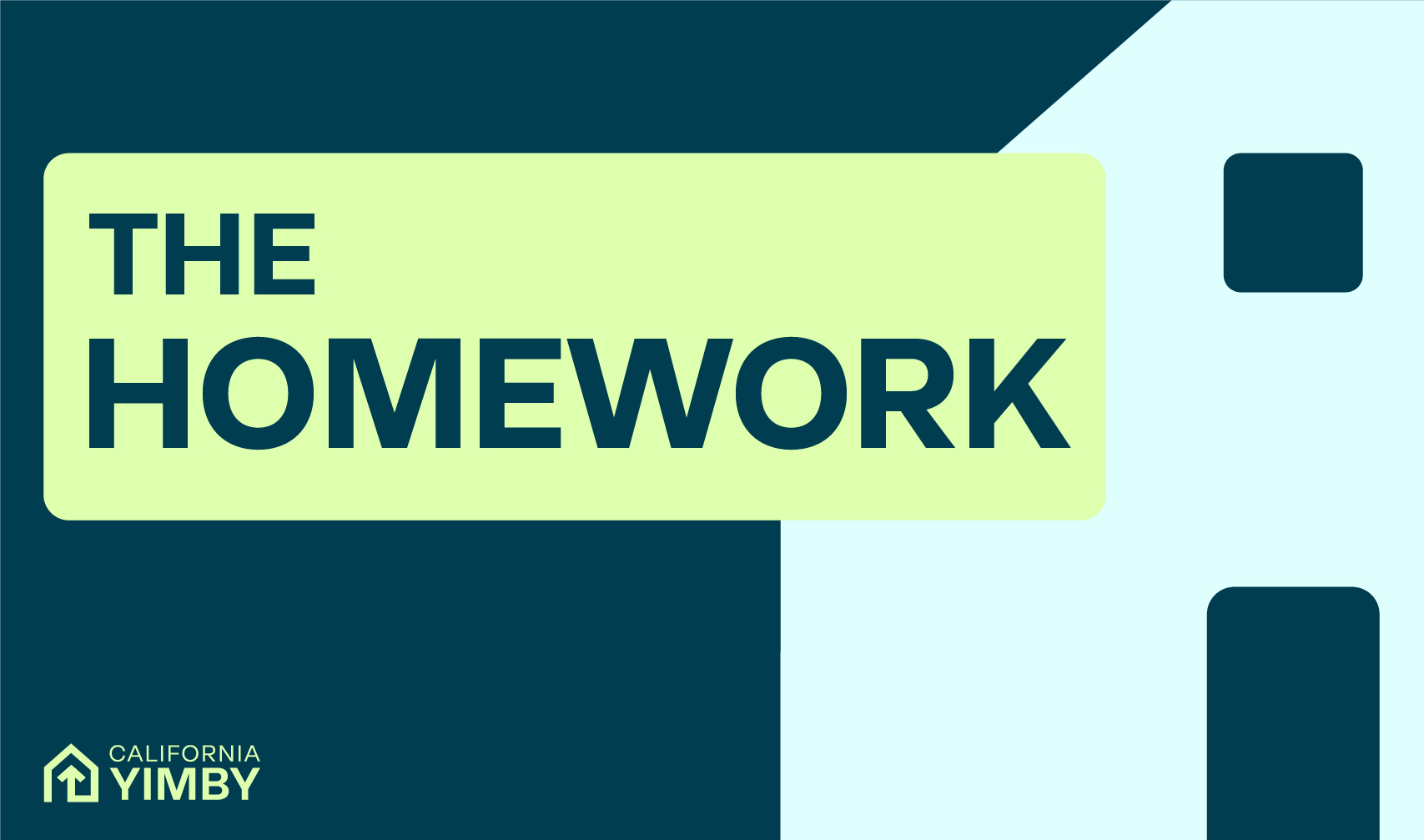 Welcome to the August 31, 2023 Main edition of The Homework, the official newsletter of California YIMBY — legislative updates, news clips, housing research and analysis, and the latest writings from the California YIMBY team.
News from Sacramento
We are heading toward the final weeks of the legislative session, and right now, bills with no fiscal cost are eligible to be presented on the Senate or Assembly floor; the remaining bills will be referred to the appropriations committee.
This Friday, September 1st, the legislature will hold their suspense hearings – which determine which bills make it out of appropriations, are amended, or will be held in committee – for the Assembly and Senate Appropriations Committee.

The following California YIMBY sponsored and high-priority bills are in the appropriations committee (California YIMBY sponsored bills are starred):
California YIMBY also has one sponsored bill that is going straight to the Senate Floor: AB 976 (Ting), which will permanently extend the ability of property owners to build affordable, rental accessory dwelling units (ADUs) by extending the rental unit provisions of 2020's AB 881, which expire in 2025.

To stay current on what housing bills California YIMBY is sponsoring, supporting, and watching, you can now use our Abstract link to track with us.
We will have more housing legislation news in the coming weeks as bills are refined, amended, and scheduled for committee hearings. To stay up to date on committee action, and to receive alerts for bills and other legislative activities, join our Rapid Response team.
Housing Research & Analysis
Can empty office towers become housing? Survey says … Some of them
In response to the rise in remote work since the start of the COVID-19 pandemic, many companies have abandoned office space they previously occupied. Much ink has been spilled on the topic of empty office buildings in downtowns and office parks across the country.
Even casual observers of the housing crisis have started to wonder why those same office buildings are not being converted into homes. A new working paper from Arpit Gupta, Candy Martinez, and Stijn Van Nieuwerburgh considers the feasibility of converting underutilized, "brown" (polluting) office space into "green" apartments that are energy efficient and produce minimal emissions.
Key takeaways:
The authors estimate that 11 percent of office buildings nationwide could be viable for conversion and could produce over 170,000 new apartments.


Conversion is only financially feasible in the New York, San Francisco, Washington DC, Boston, Denver, and San Jose metro areas, where rents are high and office space is cheap.


Local and federal governments have a role to play in making conversions feasible, such as by extending subsidies and loosening restrictions. The Inflation Reduction Act allocated funds that can be used to subsidize conversions to green apartments.
Your Unhoused Neighbors: They're Not Who You Think They Are
The Benioff Homelessness and Housing Initiative at the University of California, San Francisco recently released the findings of a large, mixed-methods study that aimed to understand the scope of homelessness in California and experiences of the unhoused population.
The California Statewide Study of People Experiencing Homelessness (CASPEH) is the first representative study of homelessness in California since the 1990s, and arrives at a crucial moment for housing and homelessness in the state.
Key takeaways:
Ninety percent of survey participants became homeless after losing housing in California, and 75 percent still lived in the same county where they were previously housed.


Sixty-six percent of survey participants who were leaseholders at the time they lost housing were rent-burdened, and 42 percent were severely rent burdened.


Nine out of ten respondents had spent time unsheltered since becoming homeless. One-third met the criteria for chronic homelessness.

Houser Headlines
YIMBY Social – Top Posts
Share the good word
We welcome your ideas and feedback — send story tips and ideas to Homework@cayimby.org.