…Looking Back on the 2019 Legislative Session

Back in May, California YIMBY and housing activists across the state took a huge setback when the state Senate — and really, a single Senator — blocked progress on one of our top legislative priorities: SB 50, the More HOMES Act. That setback hurt, but I'm here to tell you this is a fight we'll continue until we've won:
California YIMBY is still 100% committed to passing SB 50 and making it legal to build multi-family homes and apartment buildings near jobs and transit in our cities. While some erroneous reports claimed that the bill is dead, it is very much alive — we'll have a chance to pass it early in 2020, and will be calling on your help when the time comes.
But this note isn't about our ongoing battle to pass SB 50 and allow the construction of More Homes. It's about the raft of victories we won in the legislature this year.
These policy victories show that our movement is growing in size, diversity, and impact. The list of successes is substantial: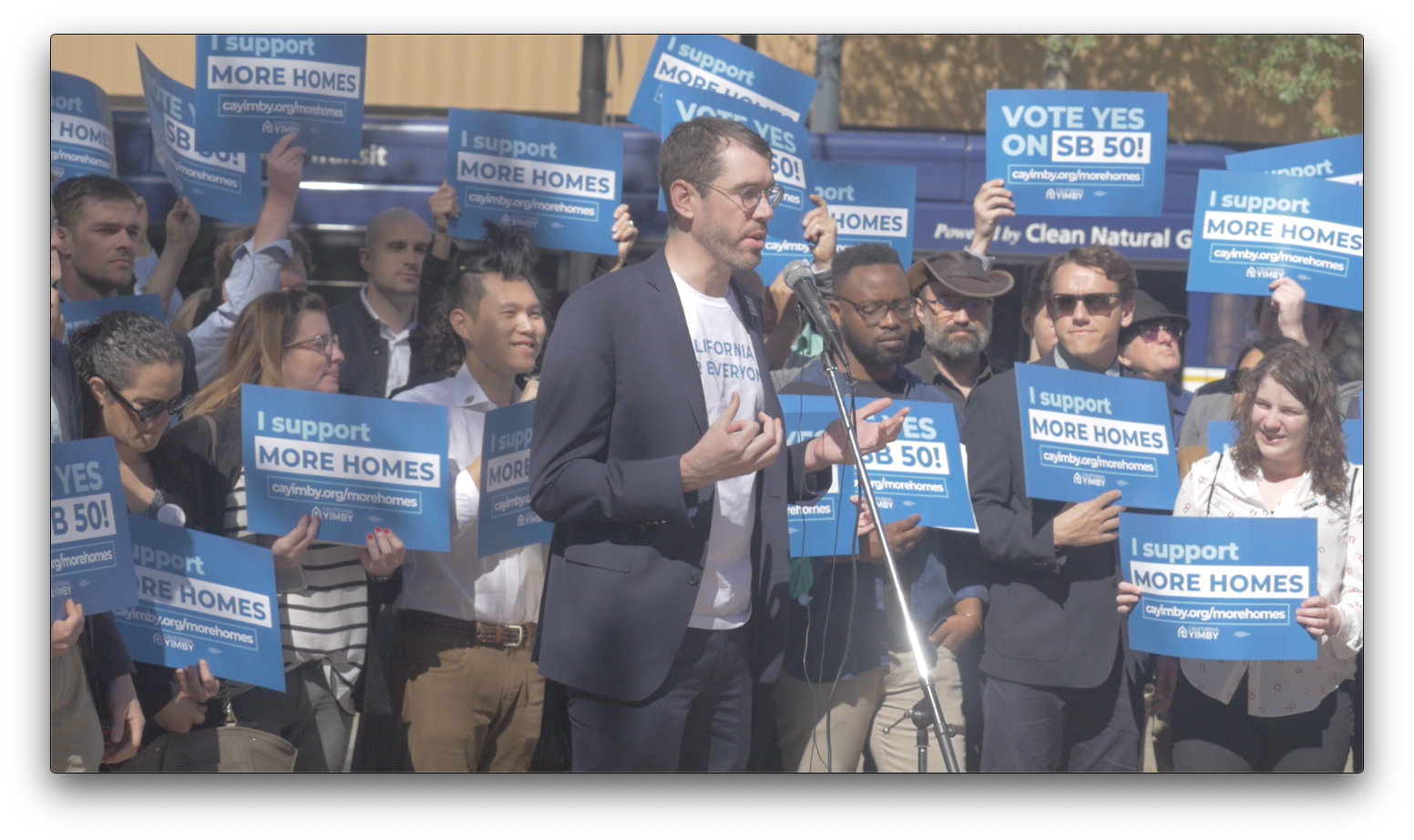 We've always believed that zoning reform is a necessary — but insufficient — part of the solution to the housing crisis. While we can't solve the housing crisis without making it legal to build more homes, we must also make sure that we protect current residents from displacement and eviction, and preserve and expand existing affordable housing so that communities can remain intact and thrive as they grow.
YIMBYs know that the only way to solve our housing crisis is through a holistic, comprehensive approach. So in addition to supporting the above bills that are now on their way to becoming state law, we've joined the Schools and Communities First campaign, a diverse group of advocates seeking to reform corporate tax loopholes that hinder efforts to invest in our communities. We're also helping launch a campaign to change our state's Constitution to make it impossible for NIMBYs to block housing for very low-income residents and people experiencing homelessness.
There are many other tools in the toolkit, and a lot of work to be done. The housing crisis didn't happen overnight; it's the result of decades of bad policy, neglect, and NIMBYism. At California YIMBY, we're in this fight for the long haul, and on many fronts: zoning reform, rent caps for tenants, subsidies for low-income housing, Granny Flats, preservation of communities, protections from eviction — an emphatic "Yes" to all the great things we can do in our communities as we work to solve the housing crisis.
YIMBY starts with "Yes." And we're unwavering in our commitment to saying yes to all the solutions.