How the Housing Shortage Punishes
Essential Workers
In the previous installment of The HomeWork, we reported that Los Angeles has the most overcrowded housing conditions of any major city in the United States. Even though LA is not the densest city, it presents a major risk for the spread of COVID-19. More recently, the Public Policy Institute of California has found that California's essential workers are at especially high risk from overcrowded housing.
Key takeaways:
California's "essential workers," such as farmworkers, healthcare workers, and food service workers, have to be physically present in order to perform their jobs — and are also more likely to live in overcrowded conditions that increase their risk of exposure. An estimated 16% of essential workers in California live in overcrowded housing, compared to just 12% in other job sectors. That number doubles for farm workers and food service workers.

In a

UCSF study

conducted in San Francisco's Mission District, essential workers and individuals who live in larger households were found to be more likely to contract the coronavirus. 

California counties exhibit a clear link between essential workers living in overcrowded housing and COVID-19 deaths.
It's important to remember that population density is not the same as overcrowding. The latter is a measure of people per home, not per square mile. Overcrowded housing is a direct result of our state's severe housing shortage; as PPIC notes in its report, "finding affordable housing can mean cohabiting with several other people." A recent PPIC survey found that two-thirds of Californians worry about housing costs. Not surprisingly, California's rate of overcrowded housing (16.3%) is more than double the national average (8.4%).
That's bad news for nearly a third of California's workforce that performs essential services and cannot stay home from work. Here are the estimated overcrowding rates for essential workers living in California, by job sector: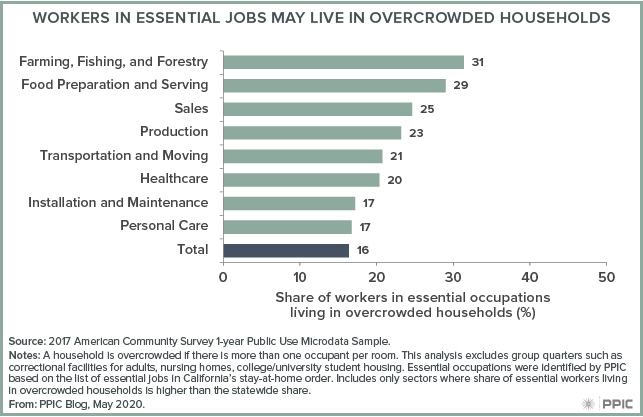 PPIC also finds a distinct correlation between overcrowded housing for essential workers and COVID-19 deaths. The study notes: "Santa Barbara (25%), Madera (23%), Los Angeles (21%), Orange (20%), and Tulare (19%) counties have the highest shares of essential workers in overcrowded homes. Los Angeles and Tulare are experiencing large numbers of deaths per capita, at 14 and 9 deaths per 100,000 people, but the other counties are not."
Here's what that looks like: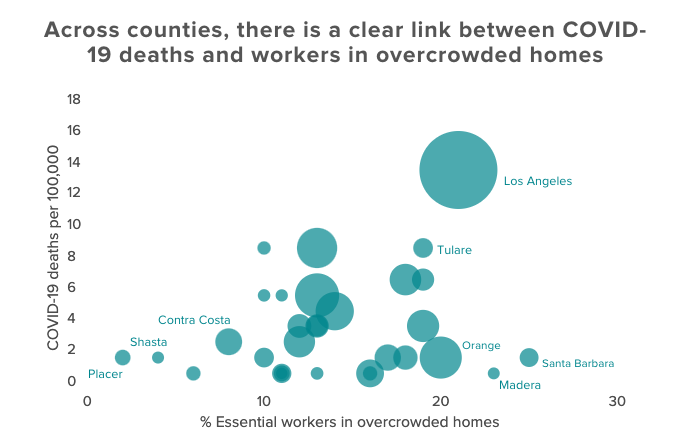 An effective response to COVID-19 must include the construction of more homes for all Californians, to reduce crowding and the high cost burden on the state's renters — and ensure everyone can live in safe, secure homes.