The HomeWork: July
7, 2021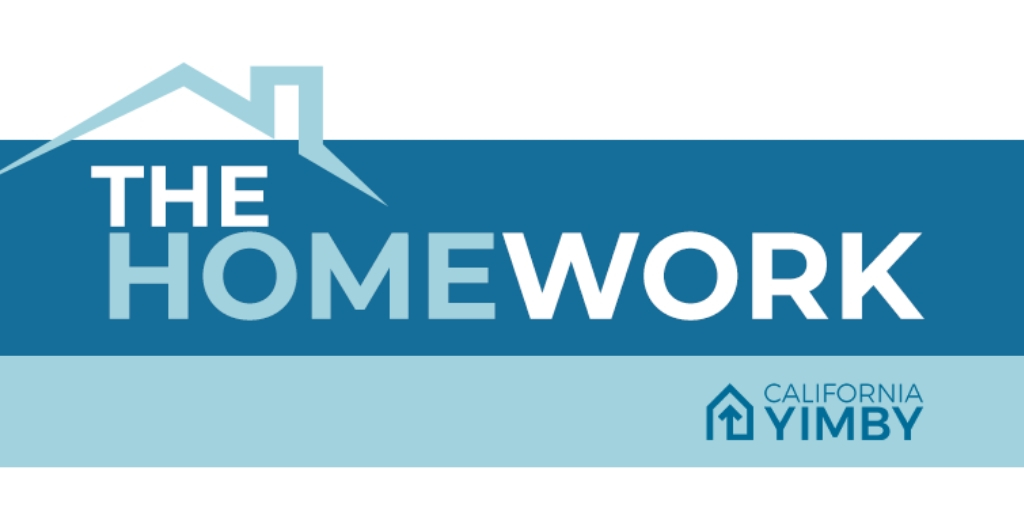 Welcome to the July 7, 2021 Main edition of The HomeWork, the official newsletter of California YIMBY — legislative updates, news clips, housing research and analysis, and the latest writings from the California YIMBY team.
---
With most policy committees wrapped up, focus turns to appropriations committees and floor votes. So far, most
California YIMBY-sponsored bills
are moving forward.
California YIMBY is also coming on as a cosponsor of AB 889 (Gipson), a bill that seeks to increase transparency in housing by requiring corporate and institutional landlords to report the owners of the corporation or limited liability company (LLC) that rents out a property. According to the Federal Reserve, institutional investors often offer higher bids for housing than conventional buyers. When coupled with the housing shortage, this competition can make it harder for low- and middle-income people to purchase a home. Additionally, some research shows that institutional investors are more likely to evict tenants than other types of landlords.
The Legislature will recess on July 16th for one month, returning in August for its final session which concludes in mid-September. Legislation will have to be passed by then, or it will be moved to next year for final consideration.
---

The White House Says: YIMBY
It's official: Juneteenth is now a national holiday. While the historic recognition of the end of Black slavery is worthy of celebration, the White House Council of Economic Advisors isn't pausing for the festivities: In a powerful review of the literature on exclusionary zoning and related, racially-inspired housing policies, the Biden Administration's top economic minds explain how prohibitions on multifamily housing hold back progress and economic justice.
Key takeaways:
Exclusionary zoning is directly tied to racist segregation, as its earliest exponents sought to maintain existing segregation in all but name.

Maintaining restrictions on housing supply exacerbates the racial wealth gap and limits economic mobility, with direct disparities in long-term outcomes for children.

Biden's American Jobs Plan would introduce a $5 billion grants program to reward cities that end exclusionary zoning.
READ MORE »
---
Harvard's State of the Housing Crisis
In a new report on the state of housing in the U.S., the Joint Center for Housing Studies at Harvard University finds that inequality and housing insecurity have been exacerbated under the COVID-19 pandemic, and urges government officials to step up support for vulnerable households squeezed out of the housing market.
Key takeaways:
Low supply, high demand: a limited inventory of available homes was bid up by wealthier households who weathered the economic downturn. Over the past year, housing prices soared by 13% while the supply of homes for sale shrank by 3% nationwide.
While homeownership is increasing, the racial disparities in homeownership continue largely unabated.
Renters remain cost-burdened, and 17% of the nation's renting households were behind on rent payments—another pattern showing stark racial disparities.
READ MORE »
---
---
July 8 @ 5PM: Making Urbanism Antiracist with Konstantin Hatcher

Konstantin Hatcher, the Organizing Director at California YIMBY, will sit down with YIMBY Action Executive Director Laura Foote to discuss the pro-housing movement — and how we can make it more inclusive and representative. RSVP here.
RSVP HERE »
---
---
Share the good word
We welcome your ideas and feedback — send story tips and ideas to Homework@cayimby.org.
Did someone forward this email to you? Sign up to get it here.