The HomeWork: July
22, 2022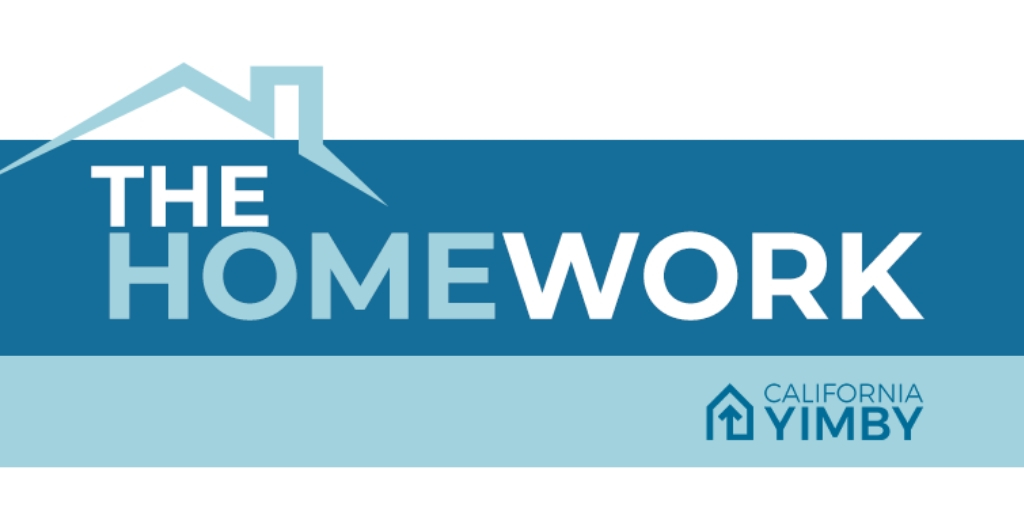 Welcome to the July 22, 2022 Main edition of The HomeWork, the official newsletter of California YIMBY — legislative updates, news clips, housing research and analysis, and the latest writings from the California YIMBY team.
News from Sacramento
With the summer recess wrapping up at the end of July, the Legislature reconvenes on August 1st. In the second week of August, both the Assembly and Senate Appropriations Committees are expected to hold their Suspense hearings to determine which bills make it to the floor for a full vote, and which bills are held in Committee. Many of California YIMBY's priority bills will be up in their respective Appropriation committees, including:
AB 2873 (Jones-Sawyer), which will help track the demographics of the affordable housing construction workforce
AB 2221 (Quirk-Silva), which will accelerate ADU development by clarifying ambiguities in existing law
AB 2097 (Friedman), which will remove expensive parking mandates around transit
SB 886 (Wiener), which will help universities build student and faculty housing faster and at lower cost by streamlining the environmental review process
Other California YIMBY priority bills that will also be heard in the Appropriations hearing is AB 2011 (Wicks).
From August 15th through August 31st, the Legislature will hold the last Floor Sessions of the year, which are the final full votes on all bills; bills that pass this final vote are then sent to the Governor for his signature.
Housing Research & Analysis
Much Ado about ADU Financing
In a new joint paper from the UC Berkeley Terner Center for Housing Innovation and USC Lusk Center for Real Estate, Green et al (2022) assess the challenges and opportunities of financing for Accessory Dwelling Units (ADUs), also known as "Granny Flats."
Key takeaways:
Home equity has been the primary source of capital for building new ADUs in California, which means that wealthier homeowners who have built more equity can more easily borrow money to build new homes in their own backyards.
ADU financing has serious implications for racial justice: "While ADUs have potential to be a tool to bridge the racial wealth gap and add financial stability for lower- and moderate- income homeowners, to date, comparatively affluent and, in many regions, whiter, homeowners have disproportionately built ADUs."
Supporting other forms of financing, such as renovation loans or shared appreciation models, can help make access to credit for ADU construction more equitable.
How Shared Appreciation Loans Can Help Fix the California Dream
In a new report from California State Treasurer Fiona Ma's office prepared by California Forward, California Community Builders, HR&A Advisors, and CSG Advisors, researchers show how the state government can invest in racial justice and housing security by supporting a new form of home loan called a "shared appreciation mortgage" for first-time homebuyers.
Senator Toni Atkins' California Dream For All program established a path to pursue fair housing goals with a state investment fund designed to reduce financial barriers for historically disadvantaged communities. The program acts as a form of insurance against the downside risk of home equity investments, creating a shared commitment to reparative justice on the public balance sheet that could have truly transformative impacts if administered effectively.
Key takeaways:
By funding shared appreciation loans (SALs), the California Dream For All program would make major investments in closing the racial wealth gap by assisting first-time homebuyers through a loan that "splits the risk of home price depreciation with homebuyers" and thus reduces monthly payments.
This is particularly critical for racial justice, since homeownership rates have decreased for Black and Latino households, and down payment assistance programs are insufficient for bridging the gap for households with limited savings.
The program must be designed carefully so that taxpayers are not exposed to unexpected risks.
Houser Headlines
Upcoming Events
July 26, 5:30 p.m. — State Legislative Update — Register here
We're in the home stretch of this year's legislative session, and most of our top priority bills are still moving through the legislature. On July 26th, join us as our partners and members of the California YIMBY Legislative Team share their perspectives on the prospects for housing reform this session, and the impact our priority bills could have in building more homes. Speakers include:
Derek Mazzeo, Political Director, Southwest Regional Council of Carpenters
Alex Dawson, Senior Program Officer, LISC LA
Zennon Ulyate-Crow, President, Student Housing Coalition
YIMBY Social – Top Posts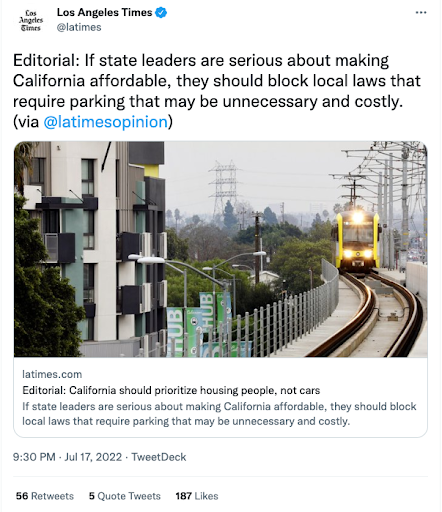 Share the good word
We welcome your ideas and feedback — send story tips and ideas to Homework@cayimby.org.