The HomeWork: October
17, 2023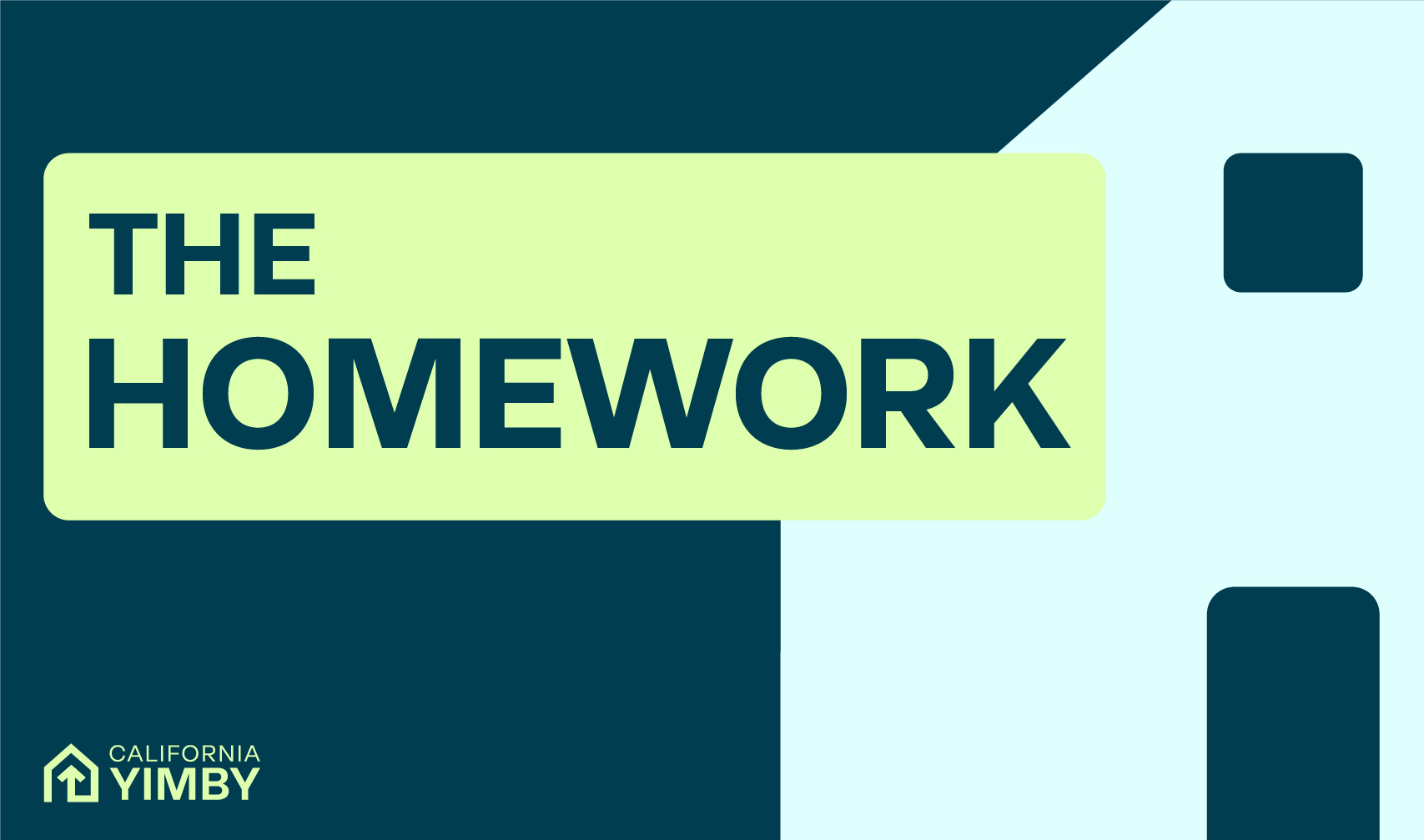 Welcome to the October 17, 2023 Main edition of The Homework, the official newsletter of California YIMBY — legislative updates, news clips, housing research and analysis, and the latest writings from the California YIMBY team.
News from Sacramento
Victory Alert! After a busy year of negotiations, compromise, legislative lobbying, and grassroots advocacy, Governor Newsom has signed California YIMBY's sponsored and high-priority bills into law.
While the journey included many twists and turns, including intense debate, last-minute opposition, and unexpected amendments, our collective efforts – anchored by grassroots YIMBY activists and our coalition partners – paid off with one of the most successful legislative years since our inception.
As we prepare for the 2024 legislative session, and with new leadership in both chambers, we are expecting many changes in the legislative policy committees where most of California YIMBY's sponsored bills will be heard. Committee appointments are usually announced around December; stay tuned for updates in future editions of The Homework.
Lasty, we want to take a moment to thank YOU for your support this year. Your advocacy, phone calls, emails, and social media posts were the key to our collective success. Your passion and commitment to making California for everyone is inspiring – and it's really making a difference.
Newly-enacted state housing laws include ("*" represents a California YIMBY-sponsored bill):
To review all the housing bills California YIMBY has sponsored, supported, and tracked this legislative year, you can now use our Abstract link to track with us.
Housing Research & Analysis
How to Save Money: Give People Money
In response to rising rates of homelessness, city and state governments have introduced many different programs aimed at providing various forms of shelter and permanent housing to the unhoused. In a new study, a team of researchers in British Columbia, Canada explore a straightforward yet promising approach: just give people cash.
Cash transfers have been shown to be effective at reducing poverty in lower-income countries around the world, but there are less studies evaluating the impacts of targeted cash transfers in North America. In a first-of-its-kind randomized controlled trial, Dwyer et al. seek to measure the impact of unconditional cash transfers to individuals experiencing homelessness in Vancouver.
The research team randomly assigned 50 unhoused people in Vancouver to receive a one-time, unconditional cash transfer of $7,500 Canadian dollars (equal to about $5,700 USD). Another 65 unhoused people served as the control group and did not receive the cash transfer (but received other benefits, including smartphones and free checking accounts). The research team also made sure that no participant would lose eligibility for social services as a result of increased income.
Key takeaways:
Unhoused individuals who received the cash transfer of $7,500 CAD spent, on average, 99 fewer days homeless over the next year than people in the control group who did not receive the payment.


As beneficiaries gained stability and secured housing, their use of shelters and social services decreased significantly, which produced cost savings for society that exceeded the value of the transfer.


The experiment provides some evidence that unconditional cash transfers can reduce the length of bouts of homelessness while increasing personal savings and spending on essential goods.
Small is Beautiful … and Expensive: Removing Barriers to "Middle Housing" in California
When Senate Bill 9 passed in 2021, it represented a sea-change in California state housing policy. By allowing up to four units on all single-family zoned parcels statewide, SB 9 represented a significant step toward achieving housing abundance.
But some developers have found it financially infeasible to build three- or four-unit projects, especially in high-cost markets. Considering this, housing experts have been exploring if it would be more financially feasible to build slightly larger projects with five to ten units.Emily Biro seeks to answer this question in a recent report prepared for the San Francisco Planning Department. A former graduate student fellow at UCLA's Lewis Center for Regional Policy Studies, Biro assesses the market feasibility of building small, multifamily projects on the west sides of San Francisco and Los Angeles, where most parcels are zoned for single-family homes. The report's findings illustrate just how hard it is to build "missing middle" housing in California's major cities.
Key takeaways:
Biro finds that it would not be financially feasible to build a five-unit building anywhere in west Los Angeles or west San Francisco, even with government subsidies.


In those same areas, most types of ten-unit buildings would require government subsidies to be financially feasible. In Los Angeles, a ten-unit condo building would pencil without subsidies, but not a ten-unit apartment building.


To make it easier to build five- to ten-unit buildings, Biro recommends streamlining entitlement and permitting, expanding financing options, and increasing government subsidies and incentives.
Houser Headlines
YIMBY Social – Top Posts
Share the good word
We welcome your ideas and feedback — send story tips and ideas to Homework@cayimby.org.