California YIMBY Statement on Governor Signing
AB 2097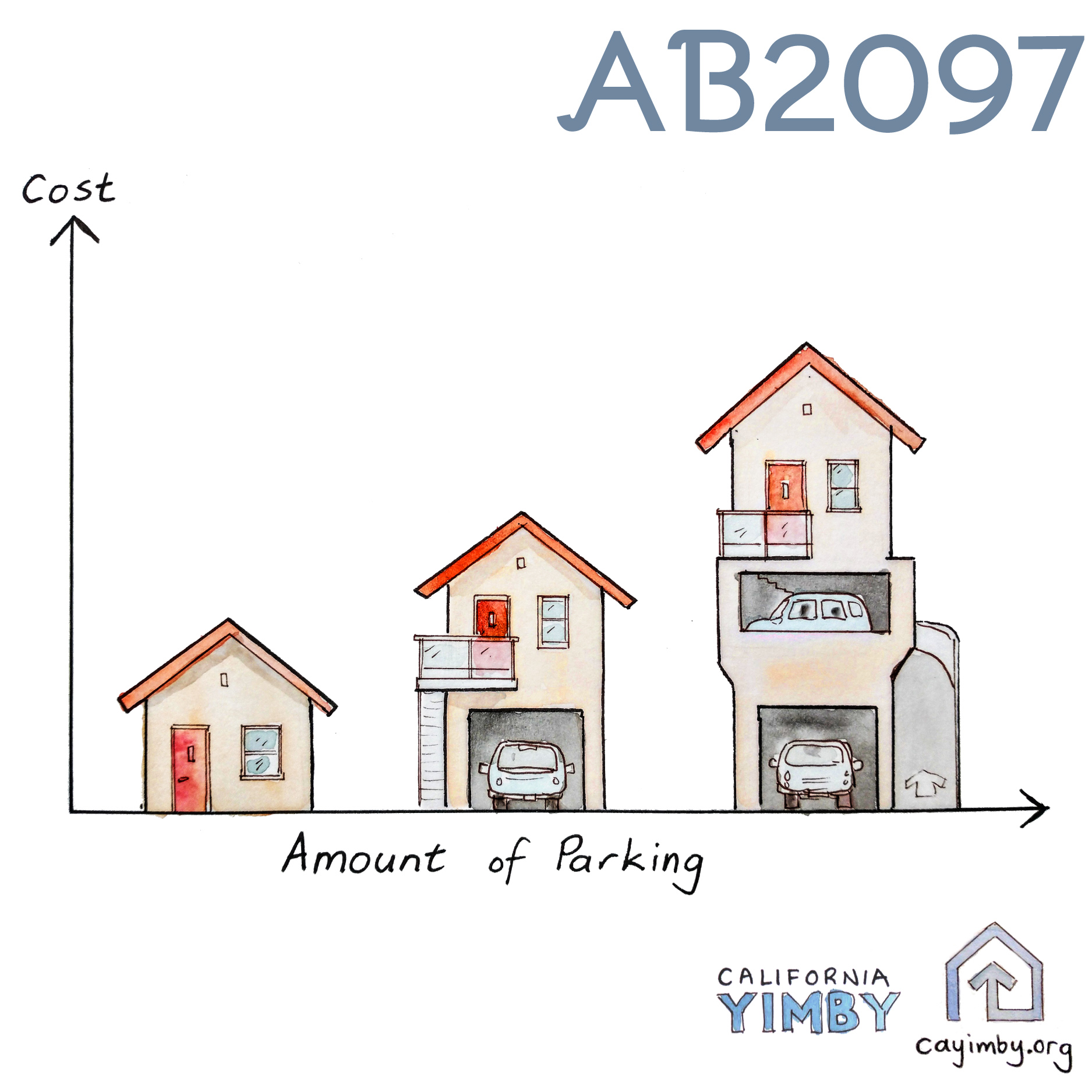 A More Affordable and Climate-Resilient California
"Landmark legislation for housing affordability and climate action"
SACRAMENTO – Today, California Governor Gavin Newsom signed into law AB 2097, a landmark bill that ends nearly a century of parking mandates in cities throughout the state. Authored by Asm. Laura Friedman (Glendale), and co-sponsored by California YIMBY, AB 2097 increases housing choice and will make it easier to provide lower-cost, walkable- and transit-accessible housing across the state.
"California has a severe housing shortage, not a parking shortage," said Brian Hanlon, CEO of California YIMBY. "AB 2097 is landmark legislation – it prioritizes affordable housing for people while eliminating costly parking mandates that are a significant cause of climate pollution in our state."
AB 2097 will reduce the cost of housing while slashing the pollution that causes climate change by eliminating expensive parking mandates for homes and commercial buildings near transit, or in neighborhoods with low rates of car use.
Parking mandates, which require parking for cars to be included in new housing, are common in cities throughout California and can add $40,000 or more to the cost of construction per parking spot. Research by the California Air Resources Board and other pollution control experts shows that such mandates result in more driving – and more harmful carbon emissions.
By eliminating costly parking mandates, Californians will have more choices about whether they want to pay for parking, or have lower-cost housing in walkable, transit-accessible neighborhoods.
"California YIMBY is proud to stand with Governor Newsom as we advance a vision of affordability and climate resilience for all Californians," Hanlon said. "We also wish to extend our deep gratitude to Assemblymember Laura Friedman for her dedication and leadership in authoring the bill, and to Senator Anthony Portantino for helping bring this vital legislation across the finish line in the legislature. We also thank our legislative co-sponsors with SPUR, the Council of Infill Builders, the Bay Area Council, and Abundant Housing LA," Hanlon said.
To learn more about AB 2097, visit https://cayimby.org/ab-2097