California YIMBY Celebrates Assembly Passage of
AB 2097
Affordable Housing Reform Eliminates Expensive Parking Mandates; Advances Climate, Clean Air Goals
"We need affordable housing for people, not more expensive parking for cars"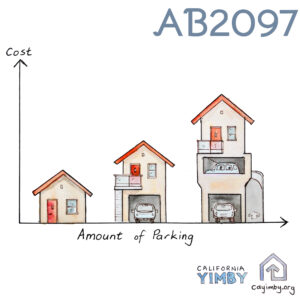 SACRAMENTO – Today, the California State Assembly voted to approve AB 2097, state legislation authored by Asm. Laura Friedman (Glendale) and co-sponsored by California YIMBY, which will end costly and polluting parking mandates in walkable neighborhoods, and in areas with good access to transit.
The bill now advances to the State Senate for consideration by that chamber.
"California's lack of housing near transit worsens the climate crisis, by forcing millions of people to endure long commutes and burn expensive gasoline," said Brian Hanlon, CEO of California YIMBY. "By ending costly parking mandates, we can reduce housing costs while addressing the number one source of pollution in our state — transportation. AB 2097 is a win for housing and a win for the climate, and I call on the Senate to swiftly approve it."
Parking mandates in excess of parking needs, which are common in cities throughout California, increase the cost of housing and drive up the pollution that causes climate change. A single parking space can add as much as $80,000 to the cost of construction in many California cities.
Eliminating parking mandates will give Californians more choices about whether they want to pay for parking, or have lower-cost housing in walkable, transit-accessible neighborhoods.
California cities currently over-produce parking — Los Angeles County alone has 200 square miles of parking — largely because of rules that require the construction of parking with each new unit of housing or commercial business. These rules are rarely grounded in any analysis of parking needs or economic feasibility. AB 2097 increases housing choice and will make it easier to provide lower-cost, walkable- and transit-accessible housing across the state.
To learn more about AB 2097, click here.