SB 9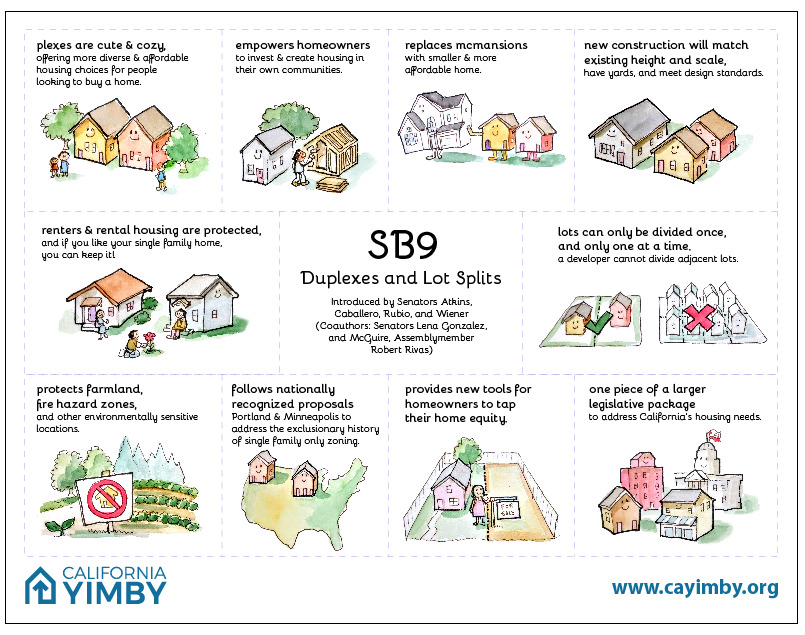 California has a severe shortage of middle-income housing or small (fewer than 10 homes) multi-family housing developments near jobs and transit; the lack of such housing is driving the displacement and severe rent burden of Californians across the state. The problem: it is illegal to build middle-income housing in over 70 percent of the state.
SB 9 would legalize this middle-income housing by adopting best practices from housing experts at the University of California Los Angeles. It will also help California respond to historic job loss in the construction sector and a 45-percent decrease in home construction due to COVID-19.
SB 9 makes two important changes to state law:
It allows homeowners in most areas around the state to divide their property into two lots, thereby increasing opportunities for homeownership in their neighborhood; and
It allows two homes to be built on each of those lots, with the effect of legalizing fourplexes in areas that previously only allowed one home.
SB 9 contains important protections against the displacement of existing tenants.
SB 9 is a part of the Senate's Building Opportunities for All housing package. Learn more about this package of legislation here.
Updates:
9/16/2021: SB 9 was signed by Governor Newsom and chaptered by the Secretary of State. This bill will go into effect on January 1, 2022.
Resources:
Authors: Atkins (D, SD 39), Caballero (D, SD 12), Rubio (D, SD 22), and Wiener (D, SD 11)
Co-authors: Gonzalez (D, SD 33), McGuire (D, SD 2), Robert Rivas (D, AD 30)
Supporters
Council Member Jon Wizard, City of Seaside Council Member
Zach Hilton, City of Gilroy
AARP
Abundant Housing LA
ADU Task Force East Bay
All Home
American Planning Association, California Chapter
Bay Area Council
Bridge Housing Corporation
Cal Chamber
California Apartment Association
California YIMBY
Casita Coalition
California Building Industry Association
Chan Zuckerberg Initiative
Circulate San Diego
City of Oakland
City of San Diego
East Bay for Everyone
Facebook
Fieldstead and Company
Generation Housing
Greenbelt Alliance
Habitat for Humanity California
Hello Housing
Housing Action Coalition
Local Government Commission
Los Angeles Business Council
Midpen Housing
Modular Building Institute
Mountain View YIMBY
National Association of Hispanic Real Estate Professionals
Non-profit Housing Association of Northern California
North Bay Leadership Council
Northern Neighbors
Peninsula for Everyone
People for Housing – Orange County
San Diego Regional Chamber of Commerce
San Francisco Bay Area Planning and Research Association (SPUR)
San Francisco YIMBY
Sand Hill Property Company
Share Sonoma County
Silicon Valley Leadership Group
South Bay Cities Council of Governments
South Bay YIMBY
South Pasadena Residents for Responsible Growth