SB 330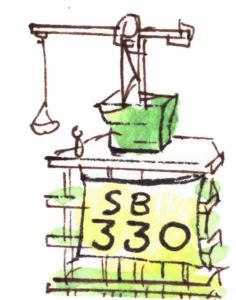 SB 330 prohibits local jurisdictions from enacting new laws that would have the effect of reducing the legal limit on new housing within their borders, or delay new housing via administrative or other regulatory barriers. Through its expiration in 2030, SB 330 will:
Prevent local governments from downzoning unless they upzone an equivalent amount elsewhere within their boundaries
Suspend the enactment of local downzoning and housing construction moratoriums
Require timely processing of housing permits that follow zoning rules
Ensure the demolition of housing does not result in a net loss of units
Postpone requirements for voter approval of zoning, general plan changes
Require resettlement benefits and first right of refusal in new units or compensation for rehousing for renters who may be displaced.
Click here for the official fact sheet.
Author: Nancy Skinner (D, SD 9)
Resolution:
SB 330 was signed by the governor on 10/9/2019
Senate Floor (9/6/19): 30 Yes / 4 No
Assembly Floor (9/5/19): 67 Yes / 8 No
Click here for a detailed vote history.
Press Coverage
Berkeley senator's new law would put moratorium on housing moratoriums – Curbed SF
Newsom signs SB 330, 'Housing Crisis Act of 2019' aimed at speeding up homebuilding – OC Register
California lawmaker makes aggressive push against local development restrictions – Los Angeles Times
Supporters
Bay Area Council
BRIDGE Housing
Building Industry Assoc. – Los Angeles/Ventura Chapter
Building Industry Assoc. of Orange County
Building Industry Assoc. of San Diego
Building Industry Assoc. of Southern CA, Baldy View Chapter
Building Industry Association Riverside County Chapter
California Apartment Association
California Association of Realtors
California Building Industry Association
California Business Properties Association
California Business Roundtable
California Community Builders
California Council for Affordable Housing
California Hawaii State Conference of NAACP
CalChamber
California YIMBY
Central City Association of Los Angeles
Chan Zuckerberg Initiative
EAH Housing
East Bay for Everyone
East Bay Housing Organizations
East Bay Leadership Council
East Bay Young Dems
Eden Housing
Emerald Fund
Enterprise
Equality California
Facebook
Hamilton Families
Leading Builders of America
Local Government Commission
Los Angeles Area Chamber of Commerce
Los Angeles Business Council
Midpen Housing Corporation
MLK Freedom Center
Monterey Bay Economic Partnership
Nonprofit Housing Association of North America
Non-Profit Housing Association of Northern CA
North Bay Leadership Council
NRDC
Oakland Chamber of Commerce
PICO
Planning and Conservation League
Related
Salesforce
San Francisco Housing Action Coalition
Santa Cruz YIMBY
Save the Bay
Silicon Valley Community Foundation
SPUR
State Building & Construction Trades Council
SV@Home
Terner Center for Housing Innovation, UC Berkeley
The San Francisco Foundation
TMG Partners
Up For Growth
Urban Displacement Project, UC Berkeley
Valley Industry & Commerce Association
Western Center on Law and Poverty
Working Partnerships
Zillow Group