SB 1120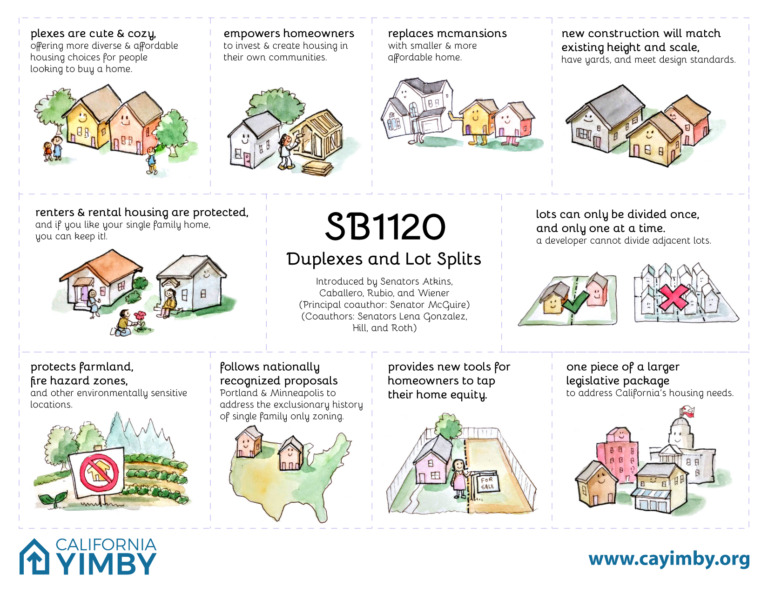 SB 1120 would have made it legal to build two homes on every property zoned for single-family homes in California. It would have also allowed single-family properties to be split into two lots, increasing the total potential to four homes (two primary residences and two ADUs).
The bill sought to legalize neighborhood-scale residential development like duplexes, substantially increasing the amount of housing available in neighborhoods throughout the state.
Additionally, this bill would have respected the priorities of local governments and existing residents by subjecting the changes to the following requirements:
Eligibility limited to urban areas
Compliance with objective zoning and design standards (such as height and floor area ratio)
Prohibited in historic districts or environmentally-sensitive areas (farmland, wetlands, protected species habitat)
Severely limits alteration or demolition of existing structures
Prohibits disruption of existing affordable housing, rent-controlled housing, or housing recently leased to a tenant
Guarantees provision of adequate parking
Any lot split must create two parcels of equal size that are at least 1,200 sq. ft.
Allows local governments to limit ADU applications on parcels that exercise the provisions of SB 1120
Click here to read the official fact sheet.
Updates:
SB 1120 has been reintroduced as SB 9.
Resolution:
SB 1120 did not pass Senate concurrence by the August 31st deadline.
Assembly Floor (8/31/20): 44 Yes / 18 No
Senate Floor (6/24/20): 39 Yes
Click here for a detailed vote history.
Press Coverage
Duplex Bill, SB 1120, dies: Assembly approval comes too late – LA Times
Democratic Squabbling Doomed California's 'Year Of Housing Production.' What Will Happen In 2021? – Capital Public Radio
California bill would allow duplexes on single family lots – LA Times
Here's an important part of the solution for the state's housing crisis – CAL Matters
California's housing priorities tumble amid coronavirus chaos – The Mercury News
Supporters
Abundant Housing LA
All Home
American Planning Association – California Chapter
Associated Builders and Contractors – NorCal
Bay Area Council
Bay Area Housing Action Coalition
BRIDGE Housing
California Apartment Association
California Association of Realtors
California Building Industry Association
California Chamber of Commerce
California Community Econ. Development Assn.
California YIMBY
Casita Coalition
City of Oakland
Council of Infill Builders
Facebook
Generation Housing
Greenlining Institute
Habitat for Humanity – California
Local Government Commission
Los Angeles Business Council
Sand Hill Property Company
Santa Monica Forward
Silicon Valley @ Home
Southern California Leadership Council
South Pasadena for Responsible Growth
SPUR
The Two Hundred
TMG Partners
UC Berkeley Terner Center for Housing Innovation
Up For Growth
United Dwelling
Zillow