AB 835 – Build A Wider Variety
of Homes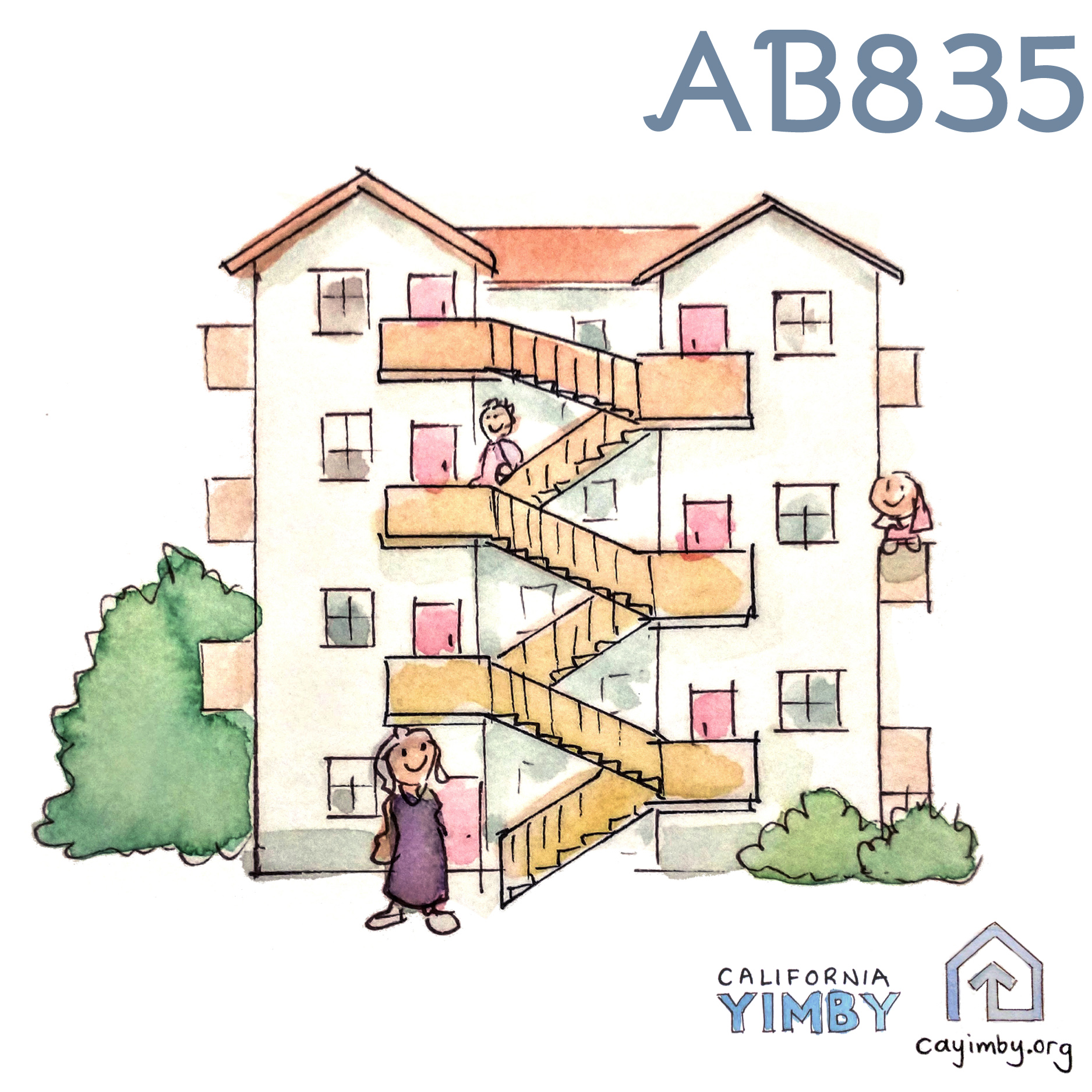 AB 835 will help expand the production of more affordable, family-sized apartments and flats by making it legal to build these types of homes on smaller and unusually-sized properties in our cities. By directing the State Fire Marshal to research and develop standards for "single stairway," multi-family buildings, AB 835 will make it possible to build a wider variety of homes at a lower cost.
California's state building code ensures our homes are built to the highest standards of health and safety. These codes cover issues like fire and earthquake resilience, energy efficiency, accessibility, indoor air quality, and other "life and safety" aspects of the built environment.
The California Building Code is continuously updated, as new building technologies and practices make it possible to maintain and often exceed the old codes and standards. Examples of recent and ongoing improvements include the continuous updating of energy efficiency standards, and the certification of "mass timber" for taller buildings.
But while some areas of the building code receive routine updates, others are still based on outdated construction methods or fail to account for modern building technologies and practices. One such anachronism is the state requirement that apartment buildings above three stories have two stairwells, or "means of egress."
While the requirement for two stairwells was originally adopted for fire safety, developments over the past two to three decades have made such requirements obsolete. Modern buildings across the U.S. and Europe have fire safety ratings that greatly exceed buildings with two staircases – even though they only have one staircase.
While the original intent of double-stairwell buildings was fire safety, in the era of more modern techniques, they've become a hindrance to housing variety and affordability. Dual-stairwell buildings must have a hallway connecting the stairwells, creating a "dual-loaded corridor"-style apartment building.
Such buildings force the individual apartments to be on either side of the corridor, which limits their size. They also restrict access to natural sunlight and cross-ventilation – two key components that don't just enhance energy efficiency and air quality but are also sought-after by families and others seeking such amenities.
Finally, because of the additional floor area required to accommodate the extra stairwell, dual stairwell buildings can only be built on larger lots – which has the effect of banning many family-sized apartments on smaller or oddly-shaped lots.
Most jurisdictions worldwide, including cities like Seattle and New York, allow for the construction of single-stair buildings above three stories (generally up to 10 stories). This allows apartment buildings to be built on smaller, narrower, and oddly-shaped lots and can reduce construction costs while expanding the supply of these types of homes. Configuring apartments around a single staircase central core also makes it possible to build permits more "family-sized" 3- and 4-bedroom homes units, which are difficult to fit in buildings with a hall connecting two stairwells.
AB 835 will help improve the cost-effectiveness and efficiency of building housing by directing the State Fire Marshal to research and develop standards for single-stairway, multi-family unit residential buildings, with the goal of making these types of homes legal to build throughout the state.
Updates: AB 835 passed the Assembly floor on 5/30/23 by a 63-0 vote. It passed the State Senate on 9/5/23 by a vote of 39-0. It passed the Assembly in a concurrence vote on 9/7/23. AB 835 was signed into law by the Governor on 10/7/23.
Author: Lee (D, AD 24)
Resources: