AB 1633 — Hold
Cities Accountable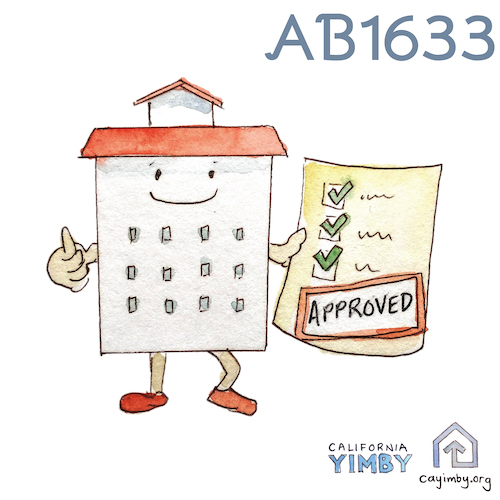 AB 1633 will end the inappropriate abuse of the California Environmental Quality Act (CEQA) by jurisdictions that attempt to block new housing developments that have already been found in compliance with local and state land use and environmental regulations. The bill does not amend or otherwise change CEQA in any way, but rather adds further legal clarification and certainty around prior state efforts to ensure that environmentally beneficial and legally compliant homes are permitted and built.
The Housing Accountability Act (HAA) was passed in 1982 to limit the ability of local governments to deny housing projects that are found to be in compliance with local and state regulations, including environmental regulations. On numerous occasions through the years, the Legislature has strengthened the HAA to prevent bad-faith abuse or deliberate misinterpretation of its provisions by cities that seek to block new homes.
In November 2021, the California Department of Housing and Community Development (HCD) sent a letter to the city and county of San Francisco, expressing its belief that the City's denial of two infill housing projects in the city's downtown area were a violation of the Housing Accountability Act. The projects included affordable housing, were found by city officials to have completed sufficient environmental study, and were approved by the Planning Commission.
Rather than approve the projects as required by law, the San Francisco Board of Supervisors ordered additional environmental review, but did not provide objective findings or clear direction on how the projects could be brought into compliance. In so doing, the Supervisors alerted housing regulators of a possible gap in state housing law related to CEQA clearance.
AB 1633 is designed to ensure that any future denials or withholding of a CEQA clearance to housing developments that are legally entitled to such clearance is a violation of the Housing Accountability Act.
Additionally, AB 1633 provisions will only apply to housing development projects if:
The project is not located on a sensitive environmental site, as defined by state law;
The project follows the CEQA timelines;
The project is located within an "urbanized area" as defined by the California Code of Regulations; and
The housing density of the project meets or exceeds 15 dwelling units per acre.
Updates: AB 1633 passed the State Assembly on 5/31/23 with a 53-0 vote. It passed the State Senate on 9/13/23 by a vote of 21-3, and passed the Assembly on a concurrence vote on the same day. AB 1633 was signed into law by the Governor on 10/11/23.
Author: Ting (D, AD 19)
Co-sponsors: California YIMBY, SPUR, Bay Area Council, California Housing Partnership
Resources: