Previous Events
Wednesday, October 21, 2020 @ 5:00 PM 
Prop 16: Ending the Ban on Affirmative Action Conversation
There's no question about it: For more than a century, housing discrimination in California against communities of color has led to disproportionate rates of homelessness, displacement, and COVID-19.
This fall, we have the power to begin undoing the damage. By passing Prop 16, we can end California's ban on affirmative action allowing for intentional, active, race-conscious solutions to support the communities who have been victimized by systematic racial and gender discrimination.
Join us for a conversation about Prop 16 and learn how it will start to tackle discrimination by bringing back affirmative action.
---
Wednesday, October 14, 2020
Building Fire-Safe Communities: A Discussion with Michael Wara
With destructive wildfires ravaging our state, and acrid smoke filling our cities, one thing every Californian agrees on is this: We urgently need to protect our communities from fire, and ensure our neighbors impacted by fire have safe, secure, and affordable shelter.
In this open discussion with Michael Wara, a Senior Research Scholar at Stanford University's Woods Institute for the Environment and Director of the Climate and Energy Policy Program, we'll talk about the implications of wildfire to California's housing future, including topics like:
Will homes in extreme fire zones lose their insurance? How will the state respond?
How can we fortify our communities against the inevitable fires in our future? What are the barriers?
What's the connection between traditional sprawl development and fire risk?
What kinds of housing should we be building to help avoid fire zones, increase resilience, and ensure there's enough affordable housing for everyone in California?
---
Thursday, October 1, 2020
Housing in a Time of Climate Change
Across California, the impacts of climate change are obvious: Wildfires are growing bigger and more intense, low-lying areas are flooding with greater frequency, and heat waves are getting more severe and deadly. At the same time, climate pollution caused by sprawl development is getting worse, even as the state tries to reduce emissions across the economy as a part of its aggressive climate action goals.
This panel of climate scientists, planning professionals, and urban resilience experts will share research that shows how infill housing near transit and jobs is one of the most important tools for climate action, and how cities, suburbs, and rural communities across our state must begin to adapt, urgently, to the climate changes that are already underway.
---
Wednesday, August 19, 2020
Housing Town Hall with Senator Scott Wiener
Senator Scott Wiener is a hero to housing advocates across the state for his role in shepherding landmark legislation to end California's severe housing shortage and affordability crisis, reduce traffic congestion and air pollution, and to expand our public transportation system.
What advice does Senator Wiener have for the YIMBY movement? What's next on his policy agenda? What motivates him to keep pushing against the forces of stasis?
Join California YIMBY and Senator Wiener to hear about his long-term vision for building sustainable communities, learn about current and upcoming housing legislation, and talk about the future of the YIMBY movement.
---
Tuesday, August 11, 2020
Housing Policy is Transportation Policy: Public Transportation Experts Speak Out
Building affordable housing near high-quality transit is necessary for addressing both our housing and climate crises. Yet the co-dependency of our housing and transportation systems is not reflected in the way we make policy in these two areas, which are often in conflict with each other. Meanwhile, the high costs of car-centric transportation, including the carbon emissions and air pollution choking our cities, continue to climb.
This panel of seasoned transportation professionals and policymakers will dig into the history of the relationship between our transportation systems and affordable housing, and how reforms in both areas can complement each other to solve both the housing crisis, and the climate and air pollution crises.
---
Wednesday, July 8th, 2020
Understanding Racism in Housing: a Conversation with the Filmmakers of "The Banker" Movie
Inspired by true events, "The Banker" is the story of Black entrepreneurs Bernard Garrett (Anthony Mackie) and Joe Morris (Samuel L. Jackson) who hatch a business plan to fight for housing integration — and equal access to the American Dream for African Americans.
"The Banker" is set in the 1960's, but the legacy of redlining, discriminatory lending practices, and outright racist housing policy persist today.
Join California YIMBY for a special opportunity to meet the talent behind "The Banker", learn about their inspiration for the film, and discuss how this connects to our work to reverse historic housing discrimination. "The Banker" is available on Apple TV+.
---
Wednesday, July 1st, 2020
How A Legal Victory for LGBTQ Rights Will Impact Housing
Join California YIMBY, Equality California, Williams Institute, California Department of Fair Employment and Housing and Freedom for All Americans to hear from an expert panel about housing discrimination for the LGBTQ community and what the Supreme Court ruling means for protections moving forward.
Click the Screenshot below to see this video!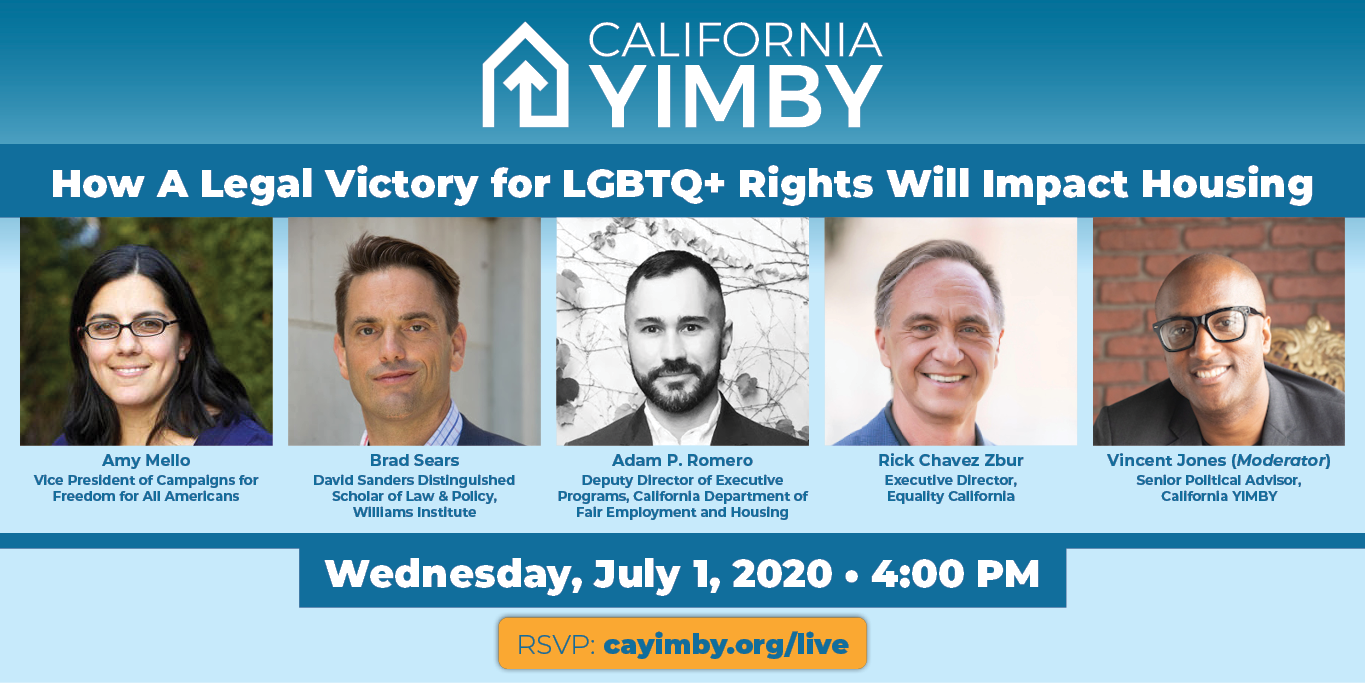 ---
Tuesday, June 23rd, 2020
Meet CaRLA: The Team Suing NIMBY Cities and Winning
Learn how the laws passed by California YIMBY and our allies are being put to work to build more homes.
Numerous state laws in California require cities to approve housing that complies with local plans. But for years, cities have denied housing proposals without consequence — because there was no one there to enforce the law. California YIMBY and our allies California Renters Legal Advocacy and Education Fund (CaRLA) are changing that — and we're  telling you how!
View this recording to learn more about how advocates can use the law to fight back against NIMBY cities. We'll  also discuss current lawsuits against cities that could help break open barriers and lead to more homes.
---
Tuesday, May 26th, 2020
Housing Production and Affordability with Evan Mast
How can we build more affordable homes for ALL Californians?
Mast has researched how market-rate development impacts affordability for local and regional residents. Please join us for a moderated discussion with our CEO, Brian Hanlon and Evan Mast on our data-driven path to housing affordability in California.
---
Friday, May 22nd, 2020
Housing in the COVID-19 Recovery: What's Next? A Discussion on Economics, Policy, and Finance.
---
Thursday, May 21st, 2020
How will the COVID-19 crisis impact our ability to finance and build new homes?
Please join California YIMBY, Abundant Housing Los Angeles, and top experts from around the state for a discussion on the future of affordable housing, housing finance, and related state housing legislation.
The housing crisis was already a challenge before COVID-19; come and learn from these experts what we can do to move toward solutions as quickly as possible.
---
Friday, May 15th, 2020
A Conversation with Jason Elliott and Kate Gordon
Join us, Bay Area Housing Advocacy Coalition, & the San Francisco Bay Area Planning and Urban Research Association for a conversation about housing, homelessness, & COVID-19 with:
Jason Elliott, Senior Counselor to California Governor Gavin Newsom for Housing & Homelessness
Kate Gordon, Director of The Governor's Office of Planning and Research
---
Tuesday, May 12th, 2020
Housing & Social Equity Series: Closing the Racial Wealth Gap
To close the wealth gap, we have to address the role of housing. That's why we sat down with experts to discuss expanding pathways to homeownership and advancing economic equity. Our panelists included:
Adam Briones, Economic Equity Director for The Greenlining Institute
Noerena Limón, Senior Vice President of Public Policy and Industry Relations for the National Association of Hispanic Real Estate Professionals
Robert Apodaca, Leadership Council member for The Two Hundred
This event will deepen your understanding of the connection between wealth inequality and the housing crisis — and the actions we can take to create a more equitable society.
---
Thursday, May 7th, 2020
California YIMBY & YIMBY Voice Present: 'Generation Priced Out' with Randy Shaw
Randy Shaw is the Executive Director of the Tenderloin Housing Clinic, San Francisco's leading provider of housing for homeless single adults. He's also the author of Generation Priced Out, a book that highlights the pricing out of a new generation of working and middle-class residents from the nation's progressive cities. Mr. Shaw offers proven strategies from over a dozen cities for addressing the affordability crisis and combating climate change.
---
Friday, May 1st, 2020
California YIMBY, Habitat for Humanity, & The Two Hundred present: Virtual Town Hall with California Assemblymember Robert Rivas
A discussion with Assemblymember Rivas about the California Farmworker COVID-19 Relief Package and two major 2020 housing bills.
---
Tuesday, April 28th, 2020
Housing & Social Equity Series: Discussion with Richard Rothstein, Author of The Color of Law: A Forgotten History of How Our Government Segregated America.
This video dives into the roots of residential segregation, the impact on our communities today, and the legacy of the Fair Housing Act. 
This event is the first in our Housing & Social Equity Series — join us to explore and understand the adverse impacts of the housing crisis across California, particularly in communities of color. Please stay tuned for more events to follow.
---
Thursday, April 23rd, 2020
Peeling back the curtain on California's response to COVID-19
California YIMBY and the Bay Area Housing Advocacy Coalition help peel back the curtain on California's response to the coronavirus pandemic.
We're grateful to have been joined by the following panelists:
Graciela Castillo Krings of Sacramento Advocates
Holly Fraumeni de Jesus of Lighthouse Public Affairs
Sosan Madanat of Lighthouse Public Affairs
---
Wednesday, April 22nd, 2020
SFHAC's Housing Town Hall
San Francisco Housing Aaction Coalition's Housing Town Hall with California State Senator Scott Wiener, California Assemblymember David Chiu, & California Assemblymember Phil Ting.
This video is brought to you by the San Francisco Housing Action Coalition.
For more information, visit their website: https://www.sfhac.org
---
Wednesday, April 15th, 2020
Abundant Housing LA's Covid-19 & Housing Virtual Panel moderated by Sophia Bush
---
Thursday, April 9th, 2020
California YIMBY & East Bay for Everyone's Virtual Town Hall with Assemblymember Buffy Wicks