Read our new report on the impacts of the CA housing crisis on Women
of Color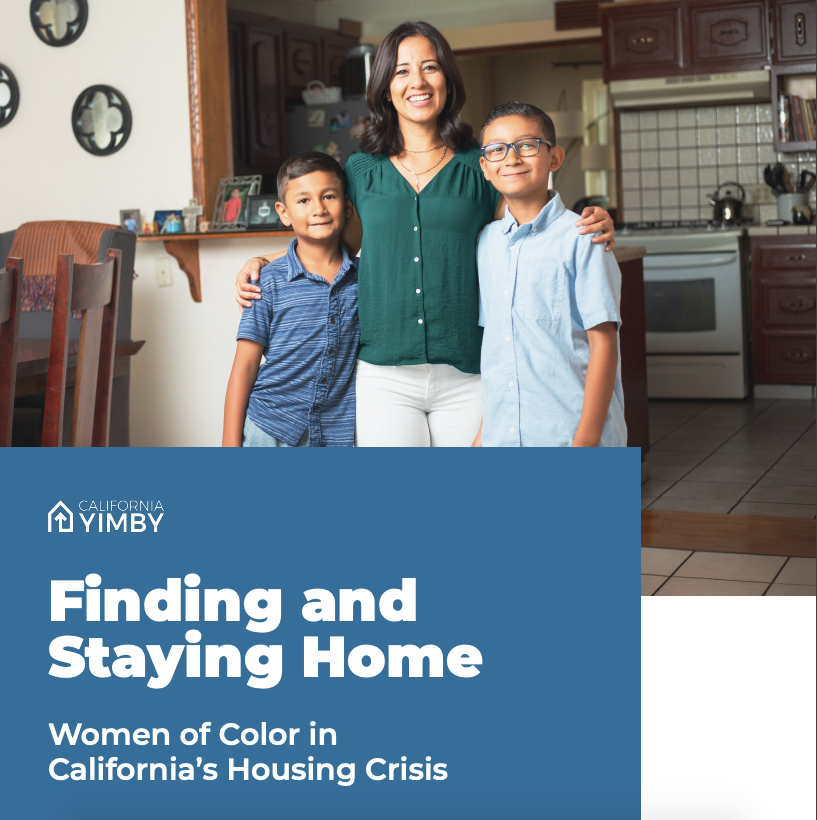 "Her name is Alisa. Her name is Veronica. Her name is Kally. Each one is a woman of color living in California navigating the rental market."
So begins a new study out today, commissioned by California YIMBY and authored by Ange-Marie Hancock Alfaro, Chair of the Gender Studies Program at the USC Dornsife College of Letters, Arts and Sciences. The study, "Finding and Staying Home: Women of Color in California's Housing Crisis," provides us with important new findings about how the housing crisis is exacting an especially heavy toll on women of color, who comprise one-third of all Californians. The study also offers valuable insights into how to craft a pathway forward that alleviates these burdens, through public policy that centers this large and growing demographic.

READ THE REPORT


But the study is also important to me personally, as a gay Black man, a lifelong progressive activist, a native Angeleno — and a YIMBY.
"Tight housing markets and high housing costs push women of color into unhealthy housing conditions, including increased exposure to lead and mold, with increased fear of eviction driving tenants into silent endurance of these conditions."
Growing up in Compton, Inglewood, and South LA, the son of a single mom, nobody needed to tell me about the challenges Black, Latino, and Asian-American populations face in our state. Systemic racism, discrimination in housing and wages, an unfair criminal justice system — this was my daily reality. Dismantling the systems that underpin these historic offenses is the task of a lifetime, and probably many lifetimes. But I know I am not alone in believing that we can right these wrongs through the combined power of academic inquiry, political organizing, and activism.
As Southern California Political Director for California YIMBY, I envisioned the need for this report after discovering the lack of scholarly research on the topic. In my visits to our elected leaders in Sacramento, I was struck by the lack of women — including women of color — on legislative housing committees, and the absence of women's voices in housing policy conversations in this state.
How could this be? Women are half the California population, and in many circumstances are the heads-of-household and primary breadwinners for their families. I know that was the case for my mom, and that my experience is not unique. Women in general, and women of color in particular, face far more severe consequences from housing insecurity, rent burdens, and wage discrimination.
And yet, we don't have a solid understanding of the housing conditions, desires, and needs of California's women of color. How, then, can we ensure our policy response is fully suited to the task?
"…37% of women of color have lived at their residence between 10-19 years. Leaving a neighborhood after such a significant amount of time is not just leaving a place, it is leaving a life."
"Finding and Staying Home" is our attempt to fix this gaping hole in housing research. We knew going in that women of color prefer housing near transit and jobs; we've learned that a key determinant in housing choice is access to reliable, affordable daycare. We knew that women of color seek the same opportunities for home-ownership as most Americans; we didn't know the full scale of the impact of wage discrimination in housing choice.
Speaking personally and for California YIMBY, I can tell you that we're constantly striving for a holistic, inclusive approach to housing policy — and we are excited to incorporate these new research findings into our agenda.
Please take a moment to read Ange-Marie Hancock Alfaro's well-researched, well-crafted report, studying the nuanced ways in which the housing crisis affects California's women of color.
Yes we can,
Vincent
Vincent Jones
Southern California Political Director + Senior Advisor
California YIMBY