The HomeWork – October
29, 2019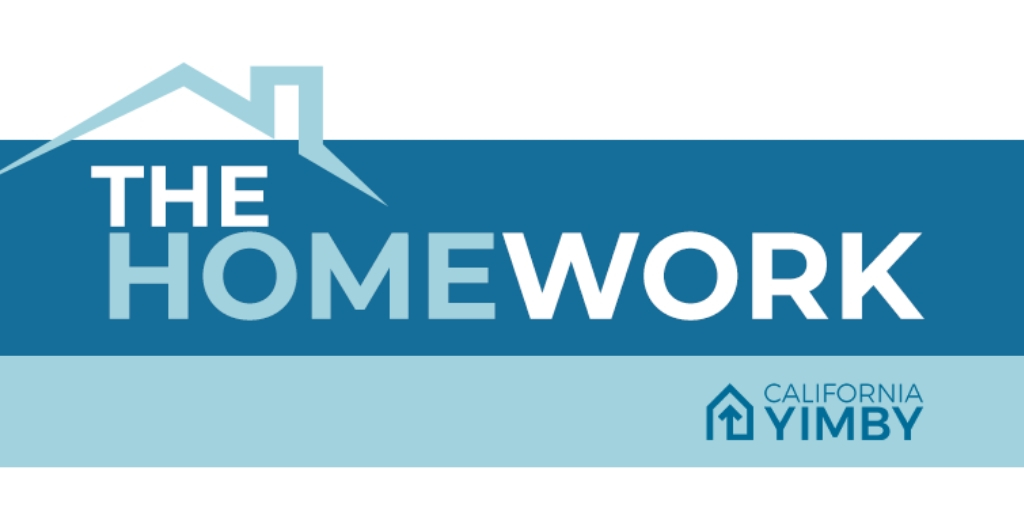 Welcome to The Homework, the official newsletter of California YIMBY. In each edition, we aim to support grassroots YIMBYs with the most up-to-date thinking on how to end the housing shortage. The Homework offers top news clips, cutting-edge research by leading academics in housing and related studies, and the latest writings from the California YIMBY team on our blog.
We welcome your ideas and feedback — send story tips and ideas to Homework@cayimby.org.
Did someone forward this email to you? Sign up to get it here.

---
Good with coffee and avocado toast:
---
California YIMBY brings you summaries of cutting-edge research from the nation's top housing experts. In this edition:
The Bay Area: Still Segregated:
In a new series of research briefs, Stephen Menendian and Samir Gambhir at UC Berkeley's Haas Institute for a Fair and Inclusive Society unpack the data behind the Bay Area's ongoing patterns of racial inequality and spatial segregation. Big takeaways:
Despite being one of the most diverse regions in the country, very few Bay Area neighborhoods reflect that diversity.
The region is segregated both within municipal boundaries, and between larger and smaller cities—and the most diverse cities tend to have the most segregated neighborhoods.
Displacement and gentrification don't cancel out segregation—rather, some neighborhoods have seen reduced populations of color while overall segregation remains intact. This series maps distinct patterns of segregation for Black, Asian, Latino, White, and Native American populations, with an accompanying interactive web tool.
READ MORE →
Angelinos Belong Together: Can we shave 25% off housing costs in Los Angeles? A new study from the University of Pennsylvania says yes. The big takeaways:
Strict land-use regulations drive up housing prices more than increased demand.
The "amenity effect" of some regulations, which can signal quality of life improvements in an area, increases prices far less than restrictions on supply.
Sharp restrictions on new housing in one city have major "spillover" effects on surrounding municipalities. Our solutions must be regional in scope.
READ MORE →
Renters Under-represented: A new working paper from political scientists at Boston University, finds a dramatic underrepresentation of renters at all levels of government in the United States. This has profound effects on our economy, which is regulated to favor wealthier homeowners to the detriment of the poor and landless.
Important takeaways:
An analysis of 10,000 government officials and 173 cities found that homeowners are overrepresented by over 30%.
One major outlier? Minneapolis, where 6 of 14 city councilmembers are renters, including Mayor Jacob Frey. The city passed ambitious zoning reforms this year.
Renters are less likely to run for office. Disproportionate candidate recruitment is likely a consequence of greater economic resources and security of tenure that homeowners enjoy.
READ MORE →
---
---
Let's Triplexize California: Our partners at the California Renter's Legal Assistance Fund (CaRLAF) have a nice summary of how new legislation governing ADUs, or granny flats, could lead to the "triplexization" of single family neighborhoods throughout the state. We couldn't be more excited.

READ MORE →


Governor Newsom Signs Package of Historic Housing Legislation: Read our wrap-up from the legislative session.

READ MORE →
---
Meet Barbara from Sacramento. While battling cancer, she was forced into an unstable living situation. Now, she's a lifelong YIMBY and our Regional Organizing Director for Northern California.
READ MORE →
---
We're obsessed with solving the housing crisis, and our nightstands are stacked with writings on the topic. Here's what we're reading this week:
The Road to Inequality: How the Federal Highway Program Polarized America and Undermined Cities – The creation of the federal highway system in the late 1950s has long been hailed as a signal achievement in American history, giving rise to an unprecedented increase in homeownership — for some. In this detailed look at the history of the highway system, Stanford University Assistant Professor of Political Science Clayton Nall unpacks how the highway system, for all its good intentions, also led to the devastation of African American neighborhoods in urban cores, and cemented long-term patterns of inequity, environmental injustice, and unsustainable sprawl.
READ MORE →
---
Share the good word
Thanks for reading to the end of the newsletter. Like what you read or have feedback?
Reply to this email,  pass it along, and encourage your friends to sign up.