The HomeWork: May
28, 2020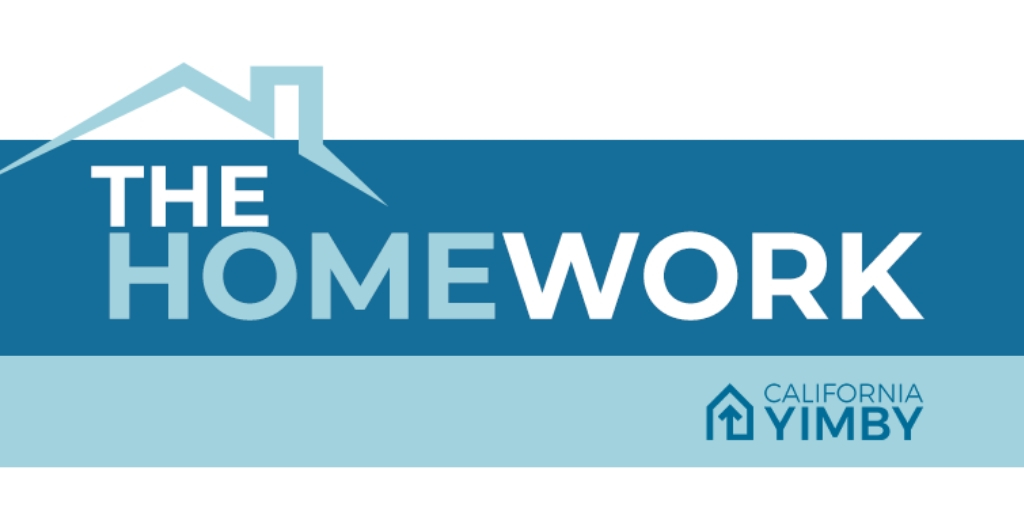 Welcome to the May 28, 2020 Main Edition of The HomeWork, the official newsletter of California YIMBY — legislative updates, news clips, housing research and analysis, and the latest writings from the California YIMBY team.
---
Sacramento's housing work is heating up, with a first round of policy committees concluded and several major reforms moving ahead. The legislation we're supporting will:
Make it faster and less expensive to build. By eliminating arbitrary barriers that delay and drive up the cost of building, California can make homes more affordable for everyone. We're supporting legislation that can streamline homebuilding and reduce excessive fees.
Support more "mom and pop" housing development. Much of the housing we need can be built as smaller projects constructed by local builders. We support legislation that puts Californians to work building fourplexes and similar projects, while eliminating red tape that hurts small businesses.
Spurring economic recovery by creating more construction jobs. The construction industry creates good jobs for workers across the state, while also generating much-needed revenues for local governments. We're backing legislation that will put California's construction workers back to work.
Both Houses in the Legislature have put forth important proposals that will lead to more housing production and take meaningful steps toward ending the housing shortage. Senate leadership released a package of bills that we're watching closely, and several that we are supporting.
But the effectiveness of the Senate package will be largely determined by our success in the Assembly on a set of bills that will lead to real increases in housing production. Those bills include:
AB 3155, which would streamline small housing projects of 10 homes or fewer; probably the most significant housing production bill left of the session.
AB 2345, which would expand the state's existing Density Bonus Law.
AB 2323, which updates rules to ensure that housing projects near transit and job centers align with CA climate and housing goals.
AB 2580, which creates a streamlined approval process for converting motels and hotels into housing.
AB 3107, which permits housing development in commercial areas if the housing development contains at least 20% affordable housing.
Finally, Governor Newsom has signalled his intent to produce his own recommendations on permit streamlining and zoning reform. No details yet on that proposal — more soon.
To learn how to support our efforts, contact Louis Mirante at louis@cayimby.org.
---
How the Housing Shortage Punishes Essential Workers
In the previous installment of The Homework, we reported that Los Angeles has the most overcrowded housing conditions of any major city in the United States. Even though LA is not the densest city, it presents a major risk for the spread of COVID-19. More recently, the Public Policy Institute of California has found that California's essential workers are at especially high risk from overcrowded housing.
Key takeaways:
California's "essential workers," such as farmworkers, healthcare workers, and food service workers, have to be physically present in order to perform their jobs — and are also more likely to live in overcrowded conditions that increase their risk of exposure. An estimated 16% of essential workers in California live in overcrowded housing, compared to just 12% in other job sectors. That number doubles for farm workers and food service workers.
California counties exhibit a clear link between essential workers living in overcrowded housing and COVID-19 deaths.
In a UCSF study conducted in San Francisco's Mission District, essential workers and individuals who live in larger households were found to be more likely to contract the coronavirus.
The Bay Area's Housing Deficit – Past and Future
Our friends at SPUR released a strong new manifesto in March, "What Will It Really Take to Create an Affordable Bay Area?" The think-tank has consulted several population projections, economic indicators, and good old fashioned principles of compassion to compile a clear vision for a better future.
Key takeaways:
The San Francisco Bay Area's population is growing, and we'll need to build more housing for everyone: over 2 million new homes by 2070. We already fell behind by roughly 699,000 homes over the past twenty years.
The Bay Area is also growing wealthier, and current land-use patterns are pushing the poor further away from high-opportunity urban cores near the coast. We need an affirmative plan to make sure growth does not exacerbate inequality, and increases access to opportunity.
We have to re-think what housing means for our economy and our culture. Housing should be seen as a form of infrastructure that meets basic human needs, just like water and electricity — not an asset class for high-yield investments. Of course, in the land of property rights, that's easier said than done.
---
---
Meet CaRLA: The Team Suing NIMBY Cities and Winning!
Learn how the laws passed by California YIMBY and our allies are being put to work to build more homes.
Numerous state laws in California require cities to approve housing that complies with local plans. But for years, cities have denied housing proposals without consequence — because there was no one there to enforce the law. California YIMBY and our allies California Renters Legal Advocacy and Education Fund (CaRLA) are changing that — and we're going to tell you how!
---
---
Share the good word
We welcome your ideas and feedback — send story tips and ideas to Homework@cayimby.org.
Did someone forward this email to you? Sign up to get it here.