The HomeWork: May
10, 2021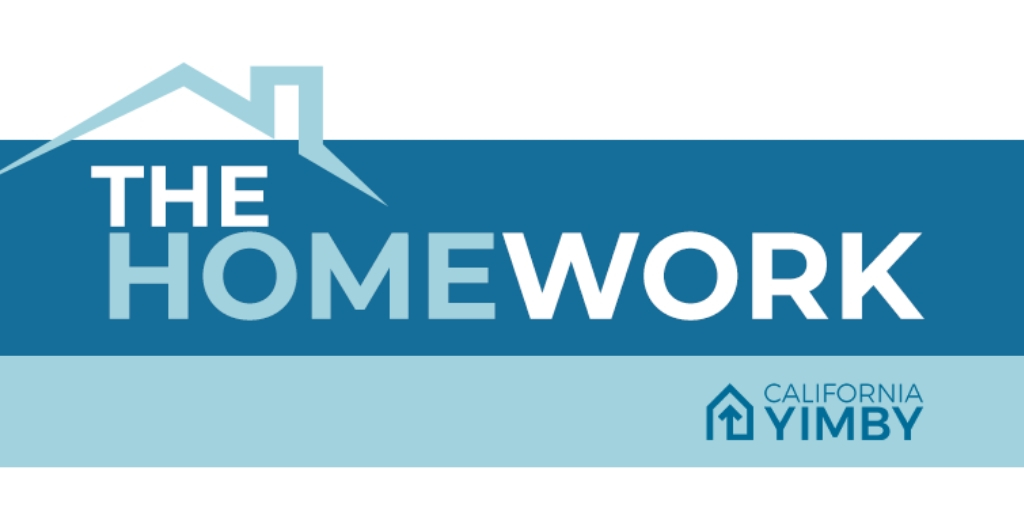 Welcome to the May 10, 2021 Main edition of The HomeWork, the official newsletter of California YIMBY — legislative updates, news clips, housing research and analysis, and the latest writings from the California YIMBY team.
---
With most first house policy committees behind us, major housing bills are still moving forward. Both the Assembly and the Senate will have most of their appropriations committee hearings this month, followed by the suspense file — the last committee step for most bills. Then, bills will face a deadline of June 4th for a full vote in their house of origin (Assembly or Senate) before proceeding to the next step.
SB 765, which would have allowed local governments to set their own setback rules for ADUs, is not moving forward this year, thanks to your strong advocacy. As always, thanks for taking action to help us pass good bills (and stop bad ones).
If you're interested in supporting California YIMBY's priority bills, contact Louis Mirante at
louis@cayimby.org
for draft support letters. If you're interested in signing up to participate in our rapid response program and participate remotely in legislative hearings with us, please
sign up here
.


---

Transit Blues in the Golden State: How the Housing Crisis Hurts Transit Ridership
A new research brief from UCLA Institute of Transportation Studies finds more compelling evidence linking land use and transportation equity by unpacking California's jobs-housing balance. Blumenberg & King (2021) analyze the "self-containment" of workers in California, or the ratio between work commutes inside and outside city boundaries. Amid an increasingly dire housing shortage, the researchers find that a lack of housing supply is pricing out more low-wage workers farther away from their jobs, as high housing costs increase commute burdens.
Key takeaways:
Historically, lower-income workers have lived closer to their jobs, but that trend is reversing: "California workers are becoming less likely to both live and work in the same city."
This is due to housing costs. "Workers are less likely to both live and work in cities with expensive housing."
Land use reform can help turn the tide. "Policies to increase the supply of housing in job-rich and high-housing-cost areas could help reverse this troubling trend," which must be paired with other strategies that "extend beyond housing production, such as policies to better match job skills and housing prices to the needs of potential workers."
READ MORE »
---
The Need for More Renters in our Representers
It's no secret that homeowners are dramatically overrepresented at all levels of elected government, with profound consequences for political culture and public policy. A recent paper from Boston University investigates the contours of this problem in greater detail.
Key takeaways:
Across all levels of American government, the homeownership rate among elected officials surveyed was over 30% higher than their constituencies.
Public officials are likely to own more valuable single-family homes than their constituents.
Renters may be less likely to run for political office, but do not appear less likely to win.
READ MORE »
---
---
---
Share the good word
We welcome your ideas and feedback — send story tips and ideas to Homework@cayimby.org.
Did someone forward this email to you? Sign up to get it here.