The HomeWork: March
8, 2021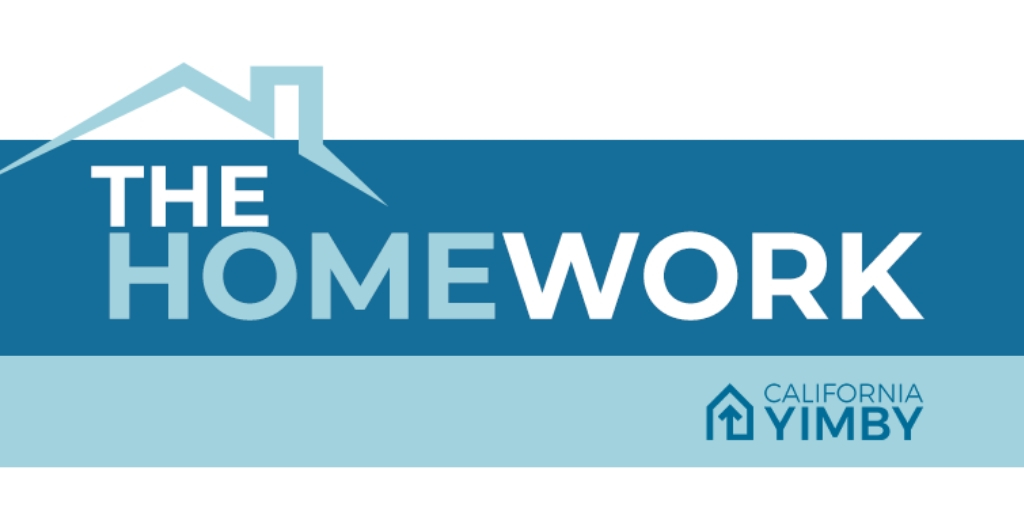 Welcome to the March 8, 2021 Main edition of The HomeWork, the official newsletter of California YIMBY — legislative updates, news clips, housing research and analysis, and the latest writings from the California YIMBY team.
---
Legislators in Sacramento are about to enter committee season, which will last through April. This will be the first opportunity for many bills to get a hearing. Usually, less complicated bills get hearings first.
On March 18th, the Senate will hear two California YIMBY priorities: SB 10 and SB 477. SB 10 would make it easier for cities to legalize multi-family housing. SB 477 would track the efficacy of state housing laws, allowing advocates and legislators to measure their successes and propose improvements.
On March 9th, the Assembly budget subcommittee that covers housing will hear the Governor's proposal for a Housing Accountability Unit. HAU would become a division of the Department of Housing and Community Development, with the goal of providing local governments with technical assistance to follow state housing laws; it will also have powers to enforce state housing law. This is a controversial bill that is being opposed by anti-housing activists. Stay tuned for updates.
If you're interested in supporting these bills, contact Louis Mirante at
louis@cayimby.org
for draft support letters. If you're interested in signing up to participate in California YIMBY's rapid response program and participate remotely in hearings with us, we'd love for you to
sign up here.
---

Location, Location, Location: Winning (and Losing) the Housing/Transit Lottery
Do people have innate transportation preferences that they express independently of their living conditions, or does the built environment of our neighborhoods influence those preferences? New evidence from researchers at UCLA and UC Santa Cruz analyzed data from San Francisco's affordable housing lottery, and found that the transportation, parking, and other amenities located near a home play a significant role in the mode of transportation people use.
The study, "What Do Residential Lotteries Show Us About Transportation Choices?," shows that households randomly assigned to housing throughout the city make significant mode shifts depending on the availability of parking and transit. Despite random variation, more available parking results in more automobile trips, supporting the thesis that parking spots "induce" people to drive more.
Key takeaways:
When households win an affordable home in San Francisco through the city's housing lottery, their proximity to public transit and safe streets influences how often they ride transit, walk, or bike. When it comes to transit and bike infrastructure, "neighborhood-level accessibility has statistically significant and quantitatively meaningful impacts on household decisions about car ownership and travel."
The inverse is also true of the building's parking availability per unit, which "not only influences car ownership, vehicle travel, and transit use, but has a stronger effect than transit accessibility."
While parking availability is a major influence in transportation choices, it does not yield any commensurate benefit for better employment opportunities.
READ MORE »
---
Two Great Tastes, Taste Great Together: How Social Housing Closes the Gap
Can California learn from robust public housing development models around the world to fix its long-standing housing crisis? The Oakland-based advocacy group East Bay For Everyone (EB4E) has some ideas in a new paper.
Key takeaways:
The volatile business cycle weakens the construction labor pipeline and inhibits the production of housing for low- and moderate-income housing. A public housing development corporation could step in to support housing construction during downturns.
While the poorest Californians don't have enough money to secure housing on the private market, middle-income households are priced out of California's supply-constrained market while also earning too much to qualify for most housing subsidy programs. Public housing could meet their needs, as well.
In the past, America's maintained and reinforced patterns of segregation and concentrated poverty. Mixed-income rental housing and long-term leasehold ownership models can pave the way for fiscally self-sustaining public housing.
READ MORE »
---
Black Housing Heroes: Jon Wizard
"I think the way to solve the housing crisis is to create more housing, and a way to do that is giving people the opportunity to do it themselves. If you are very specific and strict about the types of housing you allow in a community, then certain people will be excluded." —
Click here to read our Black Housing Hero profile of Council Member Jon Wizard
READ MORE »
---
March 9: California's 2021 State Housing Bills: What You Need to Know
The Legislature is officially back in session, and a raft of new housing measures are under consideration. Join California YIMBY on March 9 for a deep dive into proposals that would address our housing shortage and affordability crisis. We'll take your questions and help you find opportunities to advocate for more homes. RSVP here.
RSVP NOW »
---
---
Share the good word
We welcome your ideas and feedback — send story tips and ideas to Homework@cayimby.org.
Did someone forward this email to you? Sign up to get it here.