The HomeWork: March
23, 2021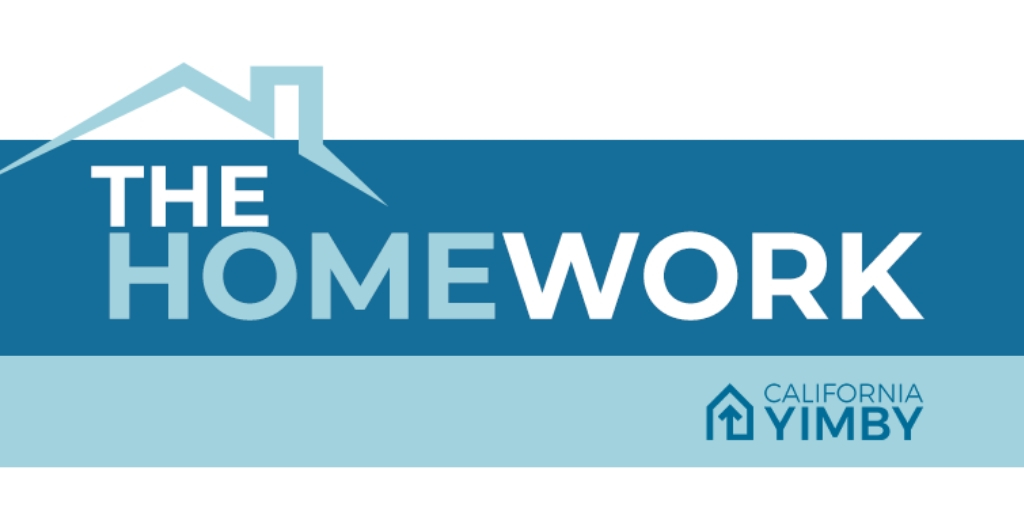 Welcome to the March 23, 2021 Capital edition of The HomeWork, the official newsletter of California YIMBY — legislative updates, news clips, housing research and analysis, and the latest writings from the California YIMBY team.
---

The Legislature held its first policy committee hearings last week on our priority bills, and we are very happy to report that SB 10 (Wiener) and SB 477 (Wiener) both made it out of committee, with only one "no" vote between them.
SB 10 will allow cities to create a faster, cheaper process for legalizing middle-income housing; SB 477 will require local and state governments to track the impact of state housing regulations on local housing development — allowing advocates and the Legislature to make evidence-based improvements to these programs.
California YIMBY is sponsoring SB 10, and co-sponsoring SB 477 with SPUR. Thanks to everyone who contacted their representatives to support these bills.
Next week is Spring recess, so the Legislature will be off. Expect more policy committee hearings to come the following week.
If you're interested in supporting California YIMBY's priority bills, contact Louis Mirante at louis@cayimby.org for draft support letters. If you're interested in signing up to participate in our rapid response program and participate remotely in legislative hearings with us, please sign up here.
---

Getting By on Increased Supply: The Portland Experience
Does legalizing multi-family homes (a.k.a. "upzoning") just boost asset values for speculative real estate portfolios, or does it produce a tangible benefit with new housing supply? Some research has already explored the nuances around this question, but a new study on zoning reform in Portland, Oregon by Hongwei Dong (2021) finds a strong effect of increased supply in recent decades.
Zoning reform efforts in this city, which faces a severe housing shortage and high prices, offer rare conditions for a natural, quasi-experiment. Here are the key takeaways:
From 2000 to 2017, Portland legalized more homes on nearly 1,400 acres of its parcels, and saw just over 62,000 new homes built—69.9% of them in new, multifamily housing. Only 20% of new homes were single-family, and 9.5% were accessory dwelling units.
Not only was most new housing construction in multi-family structures, but a slight majority of new housing (51.3%) was built in commercial or mixed-use districts, rather than strictly residential zones.
The changes in the built environment aren't drastic or uniform. While two-thirds of new housing construction was infill development, less than a third occurred on vacant parcels.
READ MORE »
---
Black Homeowners in Crisis from COVID
A new report from Neighborhood Housing Services of LA County is sounding the alarm on the dire straits that Black homeowners in Los Angeles County are facing as a consequence of the COVID-19 pandemic. Access to homeownership, and its role as a long-term store of financial equity, has always underpinned the racial wealth divide in the United States. Due to the impacts of COVID, the numbers are perhaps more stark than ever.
Key takeaways:
There has been virtually no progress in growing Black homeownership since the Great Recession, and COVID-19 has wiped out any marginal improvement since then.
COVID-19 has wreaked disproportionate economic havoc on the Black community in LA: higher job losses and greater housing insecurity.
Pre-foreclosure notices dropped during the COVID-19 moratorium, but still remain highest in Black communities.
READ MORE »
---
Black Housing Heroes: Lori Gay
"Right now, there's no housing inventory to speak of, so our clients are getting outbid. We're only closing 10 percent of the deals we should be closing every month. The housing shortage is an issue of supply and demand."
READ MORE »
---
---
March 24: How to Be A Housing Element Watchdog 201
The Housing Elements process is a once-in-8-years chance to reform our segregationist land-use patterns, and ensure all Californians can access great jobs, services, and increased housing stability. New state laws put teeth into the Housing Element process, but enforcement at the local level is necessary to make sure cities meet their commitments.
In this training, you will learn how to effectively be a "watchdog" as cities complete their Housing Element updates. Speakers will provide an overview of how to evaluate Housing Elements, identify problems, and advocate to remedy violations of Fair Housing law.
Hosted by the Campaign for Fair Housing Elements and partner organizations including YIMBY Law, YIMBY Action, CA YIMBY, East Bay for Everyone, and Palo Alto Forward.
RSVP HERE »
---
Share the good word
We welcome your ideas and feedback — send story tips and ideas to Homework@cayimby.org.
Did someone forward this email to you? Sign up to get it here
.