The HomeWork: March
19, 2020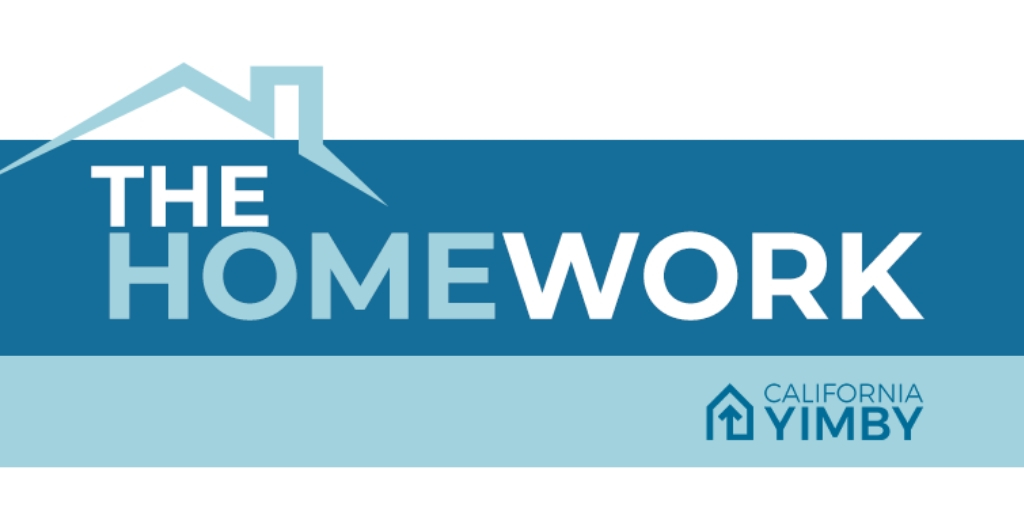 Welcome to the March 19, 2020 edition of The HomeWork, the official newsletter of California YIMBY. In each edition, we aim to support grassroots YIMBYs with the most up-to-date thinking on how to end the housing shortage. The HomeWork offers top news clips, cutting-edge research by leading academics in housing and related studies, and the latest writings from the California YIMBY team on our blog.
We welcome your ideas and feedback — send story tips and ideas to Homework@cayimby.org.
Did someone forward this email to you? Sign up to get it here.
---
A roundup of hot legislative action from our team in Sacramento:
The coronavirus is rightly dominating the focus of our state legislators, who passed an emergency $1.1 billion measure to address the crisis last week. But following that vote, due the risk of contagion, the Legislature voted to suspend its current session through April 13 — though that could change. The Homework will keep you updated on developments from the Capitol.
In the meantime, there are still many important housing-related bills that will come back for consideration when the legislature reconvenes. New bills we're supporting include:
AB 3153 (Rivas), which will reduce the cost of home construction and promote active transportation by allowing housing to provide active transportation resources rather than car parking for a portion of their projects.
SB 902 (Wiener), which will make it easier for cities to meet their state housing goals (Regional Housing Needs Assessments) through "gentle" infill density.
To support these bills or hear more about what California YIMBY is working on, contact Louis Mirante at louis@cayimby.org.
---
Good with coffee and avocado toast:
---
California YIMBY brings you summaries of cutting-edge research from the nation's top housing experts. In this edition:
The Weight of Cities – UN Report on Dense, Infill Housing as Climate Solution:
The United Nations has long been a strong advocate of the YIMBY policy toolkit as an integral strategy for fighting climate change. A new report from its International Resource Panel (IRP), "The Weight of Cities," underscores the importance of new homebuilding in urban environments as a critical step we must take to reduce emissions.
Climate and housing policy present an apparent paradox: how can cities be the future of a sustainable climate if they account for 75% of global energy demand, and 60% of domestic material consumption The answer lies in us, and the way we share land together. Currently, 54 percent of the global population lives in cities—that's projected to reach 66 percent by 2050. As it turns out, that means there is a major opportunity in cities around the world to reduce emissions: with a "suite," or portfolio, of better urban planning policies, the IRP estimates that cities can halve their annual domestic material consumption per capita, and reduce emissions by up to 30-55%.
To achieve this, the IRP report advocates for reforming three things: (1) transportation; (2) housing; and (3) governance. We must:
Restructure our metropolitan regions for humans first, not cars;
Plan our urban centers for denser, more efficient living; and finally,
Govern metropolitan planning efforts regionally.
---
---
"The following day I had a statistics final, and I kept thinking, 'Where am I going to sleep tonight?'"
— Meet Victoria from Los Angeles
READ MORE →
---
Share the good word
Thanks for reading to the end of the newsletter. Like what you read or have feedback?
Reply to this email, pass it along, and encourage your friends to sign up.