The HomeWork: June
30, 2022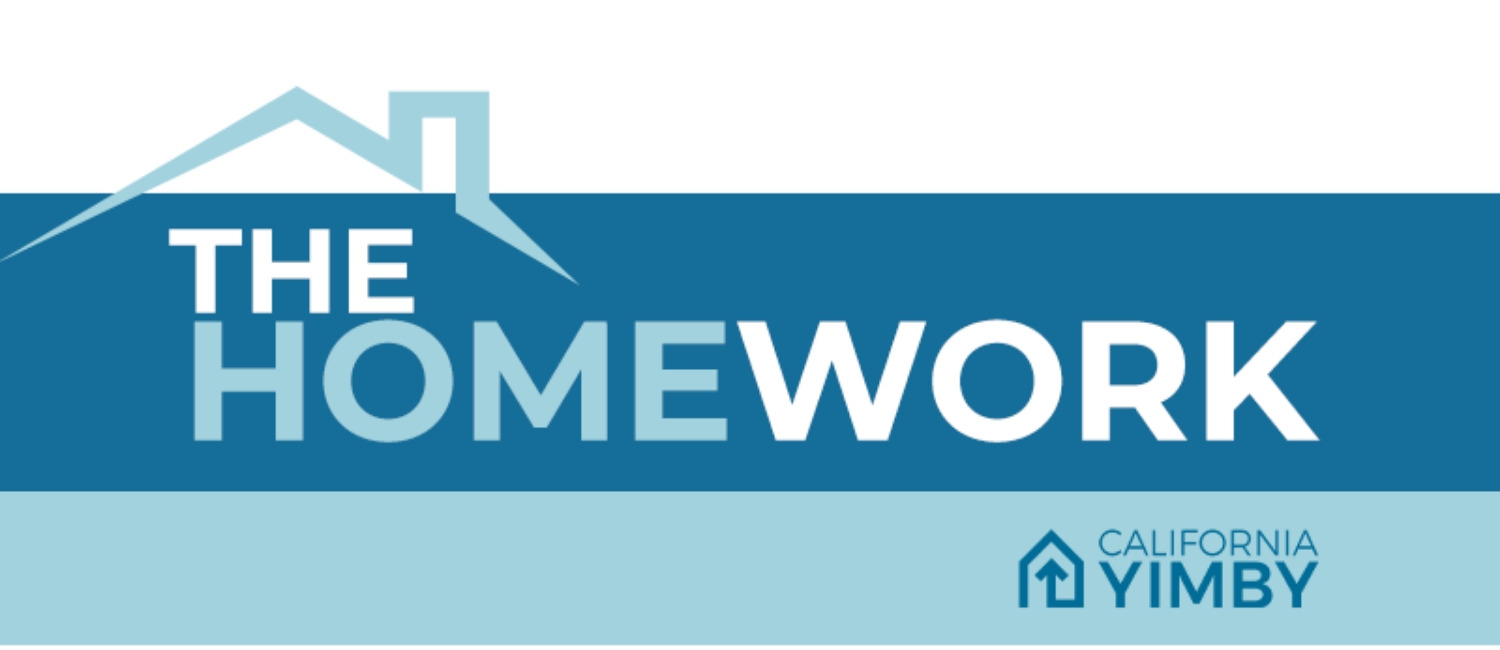 Welcome to the June 30, 2022 Main edition of The HomeWork, the official newsletter of California YIMBY — legislative updates, news clips, housing research and analysis, and the latest writings from the California YIMBY team.
News from Sacramento
With legislative policy committees mostly wrapped for the second house, most of California YIMBY's sponsored legislation, such as AB 2097 (Friedman), received "aye" votes and is headed to its second appropriations committee:
AB 2011 (Wicks), which will streamline the creation of housing in commercial zones
AB 2053 (Lee), which creates state capacity for building new social housing
AB 2221 (Quirk-Silva), which will expand ADU access across California
California YIMBY has also joined as a co-sponsor of AB 2053 (Lee), and we're excited to partner with Asm. Alex Lee in the push to create a California Housing Authority.
In bittersweet news, Legislative Director Louis Mirante is leaving California YIMBY for a fantastic opportunity with the Bay Area Council. While we're sad to see Louis go, we're thrilled that he'll continue to lead on making California a more affordable and inclusive state with his new position at BAC. Louis has been with California YIMBY since the beginning, and has been at the forefront of our efforts to pass transformative housing policy. We wish Louis all the best and look forward to collaborating with him and BAC in the future.
With Louis departing, we'll be hiring for a new Legislative Director. Stay tuned for an official job announcement, but in the meantime, interested applicants may email us at jobs@cayimby.org to learn more about the position.
Housing Research & Analysis
Report: Housing Justice is Essential for Reparations
California's Reparations Task Force was established in 2021 to provide a policy framework for providing reparations for slavery to African-Americans. Their Interim Report, released in June 2022, covers significant aspects of housing opportunity and segregation, with proposals to begin redressing the harms.
Key takeaways:
State and federal housing policies were designed to enforce white supremacy, and the outcomes have been devastating. "​​In California, federal, state, and local governments created segregation through discriminatory federal housing policies, zoning ordinances, decisions on where to build schools, and discriminatory federal mortgage policies known as redlining … Due to residential segregation and compared to white Americans, African Americans are more likely to live in worse quality housing and in neighborhoods that are polluted, with inadequate infrastructure. Black Californians face similar harms."
The Reparations Task Force recommends actively enforcing fair housing laws and dismantling institutions that promote housing segregation. This includes removing "crime-free" housing policies and repealing Article 34's limitation on public housing in the California Constitution.
The Task Force also recommends ways to actively rebuild Black wealth that white supremacist institutions have stolen or destroyed. This includes compensating Black households whose properties were seized and destroyed for urban renewal, investing in healthy food to end food deserts, and "a state-subsidized mortgage system that guarantees low interest rates for qualified California Black mortgage applicants."
How Remote Work Drives Housing Demand – and Prices
A new working paper by Mondragon & Wieland (2022) at the National Bureau of Economic Research (NBER) suggests that the shift to remote work during the COVID-19 pandemic accounted for at least half of the price increases in housing nationwide.
Key takeaways:
Surveying the increase in remote work across US metro regions, the researchers estimate each 1 percent increase in remote work is paired with a 0.93 percent increase in housing prices.
In the aggregate, the shift to remote work increased housing prices by at least 15.1 percent since 2019.
The shift to remote work likely added to historically high inflation, but it did not contribute to higher real estate values more broadly–the observed effect is only from residential housing demand.
Houser Headlines
YIMBY Social – Top Posts
Share the good word
We welcome your ideas and feedback — send story tips and ideas to Homework@cayimby.org.