The HomeWork: June
09, 2022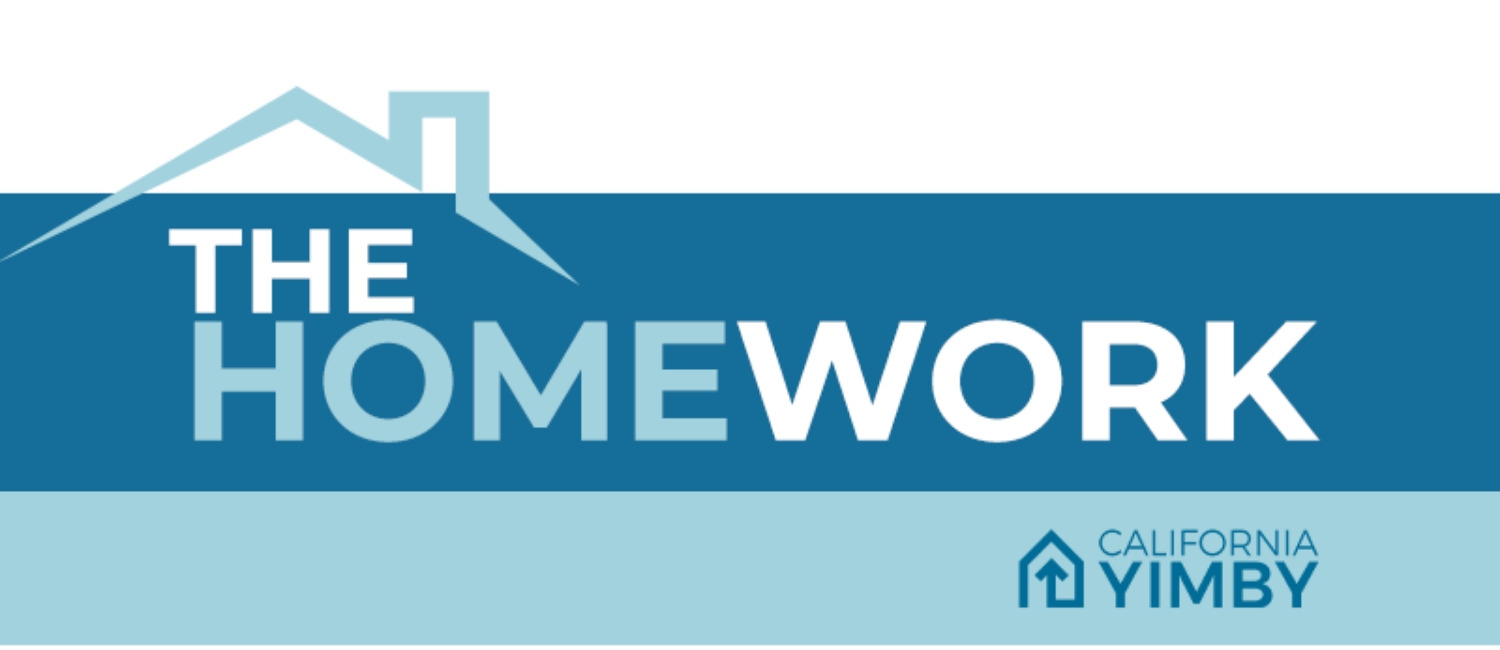 Welcome to the June 09, 2022 Main edition of The HomeWork, the official newsletter of California YIMBY — legislative updates, news clips, housing research and analysis, and the latest writings from the California YIMBY team.
News from Sacramento
Each house of the Legislature has sent many major proposals to the other house for their review, and now is the season for that. Often referred to as "second house" policy committee deadlines are at the end of the month, so California YIMBY is preparing our sponsored legislation for their first hearings in the second housing. Next week is a big week:
AB 2221 on ADUs and AB 2873 on growing the labor force in a race equity-based way are up in Senate Housing Committee on Monday.
SB 886 streamlining student housing projects through CEQA is up in Assembly Natural Resources Committee also on Monday.
AB 2097, which reduces parking minimums near transit, will be heard in Senate Governance and Finance Committee on Wednesday.
To support these bills, please contact Louis Mirante, Legislative Director for California YIMBY, at louis@cayimby.org.
Housing Research & Analysis
The State of Hispanic Homeownership
The National Association of Hispanic Real Estate Professionals (NAHREP) recently released the 2021 edition of their annual report, "The State of Hispanic Homeownership." This report highlights important disparities in access to wealth creation opportunities through homeownership for Hispanic Americans.
Key takeaways:
Latinos saw an increasing rate of homeownership since 2014, with nearly 2 million households purchasing their first home, but Latinos still saw slower growth in homeownership than other groups.
Hispanic borrowers still face more hostile lending conditions, even with FHA assistance. Latinos are 81 percent more likely to be denied a home loan than non-Latinos.
Low supply and skyrocketing prices had severe impacts on Latino homeownership; Arizona and Florida saw the highest price increases in 2021 and comprise 12.7 percent of the nation's Latino population. By contrast, cheaper markets are more accessible to Latino households.
Barriers to Prosperity: How Housing Bans Harm California's Middle-Income Households
Middle-income households in California face a critical dearth of housing options, increasingly squeezed by the rising costs of housing on the private market and limited resources from the public sector. A new study by Garcia et al. (2022) at the UC Berkeley Terner Center for Housing Innovation explores these problems in detail and proposes several policy solutions.
Key takeaways:
As housing prices continue to rise faster than incomes, housing security is increasingly a luxury for the wealthy in California. In 2019, over a third of Californians earning between 80-120 percent of their region's area median income (AMI) were paying over 30 percent of their income on housing, and 10 percent paid over half of their income.
Fewer homes are being built for low and middle-income Californians with growing cost burdens: "While [homes for] very-low and low-income categories are the most underbuilt … only 40 percent of units targeted at those earning 80–120 percent of AMI have been built."
Building on the progress of Senate Bill 9 (2021), California cities can tackle the rising costs of development and lack of housing inventory by encouraging lower-cost multifamily housing with land use and zoning reforms.
Houser Headlines
YIMBY Social – Top Posts
Share the good word
We welcome your ideas and feedback — send story tips and ideas to Homework@cayimby.org.