The HomeWork: January
25, 2022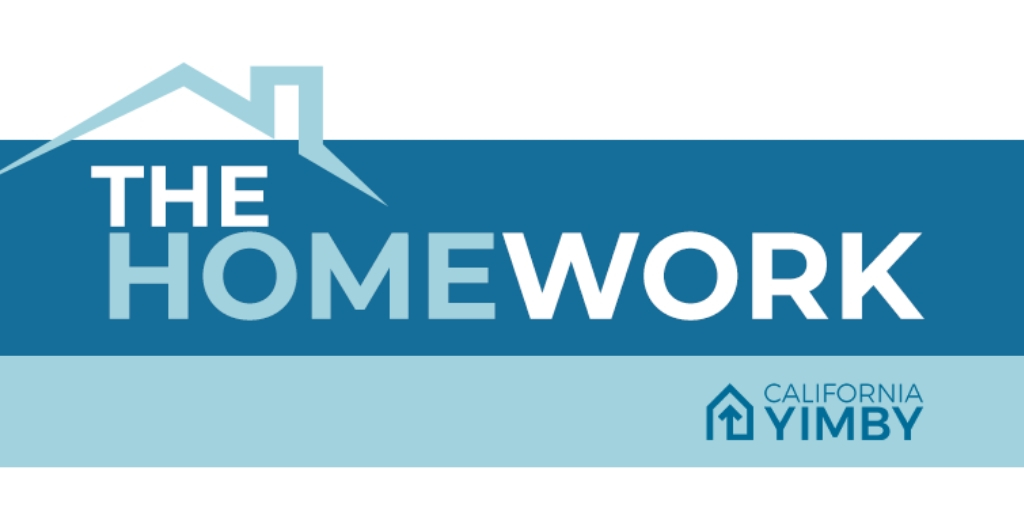 Welcome to the January 25, 2022 Main edition of The HomeWork, the official newsletter of California YIMBY — legislative updates, news clips, housing research and analysis, and the latest writings from the California YIMBY team.
News from Sacramento
The Legislature is back in business for the year, starting the second year of the two-year legislative cycle, which is set to end on the last day of August. The Legislature must pass any bills still in their first house by January 31st; this deadline, along with the budget, are the top focuses for the Legislature.
On housing, the Legislature is focused on several large bills, but the biggest housing bill facing the January 31 deadline is AB 854 by Assemblymember Lee. This bill would restrict a property owner from using the Ellis Act to remove a rent-control-protected tenant from a building unless the owner has owned the building for more than five years. This bill recently passed out of the Assembly Appropriations Committee and is pending a floor vote.
The Governor also announced his budget priorities earlier this month; you can review our initial statement on the budget here.
The budget priorities include:
$2 for affordable housing and homelessness services
$1 billion for climate-safe housing and infrastructure
A new strategic focus on housing in "downtowns," which has yet to be defined but likely will be in budget trailer bills yet to be introduced.
Housing Research & Analysis
E-bikes show massive potential for climate action
A new study from the United Kingdom estimates the vast economic and environmental benefits of switching from gas-powered automobiles to electric bicycles (e-bikes).
Key takeaways:
The researchers estimate that e-bikes could reduce emissions in the UK by as much as 24.4 million metric tons of CO2 per year.

Contrary to the stereotypes of bikes being only for city slickers, this effect would be the largest per person in rural and exurban areas.

In areas under threat of economic decline due to car dependency, e-bikes offer a path to economic justice and resilience while eliminating fossil fuel consumption.
"If you build it, they will bike" – the infrastructure – e-bike nexus
Why do people buy cargo e-bikes, and how can more commercial operations be encouraged to make the switch from gas-guzzling automobiles to planet- and city-friendly, battery-powered bicycles? A new study from scholars in Munich and Berlin offers some insights.
Key takeaways:
After a three-month trial, while half of survey respondents initially expressed an intention of purchasing a cargo e-bike, only a third ultimately went through with the purchase—a decline of almost 50%.
Most people in the study who ultimately purchased cargo e-bikes did so in response to reduced access for other vehicles like cars.
The researchers identified five key policy variables for improving e-bike market penetration: (i) Regulation, (ii) Infrastructure, (iii) Finance, (iv) Campaigns and (v) Trial schemes. Ultimately, it all boils down to making it less convenient to drive a car.
Houser Headlines
Share the good word
We welcome your ideas and feedback — send story tips and ideas to Homework@cayimby.org.