The HomeWork: January
15, 2021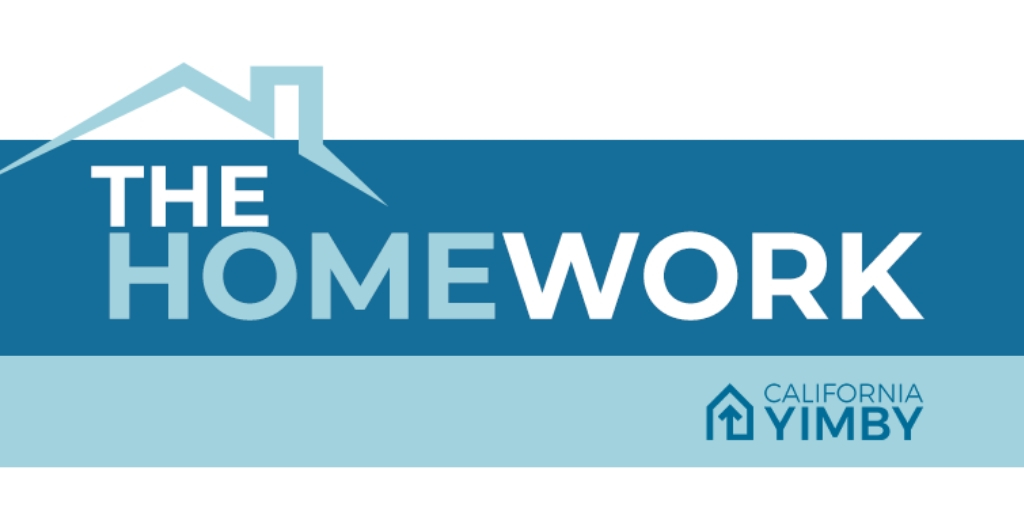 Welcome to the January 15, 2021 Main edition of The HomeWork, the official newsletter of California YIMBY — legislative updates, news clips, housing research and analysis, and the latest writings from the California YIMBY team.
---
The Legislature is officially back in session, and the Governor has introduced a very pro-housing budget. Highlights include:
$4.3 million for the creation of a new Housing Accountability Unit in the Department of Housing and Community Development, which will help hold cities accountable to state housing law via technical assistance and enforcement. Read our statement here.
$500 million for the Low Income Housing Tax Credit
$500 million for the Infill Infrastructure Grant program
$750 million for Project Homekey, the Governor's signature homelessness prevention program that gives people a home in underused motels.
The Housing Accountability Unit is an especially important development, demonstrating that the state is getting serious about enforcing existing housing laws. Our partners at the 
California Renters Legal Advocacy and Education Fund
 (CaRLA) have been leading the charge to make sure cities comply with these laws; having the state as an active partner will make their work even more impactful.
More housing legislation is expected over the next few weeks. If you would like to learn more about California YIMBY's legislative priorities for the upcoming year, you can contact Louis Mirante at louis@cayimby.org.
---

The Little Engine That Could (Fund Itself)
Can public transit fund itself by capturing more of the land value it creates around its stations? That's the fundamental question Common Ground California asks in their new white-paper,
"Transit Value Capture for California."
The idea from authors Derek Sagehorn and Joshua Hawn is simple: public infrastructure investments, such as transit and other capital improvements, increase land values for everyone in the area, including private property owners. Transit agencies can tap into this wealth as a steady source of revenue without having to rely as much on sales taxes and fares, which fall more heavily on the poor.
Key takeaways:
When US transit agencies develop new infrastructure, they are often leaving money on the table by giving away increased land value to private owners.
Transit agencies in Asia are far more financially sustainable, and can develop infrastructure more robustly, in part because they have more power to own, develop, and tax nearby land.
Based on prior studies, a tax on increased land values in the San Francisco Bay Area could net over $100 million in annual revenue for transit agencies.
READ MORE »
Evictions and Pandemic: Deadly, and Preventable
COVID-19 has wrought incalculable tragedy and destruction on Californians, much of which has been exacerbated by an eviction crisis that could have been largely prevented with more robust interventions. A new 
working paper
 from UCLA public health scholars finds that evictions due to nonpayment of rent during COVID-19 led to more preventable deaths in the country.
Key takeaways:
States that lifted their eviction moratoriums saw an uptick in COVID-19 cases, with the spread increasing as time went on.
The observed effect was stronger on mortality than incidence, possibly because deaths are easier to count than overall infections. This also suggests that the effect on incidence may be understated in the analysis.
Structural racism and concentrated poverty made low-income Black and Latinx households more vulnerable to the increased spread of COVID-19.
READ MORE »
---
---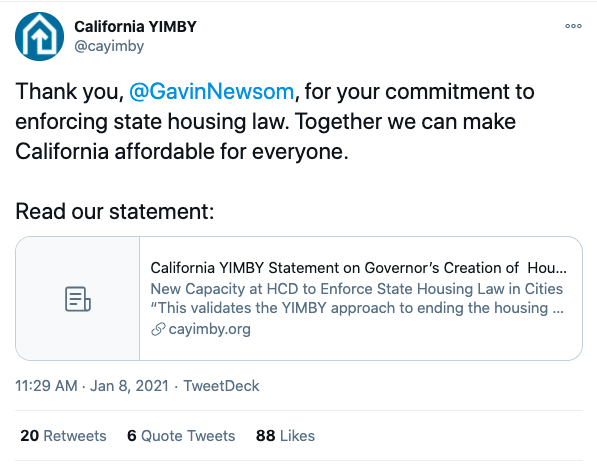 ---
Share the good word
We welcome your ideas and feedback — send story tips and ideas to Homework@cayimby.org.
Did someone forward this email to you? Sign up to get it here.