The HomeWork: February
11, 2021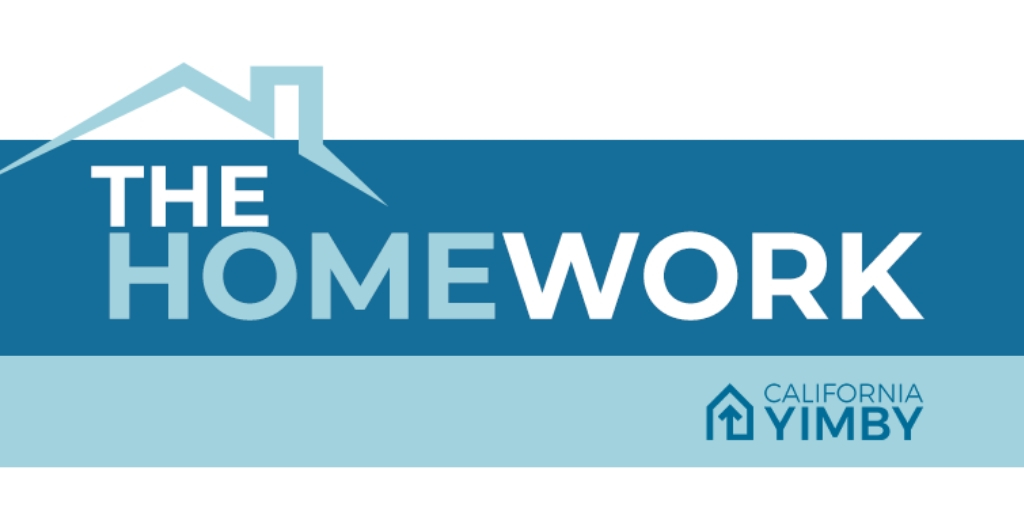 ---
With the February 18 deadline for bill introduction looming, legislative proposals on housing policy continue to roll out across the Capitol. Legislative committees will begin hearing proposals as soon as March.
For now, California YIMBY's main priorities are the following — but watch this space, as we expect more bills to take shape over the coming days and weeks:
SB 9 (Atkins): California YIMBY is supporting this bill, which will legalize duplexes in most of California.
SB 10 (Wiener): California YIMBY is sponsoring this bill, which will make it easier for cities to legalize housing for middle-income workers.
SCA 2: (Allen): California YIMBY is co-sponsoring this bill, which will put a ballot measure before the voters asking that they repeal the de-facto ban on public and low-income housing contained in Article 34 of the State's constitution.
We're also working on bills related to streamlining and reducing the cost of building new homes, and on collecting better data on the effectiveness of state housing programs, such as the density bonus law.
---

Minimum Parking Requirements: A Mandate for Expensive Housing
An abundance of academic literature strongly suggests that laws that require the inclusion of car parking in new housing hurt American households by raising the cost of housing. "Parking minimums," as they're known in planning discourse, also increase demand for automobile travel by artificially lowering the cost of car storage. By reserving land for parking irrespective of market demand, the marginal propensity to drive increases — but this cost is borne by housing prices that are higher due to the land and development costs of parking spaces.
A new paper from Gabbe et al (2020) adds to this literature by studying the effects of Seattle's minimum parking requirements — and what happens when they go away.
Key takeaways:
Parking requirements are the single greatest predictor of parking provision in new developments. Out of 868 new developments studied between 2012-2017, one third provided exactly the number of parking spots required, not one more or less.
70% of developments with no parking requirements did include some parking. This parking was associated with lower population density, mixed-use development, and higher employment density, but the effect was weaker overall than parking mandates.
In the five years being studied, developers provided 40% fewer parking spaces, saving around $537 million.
READ MORE »
The Elements of Housing Elements: A Phase Change to Greater Production?
Recent reforms to California's Housing Element Law may change political incentives in municipal governments to permit more housing production as a default stance, with the cover of state regulators forcing their hand. That's the compelling analysis offered by
Elmendorf et al (2020),
a team of legal and planning experts from UC Berkeley, UC Davis, and UCLA.
Key takeaways:
Policymakers have shifted the housing element framework away from a status-quo bias to what the authors term a "pro-housing default." Failure to adopt a compliant housing element to advance regional housing goals removes local authority to deny projects with 20% below market-rate housing units.
The politics of local development may shift from a hyper-local focus on ad hoc negotiations over individual projects to citywide or regional goals.
Politicians under pressure from anti-growth neighborhood interests can ameliorate this inherent tension by establishing a "zoning budget" under the housing element framework, setting a baseline for zoned capacity citywide
READ MORE »
Black Housing Heroes: Tia Boatman Patterson
"When we talk about affordable housing, affordable homeownership is often left out of the conversation. Right now, we're not building entry-level homes. We could be building gentle density where it makes sense, in neighborhoods where low or moderate income people may not be able to afford to buy a single-family home, but could buy a duplex as a naturally occurring affordable home." — Click here to read our Black History Month profile of Tia Boatman Patterson
---
---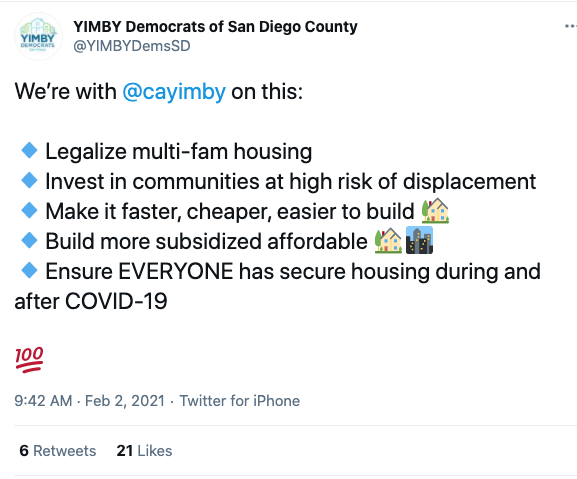 ---
Share the good word
We welcome your ideas and feedback — send story tips and ideas to Homework@cayimby.org.
Did someone forward this email to you? Sign up to get it here.