The HomeWork: August
14, 2023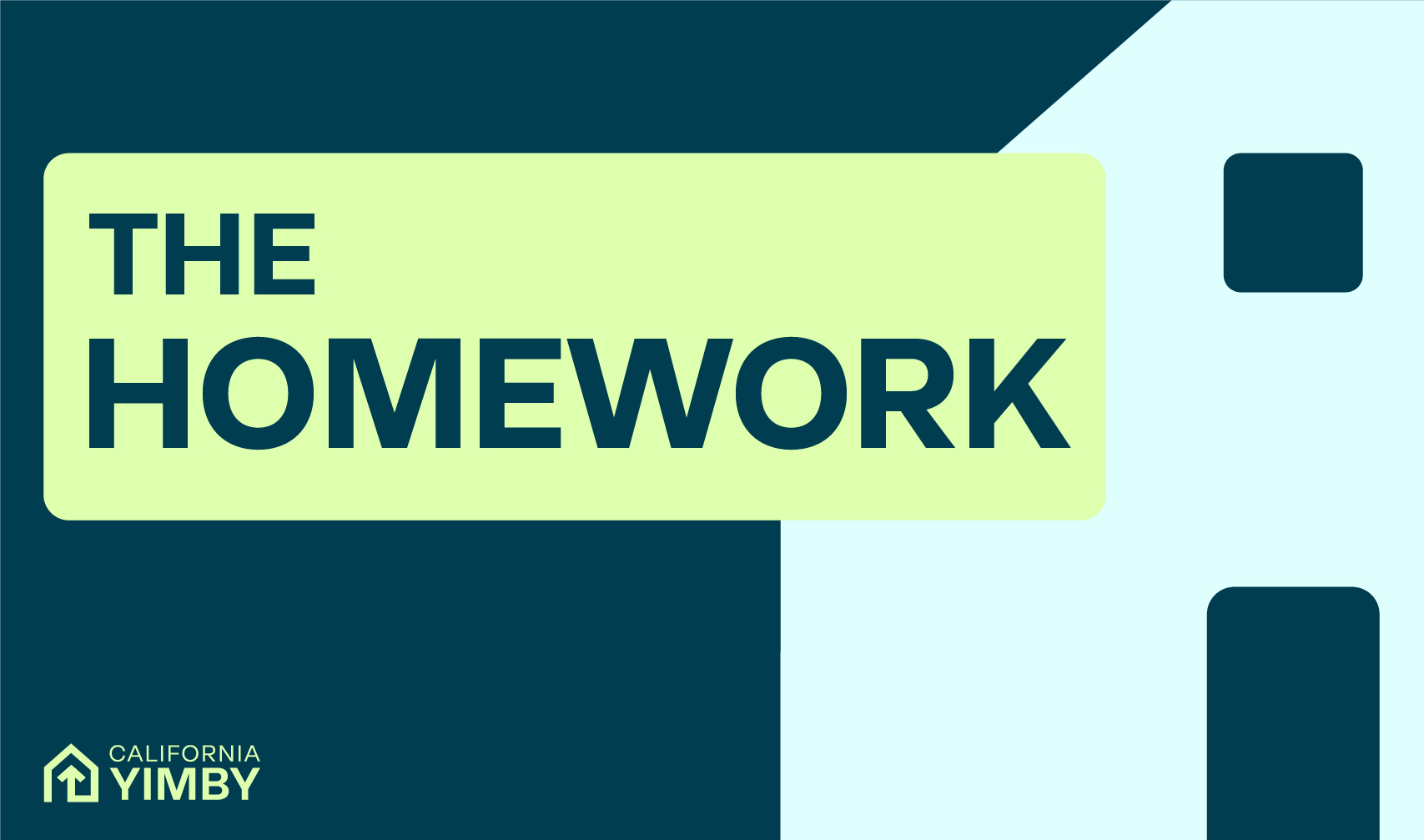 Welcome to the August 14, 2023 Main edition of The Homework, the official newsletter of California YIMBY — legislative updates, news clips, housing research and analysis, and the latest writings from the California YIMBY team.
Housing Research & Analysis
Summer recess is coming to an end in Sacramento, and the Legislature will reconvene on August 14th. With less than two months left in this legislative year, bills that have no fiscal cost will be presented on the Senate or Assembly floor; remaining bills will be referred to the appropriations committee.
The legislature's suspense hearings – which determine which bills make it out of appropriations, are amended, or will be held in committee – for the Assembly and Senate Appropriations Committee is expected to be on September 1st.

The following California YIMBY sponsored and high-priority bills are in the appropriations committee (California YIMBY sponsored bills are starred):
California YIMBY also has one sponsored bill that is going straight to the Senate Floor: AB 976 (Ting), which will permanently extend the ability of property owners to build affordable, rental accessory dwelling units (ADUs) by extending the rental unit provisions of 2020's AB 881, which expire in 2025.

To stay current on what housing bills California YIMBY is sponsoring, supporting, and watching, you can now use our Abstract link to track with us.
We will have more housing legislation news in the coming weeks as bills are refined, amended, and scheduled for committee hearings. To stay up to date on committee action, and to receive alerts for bills and other legislative activities, join our Rapid Response team.
Housing Research & Analysis
A Tale of Two Towns: How Exclusionary Zoning Promotes Segregation
In another example of how zoning and housing might explain everything, exclusionary zoning policies can be linked to disparities in educational outcomes. A new report from the Century Foundation compares two towns in Westchester County, New York to examine how exclusionary zoning creates segregated communities that limit the educational opportunities available to low-income children.
Richard D. Kahlenberg, a senior fellow at the Century Foundation and author of the new book Excluded: How Snob Zoning, NIMBYism and Class Bias Build the Walls We Don't See, analyzes the villages of Scarsdale and Port Chester – two suburban communities that are only eight miles apart, but have very different demographics, levels of educational attainment, and zoning regimes.
Key takeaways:
Public school students in Scarsdale, a wealthy suburb with highly restrictive zoning, have access to higher quality public schools and achieve greater educational outcomes than students in nearby Port Chester.


In both math and English, there is a 55 percentage-point gap between the two villages in the share of students performing at or above grade level.


Scarsdale creates economic exclusion by allowing only detached, single-family homes on large lots, while Port Chester allows multifamily housing on half of its land.
The State of Housing 2023: More Multifamily Housing, But the Shortage Persists
The Joint Center for Housing Studies at Harvard University recently released its annual "State of the Nation's Housing" report. The report provides a detailed summary of trends in the United States' housing and rental markets. Construction of multifamily housing has increased significantly year over year, slowing rent growth and raising vacancy rates in the rental market. However, there continues to be a vast shortage of housing, especially homes affordable to low-income families.
Key takeaways:
After a huge spike in housing costs from 2020 to 2022, rents and home prices are now increasing at a much slower rate. Nationally, rents increased by 4.5 percent from 2022 to 2023, which is considerably less than the 15.3 percent increase from 2021 to 2022.


Multifamily housing production is driving the construction market. From 2021 to 2022, multifamily housing starts rose 15.5 percent to reach 547,000 new units– the greatest number annually since the 1980s.


While the increased supply of new, multi-family homes have tempered rent growth somewhat, they haven't begun to close the gap from the historic shortage; and newer homes are still unaffordable to the average household.

Houser Headlines
YIMBY Social – Top Posts
Share the good word
We welcome your ideas and feedback — send story tips and ideas to Homework@cayimby.org.