The HomeWork: August
12, 2020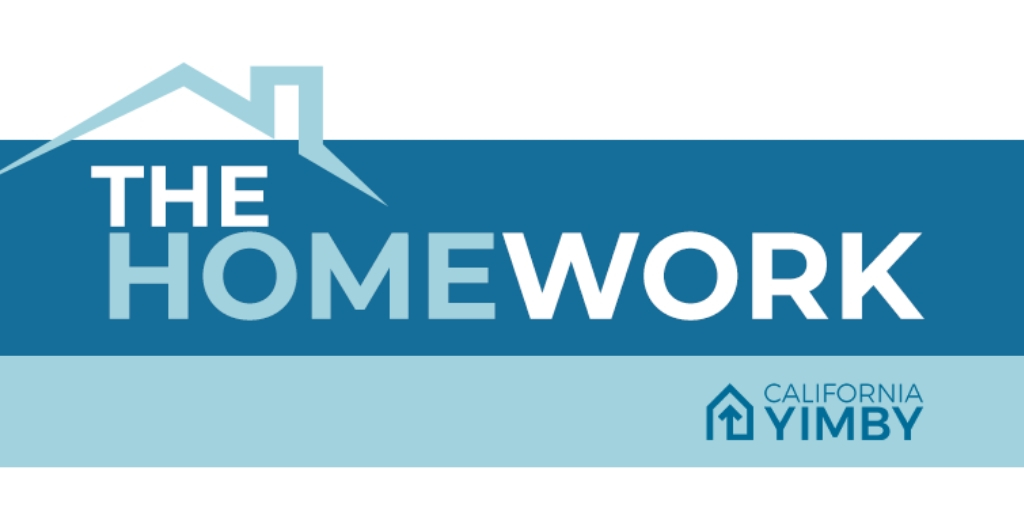 Welcome to the August 12, 2020 Main Edition of The HomeWork, the official newsletter of California YIMBY — legislative updates, news clips, housing research and analysis, and the latest writings from the California YIMBY team.
---
With the Legislature set to wrap on August 31st, many bills have yet to clear their first committee in the second house — so, there's still much to do in Sacramento. While a few key proposals that would increase housing production are moving forward, many are faltering. The combination of the pre-existing housing shortage, the legislature's continued reticence to encourage more homes, and the COVID-related slowdown in home building activity is setting up the potential for a dramatic intensification of California's housing crisis.
SB 1120 and SB 902, perhaps the most significant of the remaining housing production bills, passed Assembly Local Government this week and are headed to Assembly Appropriations soon. SB 1385, which would have allowed homes to be built on land zoned for commercial use, failed in the Assembly Local Government Committee. This bill, a part of the Pro Tem's Housing Production Package, followed the same fate as AB 3107, a similar bill in the Speaker's Housing Production Package.
Meanwhile, the August 31 deadline looms. Now is a critical time for making sure that housing production and tenant defense bills reach the Governor's desk. If you would like to support California YIMBY's bills, contact Louis Mirante at louis@cayimby.org for more information.
---
"Local Control:" 5 Decades of Segregation
We know local land-use regulations can produce racial segregation as an outcome, but how strong is the effect? In a new paper, UC Merced scholar Jessica Trounstine finds empirical evidence that impact and intent are strongly linked when it comes to neighborhood exclusion.
Key takeaways:
Areas that were majority-white in 1970 still have more stringent land-use regulations today.
Strong local land-use controls maintained segregated patterns over the past five decades.
Whiter neighborhoods in California tend to support more restrictive land-use regulations, even without explicit racist intent.
This One Cool Trick Turns One Home Into Four … Maybe
Last month, we covered an impressive new study from UCLA showing the market potential for over 1 million new homes in California simply by allowing fourplexes as the minimum density for every residential lot statewide. Now UC Berkeley's Terner Center takes it a step further by analyzing SB1120, a new bill that would allow every single-family parcel in the state to be split in two and permit two dwellings each.
Key takeaways:
The overall impact of the bill varies by region, but millions of parcels could be eligible for subdivision.
Local design guidelines and land use restrictions could hinder the bill's applicability.
Financial feasibility is still highly uncertain for many two-unit projects and ADUs, making the development potential under the bill even more murky.
---
---
---
Share the good word
We welcome your ideas and feedback — send story tips and ideas to Homework@cayimby.org.
Did someone forward this email to you? Sign up to get it here.