The HomeWork: April
27, 2021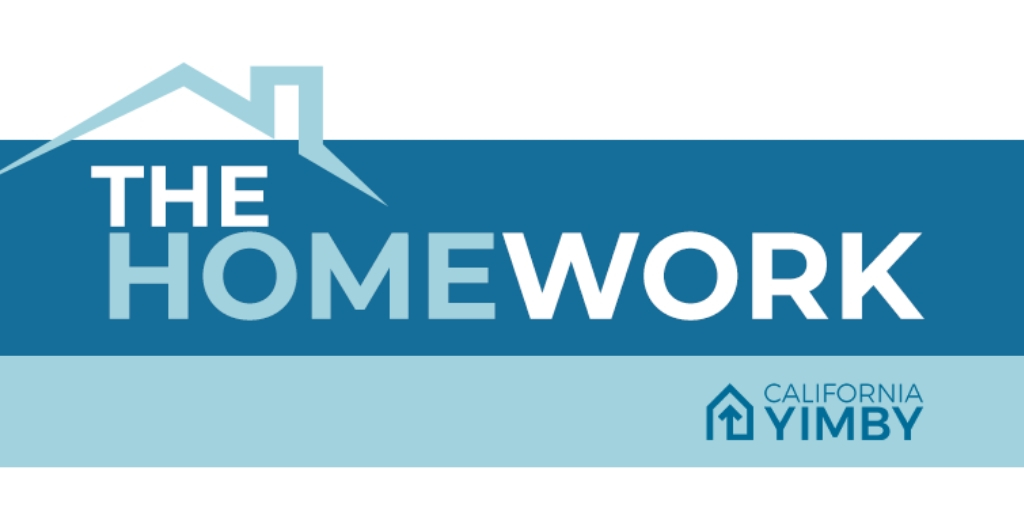 Welcome to the April 27, 2021 Main edition of The HomeWork, the official newsletter of California YIMBY — legislative updates, news clips, housing research and analysis, and the latest writings from the California YIMBY team.
---
April is a big month for legislation, when most bills receive their policy hearings; this week will be a mad dash to the finish line for several bills. Several of California YIMBY's top legislative priorities made it through their initial hearings, including:
SB 9, which will allow duplexes and lot splits. SB 9 passed out of the Senate Governance and Finance Committee with bipartisan support.
SB 10, a bill sponsored by California YIMBY, which will allow local governments to adopt fourplex ordinances in a faster, cheaper manner. SB 10 passed out of the Senate Governance and Finance Committee with bipartisan support.
This week, key bills will be heard by Senate Housing Committee and Assembly Housing Committee, including:
AB 602, requires impact fees for new homes to be proportional to their size, so that smaller, more affordable homes pay smaller fees.
AB 1401, which would lower housing costs by eliminating expensive parking mandates.
SB 478, which removes artificial barriers cities establish that have the effect of reducing the number of homes that can be legally built on a property.
SCA 2, which gives voters a chance to repeal Article 34 of the state's constitution. Article 34 is an effective ban on low-income housing in most parts of the state.
If you're interested in supporting California YIMBY's priority bills, contact Louis Mirante at
louis@cayimby.org
for draft support letters. If you're interested in signing up to participate in our rapid response program and participate remotely in legislative hearings with us, please
sign up here
.


---

Mobility and Climate Justice: It's Not Just About Electric Vehicles
A new report from the Greenlining Institute evaluates the effectiveness of California's clean transportation programs and proposes several important areas or reform.
Key takeaways:
The government should increase funding for community-driven, anti-racist clean mobility programs with a holistic approach to diverse needs, rather than subsidizing electric vehicles for disproportionately whiter and wealthier Californians.
State and local agencies should design programs for "targeted universalism," providing broad benefits by making sure vulnerable populations are empowered, while replacing duplicative and redundant programs. In other words: "Designing a program to be accessible to those with the highest barriers will ensure that all will benefit."
More Teslas won't cut it. "Governments at all levels should still continue to facilitate a transition to vehicle electrification focusing on the people who face the most barriers to access, but in the long run must foster policies that reduce congestion, vehicle trips and unsustainable land use patterns."
READ MORE »
---
More Affordable Housing for Humans Means Less Housing for Carst
A new analysis by Garcia & Tucker (2021) at UC Berkeley's Terner Center for Housing Innovation crunches the numbers on Asm. Laura Friedman of Glendale's proposed Assembly Bill 1401, which would eliminate parking requirements statewide for housing developments within a half-mile of public transit.
Key takeaways:
Local on-site parking requirements significantly drive up the costs of affordable housing projects.
Eliminating parking requirements may substantially reduce the amount of new parking in developments, but developers will likely still provide some.
State density bonus incentives for affordable housing are seldom used across the state, but when they are, reducing on-site parking is a popular option.
READ MORE »
---
---
May 4 @ 5:00pm: Affordable Housing Happy Hour

If you've been wondering what it takes to build affordable housing in the Bay Area, why there isn't more of it, and what needs to happen to increase the availability of affordable homes, this conversation is for you!
Guests include:
Sam Moss, Executive Director of Mission Housing Development Corporation
Maureen Sedonaen, CEO Habitat for Humanity Greater San Francisco
Eric Shaw, Director of the San Francisco Mayor's Office of Housing and Community Development
Xiomara Cisneros, Housing Manager at the Chan Zuckerberg Initiative (Moderator)
This event is proudly hosted by the Housing Action Coalition, SV@Home, Greenbelt Alliance, the United Democratic Club, Silicon Valley Leadership Group and California YIMBY.
---
May 4 @ 12:00pm: Addressing our Climate Crisis through Affordable Housing Advocacy
As wildfires worsen, temperatures are peaking (2020 was the hottest year on record), and air quality decreases, Bay Area communities are already experiencing the overlapping impacts of climate change in their backyard. Building climate SMART infill housing is one of the most potent means of using local policies to reduce climate pollution. As all cities gear up to update their Housing Elements for 2022, we must make sure they balance the new growth of our region with impending climate risks.
---
H/t
@_bradleyd_
---
Share the good word
We welcome your ideas and feedback — send story tips and ideas to Homework@cayimby.org.
Did someone forward this email to you? Sign up to get it here.