The HomeWork: April
2, 2021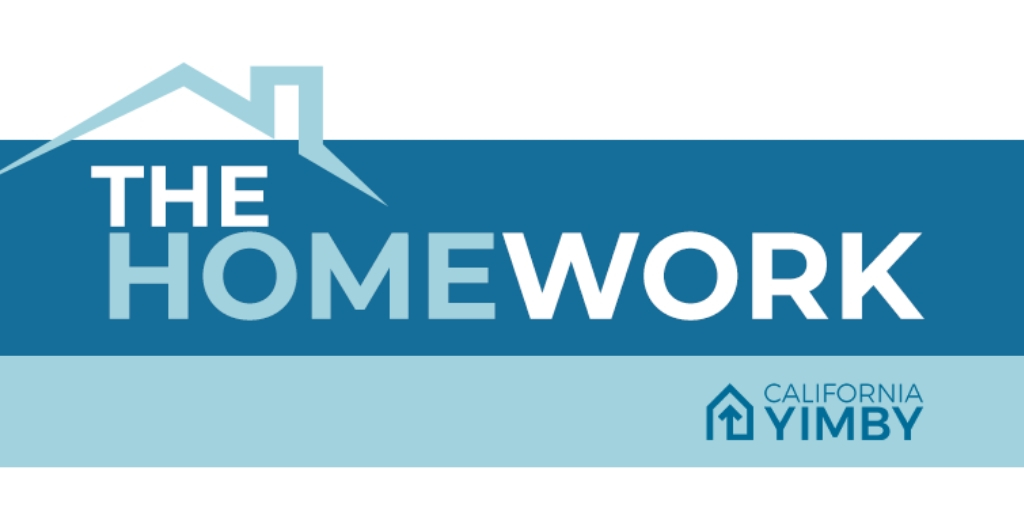 Welcome to the April 2, 2021 Main edition of The HomeWork, the official newsletter of California YIMBY — legislative updates, news clips, housing research and analysis, and the latest writings from the California YIMBY team.
---
The Legislature has been on Spring Recess this week, so no breaking news from "The Building." Most policy bills will be heard in their policy committees in April, and California YIMBY is preparing for that — stay tuned for our action alerts when things get started.
Of special note, California YIMBY and many of our allies are ramping up to stop ACA 7, a new proposal for a State Constitutional Amendment by Asm. Muratsuchi of Torrance. If passed, the measure would effectively kill all state housing laws and give local jurisdictions a vice-lock on land use within their borders — regardless of their history of segregation and exclusion. This anti-housing legislation would enshrine California's housing shortage and affordability crisis in the California Constitution.
Organizations interested in joining the fast-growing coalition to oppose ACA 7 should contact Konstantin Hatcher, California YIMBY's organizing director, at Konstantin@cayimby.org.
If you're interested in supporting California YIMBY's priority bills, contact Louis Mirante at louis@cayimby.org for draft support letters. If you're interested in signing up to participate in our rapid response program and participate remotely in legislative hearings with us, please sign up here.
---

Want to Fight Climate Change? Legalize More Multi-family Housing
How does legalizing apartments help combat climate change? A compelling new study by Berrill et al (2021) shows the dramatic energy efficiency benefits of multifamily housing, with strong evidence that a world with more apartments is a world with fewer greenhouse gas (GHG) emissions.
In particular, the United States could have avoided a large share of emissions simply by maintaining earlier policies that encouraged multifamily housing construction.
Here are the key takeaways:
Modeling a counterfactual world in which the US never enacts prohibitions or other barriers to apartments in the 1970s and '80s, and builds more public housing, 14% of the country's urban housing would be multifamily instead of single-family homes, with up to 50% less floor area.
In this counterfactual, the average household's energy demand would be 27-47% lower, or up to 8.3% lower for all urban residential energy in the aggregate.
Legalizing and encouraging more apartment homes "can unlock a large potential for reducing residential energy demand and GHG emissions in the coming decades."
READ MORE »
---
The Rise of the YIMBYs: A National Pro-Housing Movement
How are YIMBY groups changing the political dynamic in cities across the US? A new paper from Jonathan Levine at the University of Michigan examines "ideas common to the pro-housing coalition, together with internal controversies and their implications for vital municipal alliances."
Key takeaways:
What animates pro-housing activists? The movement represents a new interest group in municipal politics entering the arena with the traditional pro-growth, anti-growth, and social-justice coalitions. It generally aims to undo exclusionary land-use patterns and increase housing supply, but is also rife with internal tension and opportunities for new alliances.
There have been a variety of policy toolkits under the pro-housing umbrella, with different coalitions and outcomes across the US from Minneapolis to Portland, Cambridge, and Austin.
A paradigm shift in transportation planning can be ingrained in the pro-housing agenda to reduce transportation emissions and fight climate change.
READ MORE »
---
Black Housing Heroes: Terry Taplin
"If we can expand our thinking around what families and homes look like, we can actually create a more inclusive society and address the housing crisis. We just don't live in a world where single-family homes are sustainable or attainable."
READ MORE »
---
---
Share the good word
We welcome your ideas and feedback — send story tips and ideas to Homework@cayimby.org.
Did someone forward this email to you? Sign up to get it here.