The HomeWork – October
02, 2019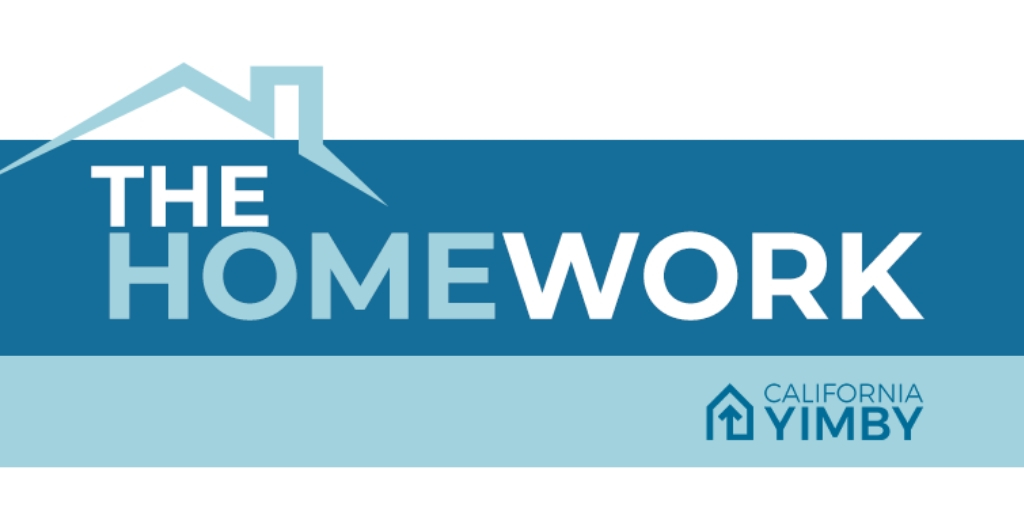 Welcome to the inaugural edition of The Homework, California YIMBY's bi-weekly newsletter.
As our movement grows across the state (and around the country), part of our role is to support grassroots YIMBYs with the best tools and most up-to-date knowledge and research on how to solve the housing crisis.
Every two weeks, we'll be coming to you with top news clips; cutting edge research by leading academics in housing and related studies; and the latest writings from the California YIMBY team on our blog.
We hope you enjoy this offering, and welcome your feedback and input on how we can make it more useful and informative. Send your tips and ideas to Homework@cayimby.org and we'll be sure to integrate the best ideas in each issue!
Every two weeks, California YIMBY brings you summaries of cutting-edge research from the nation's top housing experts. In this edition:

Not just a trickle: Allowing homebuilders to provide sorely-needed housing where it is most desired — in transit-rich urban areas close to jobs, services, and amenities — brings immediate benefits to low-income renters, even if that housing is market-rate. A new working paper from the W.E. Upjohn Institute's Evan Mast shows that:

Building 100 new market-rate units leads people to move toward those units and away from low-income neighborhoods, with almost all of the effect occurring within five years. The findings suggest new construction reduces demand in low and middle-income areas in the short run. A review of the address history of over 50,000 residents found 20 percent of residents in new homes moved from neighborhoods below their metro area's median income. The takeaway: Building homes in areas of high opportunity attracts residents seeking higher incomes and better access to amenities like jobs and schools.

California Cities: Zoned Out on New Apartments– Jenny Schuetz of the Brookings Institute and Cecile Murray from the University of Chicago have a new working paper entitled "Is California's Apartment Market Broken?"— and the short answer is, YES.

Key findings:

+ Cities with the highest rents issued the fewest multi-family permits
+ Most California municipalities zone most of their land for single-family homes
+ Cities with less-restrictive zoning build more apartments
+ Building height restrictions make the problem harder to solve
A Commitment to "Yes"
At California YIMBY, we've always believed that zoning reform is a necessary — but insufficient — part of the solution to the housing crisis. While we can't solve the housing crisis without making it legal to build more homes, we must also make sure that we protect current residents from displacement and eviction, and preserve and expand existing affordable housing so that communities can remain intact and thrive as they grow.
Homeless in Time

California's recent "point in time" homelessness survey, conducted by cities across the state, showed the stark consequences of our collective failure to reform our outdated housing policies: California's homeless population — which includes over 130,000 people — grew by double-digits in almost every city in the state; in some cases, as much as 43% year-on-year. The ongoing growth in homelessness has given California the ignominious distinction of having nearly 25% of all people experiencing homelessness in the United States — despite our state only having 15% of the population.
Meet Jess from San Francisco. She's riding her bike across the state to raise awareness – and funds – to help solve homelessness.
At California YIMBY we're obsessed with solving the housing crisis, and our nightstands are stacked with writings on the topic. Here's what we're reading this week:

Segregation by Design: Local Politics and Inequality in American Cities, by UC Merced political scientist Jessica Trounstine. In an evaluation of hundreds of municipalities across the country, Trounstine found a strong link between restrictive zoning and deep inequities in public services, including public schools, parks, roads, and water infrastructure.