Join California YIMBY for our Statewide Week
of Action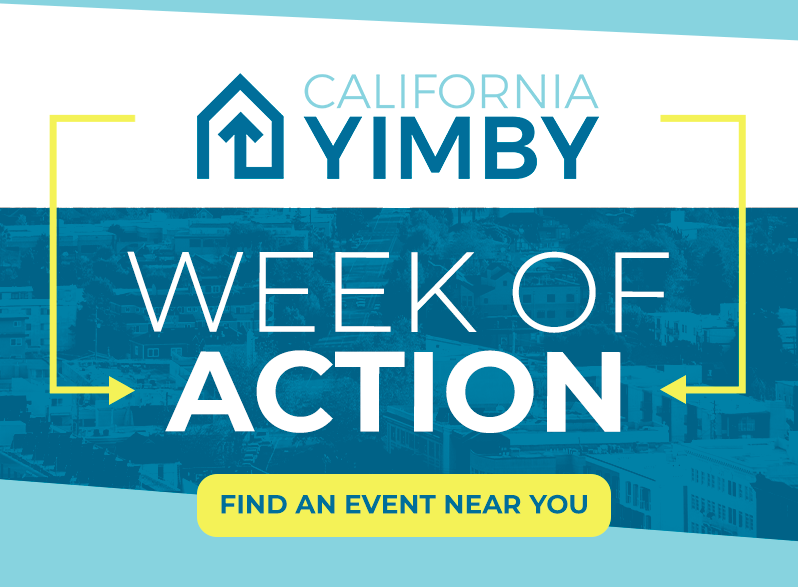 We have less than six weeks to pass meaningful housing legislation this year. The housing shortage is more dire than ever, and we need action now.
California's housing crisis is pushing a growing number of people into homelessness. Workers are forced to live further from their jobs, sacrificing time with family for lengthy, stressful, polluting commutes.
But there's a lot we can do to help solve this crisis. We have a solid list of housing legislation still active in the legislature. These bills will put a dent in our housing shortage and protect renters.
We're working on bills to increase the number of Accessory Dwelling Units (in-law /granny flats) across the state, protecting renters from excessive rent increases or arbitrary evictions, and hold our elected officials accountable for meeting the housing needs of all of our neighbors.
This is where you come in. The California legislature returns from its summer recess on August 12, and we want to make sure they hear — exceedingly loud and exceptionally clear — that Californians expect them to act on these bills this year.
So we're planning a Week of Action for YIMBYs across the state to get together, learn about the housing bills, write letters, make calls, organize their friends and neighbors — and be ready to spring into action the moment the legislature goes back into session.
Will you sign up to join one of our events across the state during the Week of Action (August 3-12)? You can see all the events in California here.
We're almost to the finish line on many of these bills — and your participation and support will make a huge difference.