New Report Highlights Solutions to
Homelessness Crisis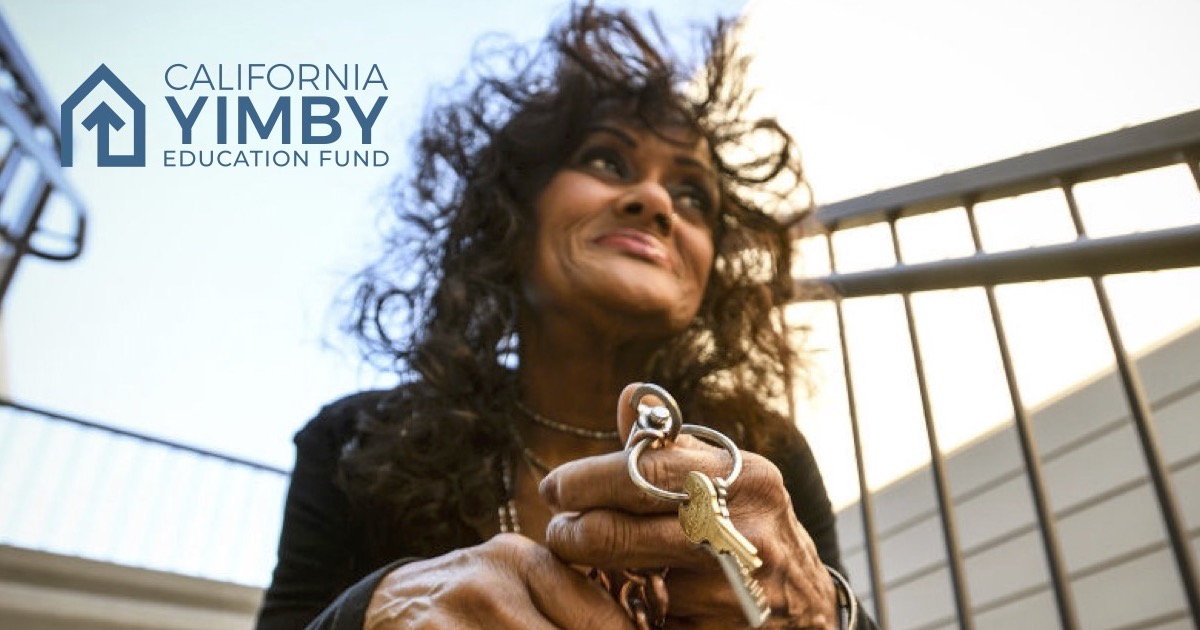 "Housing First" Policies Need Better Coordination, Funding, Enforcement
"Homelessness is primarily the result of high housing costs"
SACRAMENTO – Today, California YIMBY released a new report that outlines steps the State of California should take to end homelessness by reducing common barriers to housing production, and improving efforts to fund and build permanent housing solutions for Californians experiencing homelessness.
The report, "Housing Abundance as a Condition for Ending Homelessness," was written by California Policy Director Ned Resnikoff and is available here.
"California spends billions of dollars each year on its efforts to provide shelter, services, and permanent housing to its unhoused residents, but the results are sorely lacking ," said Ned Resnikoff, Policy Director for California YIMBY. "If we're going to truly slash the rates of homelessness, we don't just need more funding – we need permanent solutions from the state."
On most nights, more than 57,000 people sleep in homeless shelters across the state of California. Another estimated 117,000 don't have a bed in one of these facilities, and instead sleep in tents, on sidewalks, park benches, or other makeshift accommodations. But while the State of California and many jurisdictions have made significant efforts to reduce the rate of homelessness, those efforts continue to fall short.
The "Housing Abundance" report, which highlights similar efforts in the city of Houston, Texas, draws attention to several effective strategies that result in permanent housing solutions that serve the specific needs of unhoused individuals.
Those include:
Breaking down barriers that prevent an overall abundance of housing in high-demand markets
Eliminating zoning and related restrictions on the construction of extremely-low- and no-income housing
Permanently funding subsidized housing to create longer-term certainty and achieve economies of scale
Consolidating authority to direct "Housing First"-related actions and programs
Increasing wages for low-income workers to reduce risk of falling into homelessness
Enforce local compliance with existing state law and budgetary requirements for the provision of subsidized housing and wrap-around services
"The state legislature's laudable efforts to loosen restrictions on housing production for residents at all ends of the income spectrum are setting us up for success, but there's still much work to be done to achieve housing abundance for all," said Brian Hanlon, CEO of California YIMBY. "A lost job, or an illness, or an unexpected life crisis should not result in becoming unhoused. But for too many in California, that's their only option. We can, and must, do better."
The study's review of Houston include key "lessons learned" that can be readily applied to address homelessness in California:
Houston has reduced homelessness by more than half over the past decade, at the same time as major California cities like San Francisco and Los Angeles have seen dramatic increases in homelessness.
Lack of housing supply—and a concomitant increase in housing costs—is the key differentiator between Houston's successful effort to move homeless residents into permanent housing and California's lower success rate.
Overall, the report finds that "The evidence is overwhelming that high housing costs are the primary driver of homelessness. While other factors may contribute to homelessness on an individual level, housing costs are what explain homelessness as a large-scale social phenomenon."
In addition, the report breaks down some common myths about homelessness, including common misperceptions about rates of drug abuse and mental illness, and the notion that people experiencing homelessness in other states come to California to take advantage of the services.
"Most of the people experiencing homelessness in California were housed in the neighborhoods where they are now unhoused, and either had, or continue to have, jobs that they go to every day" Resnikoff says. "There are of course individuals who have substance abuse and other issues, but the solution for them is to get them housed so they can get the medical treatment they need – interventions which are both more humane, and far less costly, than sweeps, jails, and other punitive measures."