Living with Mold—Why Josie B from Santa Cruz is
a YIMBY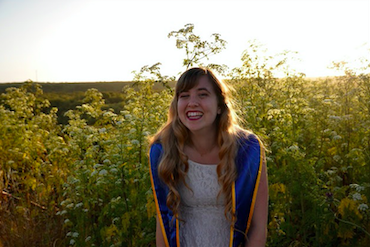 "When I transferred to UC Santa Cruz from community college, I wasn't guaranteed housing my senior year. Six of us toured primarily beaten-down homes, where on occasion, residents warned us not to move in. We soon realized we didn't have a choice. That's when I first experienced the California housing crisis.
Many landlords don't seem to care about their properties. They know that in a place like Santa Cruz, a desperate renter will rent their overpriced, broken-down property.
The only home we could afford was in Santa Cruz's highest-crime area. Someone was arrested on our front lawn the day we moved in. We had 10 people living in a 1700 square foot house so we could afford the high rent.
Every month, someone would get sick from the black mold in the home — I wish we could have moved anywhere else.
There are plenty of exceptions to the housing crisis in Santa Cruz. There are students whose parents are subsidizing them every step, there are landlords who rent out their inherited properties to the highest bidder. But, there are also homeowners who saved and worked and need to charge a certain rate to cover their own high mortgages and property taxes, and tenants who are choosing between putting food on the table, or whether their children will be able to continue playing a sport, or paying their rent. 
For a region of our size, Santa Cruz's home vacancy rate should be at 7%, but it's currently at 1.6%. That means there just aren't enough homes to house Santa Cruz's population. People live in backyard tents. People stay with their abusive partners. People drive multi-hour commutes.
I know a couple that shares a 250 square foot shed for $800 a month.
People are suffering. Millennials are not saving, we're not making long term investments or settling down.
Building more 'Missing Middle' housing is what we must do to combat the housing crisis. Apartment complexes, duplexes, triplexes, and fourplexes are illegal to build in over 70% of California. It is a delicate balance to incentivize the growth of housing and protect the people who currently live there. But the More HOMES Act (SB 50), and legislation like it, make enormous strides to achieve this balance. These housing options would shelter more Californians, and it is logical to build homes near jobs and public transit. We need more homes for our neighbors, homes for everyone.
I'm sharing my story because I know change happens when people work collaboratively. I hope that my story inspires more people to speak up and support housing growth."
No one should have to live with black mold to afford a home — if you agree, join our movement saying YES to housing, YES to affordability, YES to inclusive communities, and YES IN MY BACK YARD!