League of Women Voters of California Endorses SB 50 – The More
Homes Act
"Confronting the Legacy of Exclusion" — Bill to Expand Housing Near Jobs, Transit, Services Gains Momentum in Sacramento
Sacramento, CA – California YIMBY today announced that the League of Women Voters of California has endorsed Senate Bill 50, the More Homes Act, which would help accelerate homebuilding near jobs and transit by legalizing affordable, multi-family homes in cities throughout the state.
The endorsement comes in advance of the state legislature continuing its debate on the bill this winter. 
"SB 50 confronts the legacy of racist redlining that has translated into segregation, dislocation, inequitable development patterns, and lack of affordable housing," said Dora Rose, Deputy Director of the League of Women Voters of California. "By incorporating protections to sensitive communities and inclusionary requirements, the More Homes Act begins to address the critical need to promote housing equity for communities of color and those with low-income."
The More Homes Act includes provisions that would allow multi-family housing, such as fourplexes and low-rise apartment buildings, near jobs and transit in urban areas throughout the state where they are currently prohibited by restrictive zoning codes. Many of these restrictive codes were enacted in the 1970s to prevent more people from living in California's cities; for example, in 1962 Los Angeles was zoned for 10 million people — but today, it is zoned for just 4.3 million, and only single-family homes are permitted on 75 percent of LA's residentially-zoned land.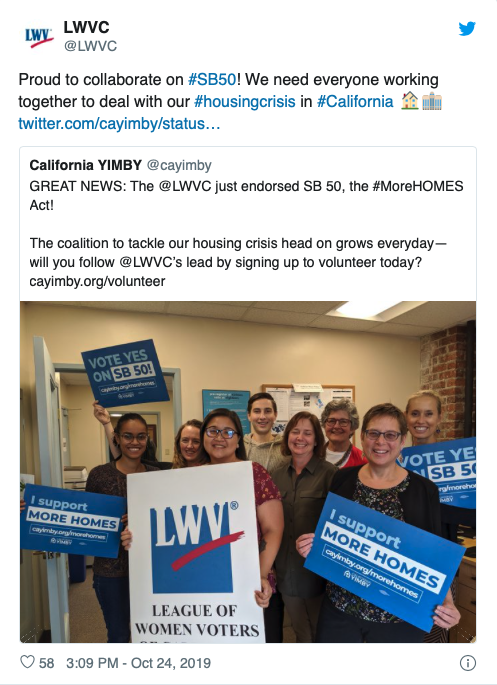 "We're honored to have the League of Women Voters of California join us in our efforts to make sure California really is for everyone," said Brian Hanlon, President and CEO of California YIMBY. "The League brings decades of experience of grassroots leadership, and are known for advocating for solutions only after careful consideration and study.  
"While we've continued to make progress in addressing the California housing shortage, we still need the fundamental changes included in the More Homes Act — and having the support of the League will help us engage an even broader coalition of Californians to advance the real solutions included in the legislation."
To learn more about the More Homes Act, click here.
To learn more about the League of Women Voters – California, click here. 
###
About California YIMBY: California YIMBY is a community of neighbors who welcome more neighbors. We believe that an equitable California begins with abundant, secure, affordable housing. We focus on housing and land use policy at the state and local level to ensure grassroots organizers and city leaders have the tools they need to accelerate home building. https://dev-ca-yimby.pantheonsite.io/