The HomeWork: March
06, 2020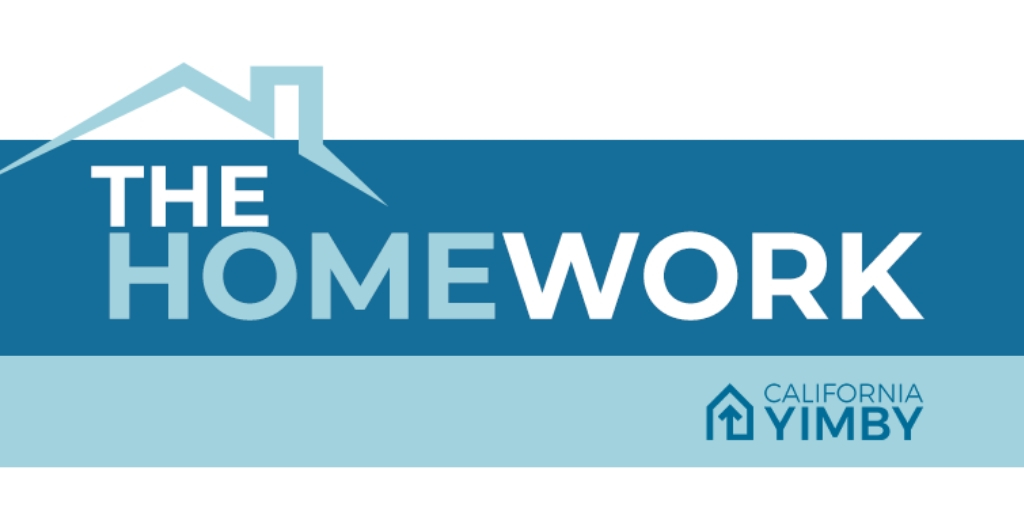 Welcome to the March 06, 2020 edition of The HomeWork, the official newsletter of California YIMBY. In each edition, we aim to support grassroots YIMBYs with the most up-to-date thinking on how to end the housing shortage. The HomeWork offers top news clips, cutting-edge research by leading academics in housing and related studies, and the latest writings from the California YIMBY team on our blog.
We welcome your ideas and feedback — send story tips and ideas to Homework@cayimby.org.
Sign up to get The HomeWork directly in your inbox!
---
A roundup of hot legislative action from our team in Sacramento:
Housing is a huge issue for the Legislature again this year: of the approximately 550 bills in the Legislature, we estimate more than 10 percent are related to housing and transportation.
The first round of policy committees are starting, which means it's time to start taking positions on bills. California YIMBY is proud to be sponsoring:
AB 1851 (Wicks), which will make it easier to build housing on vacant land owned by churches, faith communities, and similar local organizations.
AB 2137 (Wicks), which will make it easier for cities to build more affordable housing by limiting the ability of housing opponents to challenge and block affordable housing in court.
To support these bills or hear more about what California YIMBY is working on, contact Louis Mirante at louis@cayimby.org. Stay tuned for more deep dives in upcoming housing legislation!
---
Good with coffee and avocado toast:
---
California YIMBY brings you summaries of cutting-edge research from the nation's top housing experts. In this edition:
A Closer Look at the Impacts of Impact Fees
We're doing a "throwback Thursday" installment of The Homework to highlight some newly-timely research published last year by UC Berkeley's Terner Center for Housing Innovation on housing impact fees. After the 1978 passage of Proposition 13, localities began to rely more heavily on fees and other exactions from new development to cover the cost of infrastructure and service needs after property tax revenue dried up. AB 879 (Grayson) expanded reporting requirements on local housing development progress, and mandated a study on impact fees. What follows is a careful survey of 40 jurisdictions, with more detailed case studies of 10 local governments, analyzing the nature and impacts of impact fees.
Key Takeaways:
Fees vary widely and add up quickly, making financial projections difficult for developers. The report recommends more transparent fee schedules and regular reporting to help make cost estimates more predictable.
Fee structures are charged and collected at different rates across jurisdictions, often in ways that promote sprawl and discourage multifamily affordable multifamily housing.
There is no one standard methodology used for setting fees, and cities use different benchmarks for feasibility, which can exacerbate exclusion.
---
---
"I work with schools in educationally underserved communities across California. I can no longer be silent during this housing crisis. I'm speaking up for the children in our community, because the crisis is having a terrible impact on their education."
— Prabhu from AHLA Speaks Up
READ MORE →
---
Share the good word
Thanks for reading to the end of the newsletter. Like what you read or have feedback?
Reply to this email, pass it along, and encourage your friends to sign up.