The HomeWork: February
05, 2020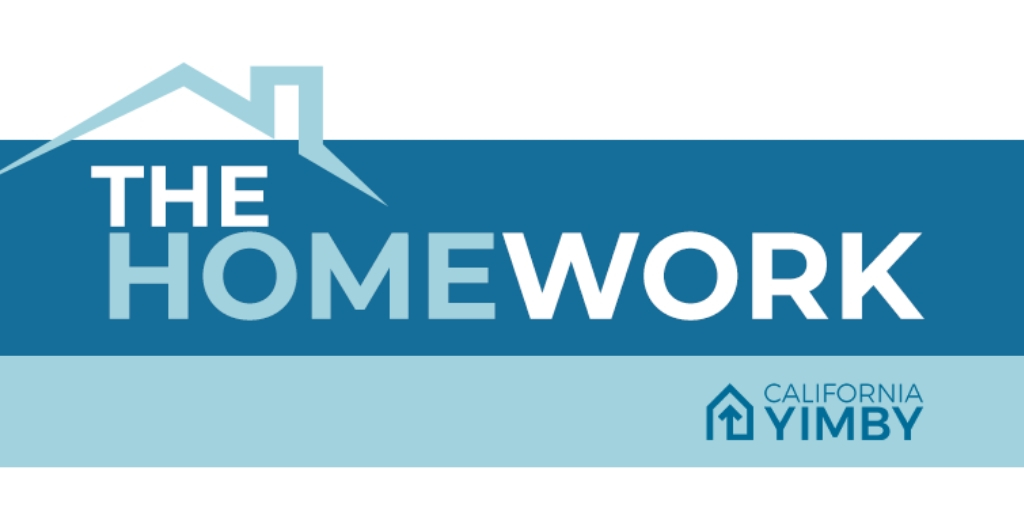 Welcome to the February 05, 2019 edition of The HomeWork, the official newsletter of California YIMBY. In each edition, we aim to support grassroots YIMBYs with the most up-to-date thinking on how to end the housing shortage. The Homework offers top news clips, cutting-edge research by leading academics in housing and related studies, and the latest writings from the California YIMBY team on our blog.
We welcome your ideas and feedback — send story tips and ideas to Homework@cayimby.org.
Did someone forward this email to you? Sign up to get it here.
---
A roundup of hot legislative action from our team in Sacramento:
On January 30, the battle for SB 50, the More HOMES Act, failed to pass the state Senate. While we're disappointed in the vote, we're confident it was a setback — and not a defeat. The momentum for more homes continues to grow.
Just three years ago, our legislators and city leaders would scarcely acknowledge that we have a housing shortage; now, the debate is about what and where we should build — not if we should build. Our coalition has grown larger, broader, and more representative. California YIMBY now has nearly 80,000 members and a passionate network of volunteers and allies. Statewide polling continues to show that California voters support more homes near jobs, public transportation, and services.
READ MORE →
---
Good with coffee and avocado toast:
---
California YIMBY brings you summaries of cutting-edge research from the nation's top housing experts. In this edition:
New Housing is a Friend, Not Foe, in Fighting Gentrification —
Evan Mast and his colleagues at the W.E. Upjohn Institute have become rising stars in the growing field of housing economics research. In a new working paper "Supply Shock versus Demand Shock," Asquith, Mast, and Reed (2019) make a compelling case for new housing supply as a tool for mitigating rent increases and absorbing demand shocks, rather than causing them. "Contrary to common concerns," they conclude, "new buildings slow local rent increases rather than initiate or accelerate them." So what does the data say?
We can break it down into three key findings:
By comparing low-income neighborhoods with new market-rate development to nearby neighborhoods without it as a rough control condition, the authors found that new development can keep rents lower by 5-7% less than what they otherwise would be. Note that this doesn't mean rents go down; rather, rent increases, on average, are slowed. (One might even speculate that the latter is a precondition of the former.)
Reinforcing results from Mast's previous paper, the data shows that the "amenity effect" of bringing in new market-rate supply, higher-income earners, restaurants, SoulCycle—you name it—this effect is vastly smaller than the benefit that new supply brings in mitigating rents.
While new development increases in-migration to the neighborhood, newcomers primarily arrive to live in newly-built market-rate housing. In-migration to older housing stock actually decreases on average.
READ MORE →
Housing is Opportunity, Part 2: Homeownership
The other half of the Terner Center's new research series investigates the connection between housing supply and entry-level homeownership. Since owning a home has been a pivotal rung on the ladder to the American middle class, the availability of housing affordable for first-time homebuyers is a critical piece of the puzzle in tackling the nation's widening wealth inequalities. Key takeaways:
Homebuilding has slowed down in relatively affluent coastal regions and declining industrial areas in the Midwest. This is a devastating pattern.
What has been built has trended toward more expensive and larger single-family dwellings. This tendency toward lower densities and more square footage per resident is squeezing lower-income potential homebuyers out of the market.
New homebuyers are increasingly richer, older, and whiter.
Naturally, here's the kicker: we can reverse these trends by building more housing, more densely.
READ MORE →
---
---
"The housing crisis is very real, especially in communities like Pacoima," said Veronica Padilla, Executive Director of Pacoima Beautiful. "As transportation investments are earmarked for frontline communities, it is imperative to include anti-displacement language into policy such as SB 50 in order to avoid unintended consequences for these communities."
READ MORE →
---
"I'm a YIMBY because I want to reverse the injustices of our past.
I'm a YIMBY because I see the effects of the housing shortage every day.
And I'm a YIMBY because I believe people have the right to live in an affordable, safe home."
— Meet Joshua, member of East Bay for Everyone
READ MORE →
---
Share the good word
Thanks for reading to the end of the newsletter. Like what you read or have feedback?
Reply to this email, pass it along, and encourage your friends to sign up.