California's Lieutenant Governor, Controller, Treasurer, & Insurance Commissioner Endorse
SB 50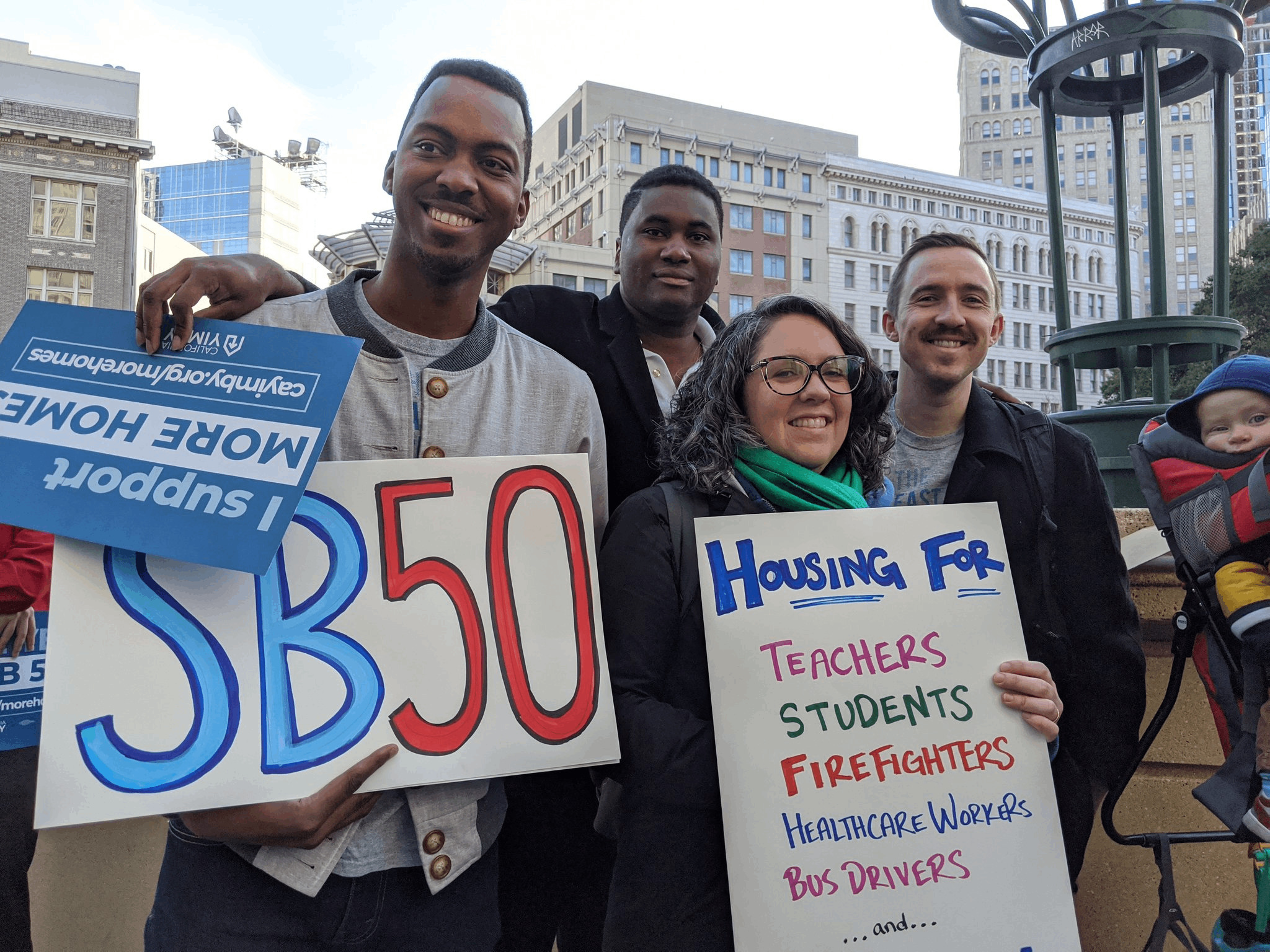 Growing Chorus of Leaders Call for State to Act on Comprehensive Housing Reform
Sacramento, CA – Today, California's Lieutenant Governor Eleni Kounalakis, Controller Betty Yee, Treasurer Fiona Ma, and Insurance Commissioner Ricardo Lara announced their support for California State Senator Scott Wiener's SB 50, the More HOMES Act, which will allow cities to build urgently-needed housing near public transit and job centers. The bill ends apartment bans in cities across the state and legalizes multi-family homes like fourplexes. It also includes aggressive protections for renters, plus requirements that developers include affordable housing in their projects. 
According to academic and private sector researchers, California has a 3.5 million home deficit, equal to the housing deficit of the other 49 states combined. California ranks 49 out of 50 states in homes per capita. Since the early 1960s, California's population has almost tripled, while its housing production has declined by about two-thirds.
"As someone who spent 18 years in the housing industry, I saw this crisis coming for a long time," said Lieutenant Governor Kounalakis. "This bill is the most impactful attempt to date to deliver more homes to Californians while ensuring that every jurisdiction across the state absorbs a fair share of the burden."
"If policymakers do not act in a stable economy to address our housing challenges, housing costs could continue to rise even amidst lay-offs and furloughs. With less revenue to spend on important state programs, policymakers will be confronted with difficult choices between housing assistance and other critical social safety net services," said Controller Yee, the state's chief fiscal officer. "SB 50 recognizes the critical fact that, to have any chance at meeting more ambitious housing targets, significant zoning changes must be made."
"California's severe housing crisis is harming our economy, pushing families into homelessness, and threatening the future of our young people and our state," said Treasurer Ma. "We must take action today. SB 50 is a meaningful piece of legislation that will help address a problem in need of bold solutions."
"The devastating wildfires that have decimated communities living in high risk fire areas the past few years is a clear sign that we as a state need to be looking at where and how we build homes," said Insurance Commissioner Lara. "The fact is, California is reaching crisis level on affordable housing options which pushes people to increasingly rural areas where they face higher risks. SB 50 is one step we need to take to protect the people of California."
"California's severe housing shortage is harming millions of Californians, and it's time to act with bold and decisive pro-housing steps," said Senator Wiener. "It's time to stop kicking the can down the road and instead do what Californians want us to do: address our housing crisis now. As we build the millions of new homes we know we need, we need to ensure that we avoid endless and environmentally destructive sprawl. We should focus new housing near jobs and transit."
"These leaders were elected to statewide office to address issues of statewide concern, and it's heartening that they've joined the growing chorus calling for More HOMES," said Brian Hanlon, President of California YIMBY, which is a co-sponsor of the More HOMES Act. "California YIMBY is committed to working with the legislature to advance a suite of other bills that are needed to end the housing crisis, but SB 50 must be a part of any comprehensive solution."
The More HOMES Act creates new incentives for the construction of housing within one-half mile of existing transit stations in California cities and includes protections against displacement for renters and sensitive communities living in those areas. The bill is designed to help relieve the acute housing shortage in California's cities while reducing pressure to build housing far away from job and educational opportunities, which forces long commutes and exacerbates pollution. 
SB 50 is also supported by the State Building and Construction Trades Council, Habitat for Humanity, the Non-profit Housing Association of Northern California, the California Association of Realtors, the Natural Resources Defense Council, AARP California, the California League of Conservation Voters, CALPIRG, Environment California, the California Apartment Association, the San Francisco Housing Action Coalition, the California Renters Legal Advocacy and Education Fund (CaRLA), and a host of other renter, business, and labor organizations.
It also enjoys bipartisan support from members of the Legislature and support from numerous mayors and city council members from around the state, including San Francisco Mayor London Breed, Oakland Mayor Libby Schaaf, Sacramento Mayor Darrell Steinberg, San Jose Mayor Sam Liccardo, and Stockton Mayor Michael Tubbs.