California YIMBY Announces Landmark Legislation to Align Housing, Land Use, and
Climate Policy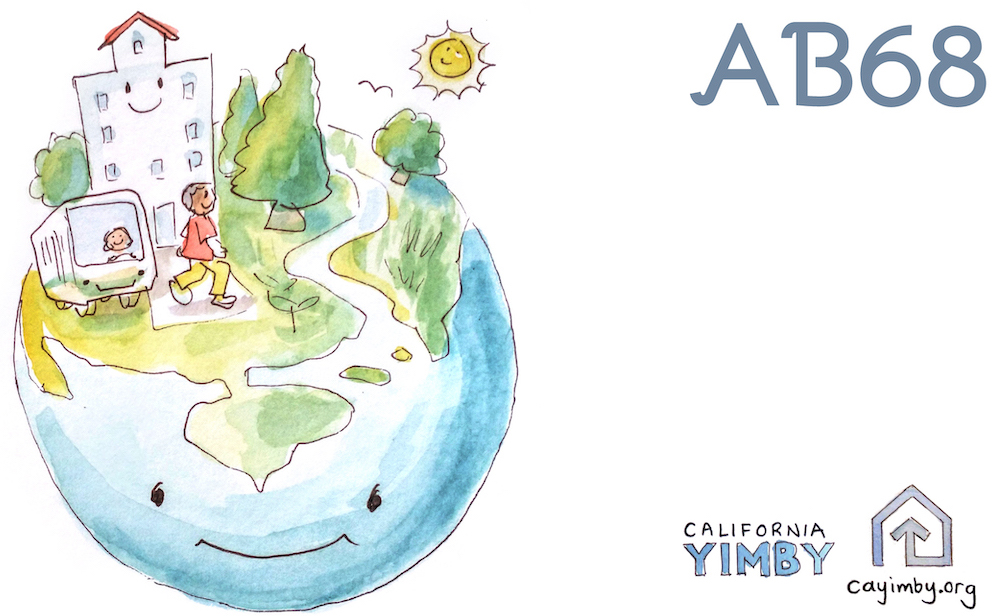 "Housing and Climate Solutions Act" Legalizes Climate-Safe Housing, Addresses Sprawl; Bill Includes Land Conservation Measures, Incentives for Walkable Neighborhoods
"The most important climate legislation of the decade"
SACRAMENTO – Today, California YIMBY joined with The Nature Conservancy to co-sponsor Assembly Speaker pro Tempore Chris Ward's AB 68, the "Housing and Climate Solutions Act," which will advance and expand California's long history of international climate leadership by integrating land use, housing, and related conservation policies to achieve housing affordability and climate mitigation objectives.
The Act includes fundamental reforms that strengthen and expand existing state laws designed to legalize multi-family homes in walkable neighborhoods, and in areas with access to transit – measures that are key to enhancing housing affordability while reducing climate pollution from cars.
The bill also extends new protections to natural and working lands and habitats that are vital for climate resilience, including lands known to mitigate the pollution that causes climate change, as well as lands that provide critical buffers from climate-driven wildfires and floods.
"California's world-renowned leadership on climate change has allowed us to continue to grow our economy while reducing the pollution that causes climate change – but when it comes to housing policy, there's been a giant gap in the approach," said Brian Hanlon, CEO of California YIMBY. "The Housing and Climate Solutions Act aligns our housing policies with our climate policies, and closes the gap between our climate ambitions and our actions. This bill is a must-pass – for housing affordability, for broad-based prosperity, for land conservation, and for climate action."
The provisions of AB 68 grew from a multi-year collaboration between experts in housing affordability, climate resilience and adaptation, land conservation, and pollution mitigation. The Alliance for Housing and Climate Solutions recognized that, without fundamental reforms, housing sprawl would combine with ever-longer car commutes to push California's housing affordability and climate goals out of reach: the state needs millions of new homes this decade to achieve its affordability goals; meanwhile, according to the California Air Resources Board, California must reduce how much people drive by at least 25% this decade to meet its climate targets.
In addition to allowing for more affordable, multi-family housing in walkable or transit-accessible neighborhoods, AB 68 includes the first-ever provisions to protect lands that are known "carbon sinks," as well as lands that are considered at extremely high risk of wildfires and floods. For the past 30 years, most new homes in California have been built in these high hazard zones – putting lives and family fortunes at severe risk of catastrophic loss and displacement.
"Too many Californians have been forced to live in areas that are in the crosshairs of catastrophic climate impacts," said Melissa Breach, COO of California YIMBY. "Our housing policies should minimize climate risk and protect our residents – but instead, they're adding fuel to the fire. We have to accelerate home building away from hazard zones, and closer to jobs and services, so people can spend more time with their families – and less time in polluting traffic. AB 68 will ensure we build safe and affordable homes in our communities, and give more Californians access to a climate-safe future."
The Act adds provisions to prior state law establishing "Sustainable Communities Strategies," along with Master Environmental Impact Reports, that were intended to accelerate multi-family, "infill" housing development in areas identified by jurisdictions as "climate safe." Most jurisdictions failed to follow their own plans, and have seen little or no housing growth in these areas; AB 68 will make it faster and easier to build homes in these areas, helping advance existing state climate and affordable housing goals.
AB 68 also includes the first-ever provisions designed to discourage sprawl development by requiring that municipalities first consider housing developments within existing communities, away from areas known to be at high risk of fire and/or flood.
To learn more about AB 68, visit https://cayimby.org/ab-68.