ICYMI: Majority of California Voters Support
SB 50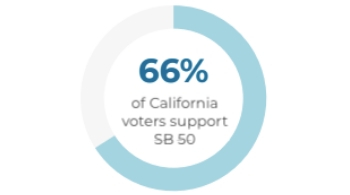 Multiple polls show 60%+ statewide support for zoning changes near jobs, transit
Pushing back against misinformation from AIDS Healthcare Foundation
To learn more about amendments to the More HOMES Act – visit cayimby.org/morehomes
Sacramento, CA – Over 60 percent of California voters have repeatedly said they want to see the state act to make it easier to build homes near transit and jobs, and support the regulatory and other changes necessary to legalize housing in urban areas, according to polls conducted by California YIMBY, the Public Policy Institute of California, and Change Research.
In June of 2019, PPIC released a statewide poll of voters that found:
Solid majorities support two state policy proposals [see image below] intended to create more affordable housing: 62 percent favor requiring local governments to change zoning for new development from single-family to multi-family housing near transit and job centers, and 61 percent favor requiring localities to approve a certain amount of housing before receiving state transportation funding.
In May of 2019, California YIMBY released a poll with similar findings: 
A full 66% of California voters statewide support Senate Bill 50, the More HOMES Act, when told of its key provisions that would increase the number of homes near transit and jobs, and protect renters from displacement. That support remains at a strong 63% even after hearing opposition messages about protecting community character and blocking the construction of tall buildings.

The poll, which included an oversample of African American and Latinx voters, also found that a majority are supportive of building more homes specifically "in your community" (61% support to 30% oppose). Voters agree with the key goal of SB 50: That the best place to build new housing is near transit and in areas with the most jobs (71% support, 37% support strongly).
Voters in support of SB 50 are much more enthusiastic than voters in opposition, with strong support totaling 38% and strong opposition totaling only 9%. While there is majority support from all key demographics, renters, Democrats, Black voters, and Latinx voters are the most intense supporters.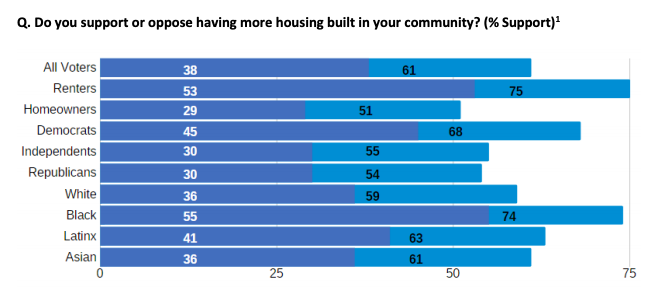 In addition, when told of the bill's specific provisions for affordable housing and renter protections, support for the bill is even stronger, with 77% of California voters favoring new market-rate developments that set aside affordable housing for moderate- and low-income workers: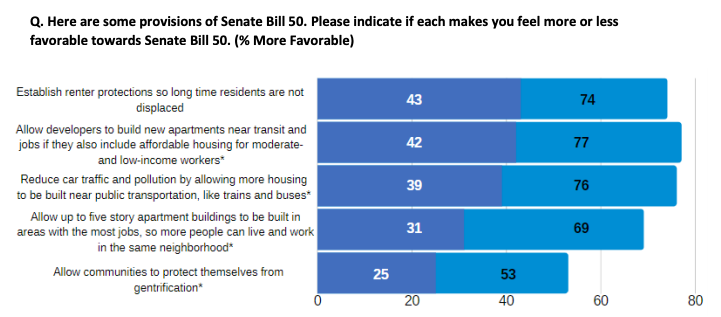 In April of 2019, Change Research found that over 60% of Californians back SB 50: 
New Change Research polling from California shows that over 60 percent of all voters in that state support Senate Bill 50, which would change zoning codes to allow taller residential buildings near public transit and increase affordable housing and tenant protections. Californians select housing affordability as the biggest issue facing their state right now. They also believe that public schools in their state are performing poorly, but oppose the expansion of charter schools.
The AIDS Healthcare Foundation, a Los Angeles-based opponent of allowing more homes in California, has launched a statewide campaign to mislead voters about SB 50, including printed flyers distributed in Los Angeles and the Bay Area that claim the bill includes no provisions for affordable housing; that the bill has no protections for renters; and that the bill allows eviction of renters and demolition of affordable housing. None of these claims are true.
SB 50 enjoys the support of equity, anti-poverty, and affordable housing groups for the strong tenant protections and anti-displacement provisions in the bill. New provisions added to SB 50 in January by affordable housing and equity advocates give local residents priority in new affordable housing that is built under the bill; 40% of these units will be prioritized for local, low-income residents who qualify. 
The bill also still gives sensitive communities five years after the bill is signed to craft strong plans that protect their residents from displacement and gentrification. Senator Wiener, California YIMBY and our allies are working to ensure these communities receive state resources to support the planning process during the 5-year period. 
In addition, high-resource communities with higher average incomes, high concentrations of jobs, good schools, and access to amenities will have two years to show they can create more affordable housing than SB 50, or the provisions of SB 50 take effect — a win-win for affordable housing and for incorporating local knowledge in planning decisions across the state.
"While the opponents of SB 50 may be well-funded and loud, it's important to remind our elected leaders that they do not represent the majority of Californians," said Brian Hanlon, President and CEO of California YIMBY. "In fact, we know from experience — and these poll results confirm — that most Californians want to see bold action on housing, and for most Californians, that means passing SB 50." 
 To learn more about amendments to the More HOMES Act – visit cayimby.org/morehomes
###
About California YIMBY: California YIMBY is a community of neighbors who welcome more neighbors. We believe that an equitable California begins with abundant, secure, affordable housing. We focus on housing and land use policy at the state and local level to ensure grassroots organizers and city leaders have the tools they need to accelerate home building. https://dev-ca-yimby.pantheonsite.io/