AARP California Announces Support for SB 50 – the More
HOMES Act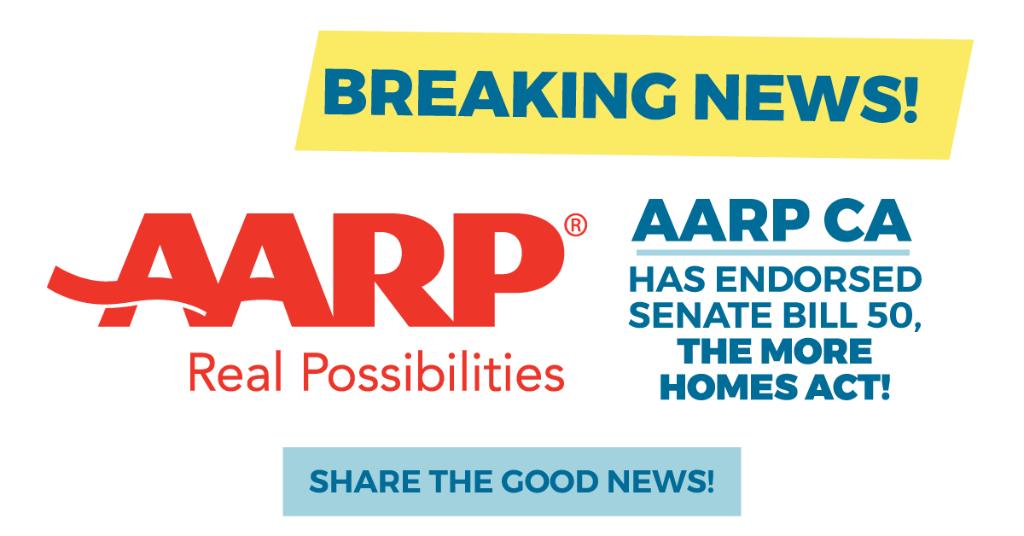 California's largest organization for older citizens supports goals of infill housing, transit-friendly communities
3.3 Million Members to be Called to Action
Sacramento, CA – California YIMBY today announced that AARP California, the voice of over 3 million Californians over 50, has signed on as a supporter of SB 50 – the More HOMES Act, to support the goals of providing abundant, affordable housing near transit, jobs, and the services concentrated in urban areas.
"AARP members are increasingly drawn to our urban cores to enjoy the proximity of services and the walkability of our urban neighborhoods — and we want to help ensure there are enough affordable housing options to accommodate them," said Nancy McPherson, AARP California State Director. "But many older adults who can afford to stay in California are seeing family members, close friends, and caregivers leave the state due to the high cost of housing. We're hopeful that the More HOMES Act will help correct this and provide more housing stability for Californians of all ages."
The more HOMES Act creates new incentives for the construction of housing within one-half mile of existing transit stations in California cities, and includes protections against displacement for renters and sensitive communities living in those areas. The bill is expected to help relieve the acute housing shortage in California's cities while reducing pressure to build housing far away from job and educational opportunities, which forces long commutes and exacerbates pollution.
"California YIMBY is honored to be joined by AARP California and its 3.3 million members in our efforts to make sure California is for everyone," said Brian Hanlon, President of California YIMBY. "Our cities are increasingly the hubs not just of commerce and technology, but also for older Americans seeking out more social, walkable, active environments. Our communities thrive when we have enough housing to accommodate everyone, at all stages of life."
AARP surveys reveal that 77 percent of persons 50 and older want to remain living in their community as they age, but many lack local housing options that fit their needs and financial resources.
For many older adults, the current housing crisis in California is an extreme burden. Recent research from the University of California, Los Angeles found that 78 percent of low-income older adults in California are "rent-burdened," meaning they spend at least 30 percent of their income on housing – and more than 55 percent of low-income older adults spend more than 50 percent of their income on housing.
###
About California YIMBY: California YIMBY is a community of neighbors who welcome more neighbors. We believe that an equitable California begins with abundant, secure, affordable housing. We focus on housing and land use policy at the state and local level to ensure grassroots organizers and city leaders have the tools they need to accelerate home building. https://dev-ca-yimby.pantheonsite.io/
California YIMBY is a co-sponsor of the More HOMES Act. To learn more, visit http://cayim.by/morehomes