SB 450 — Strengthening SB 9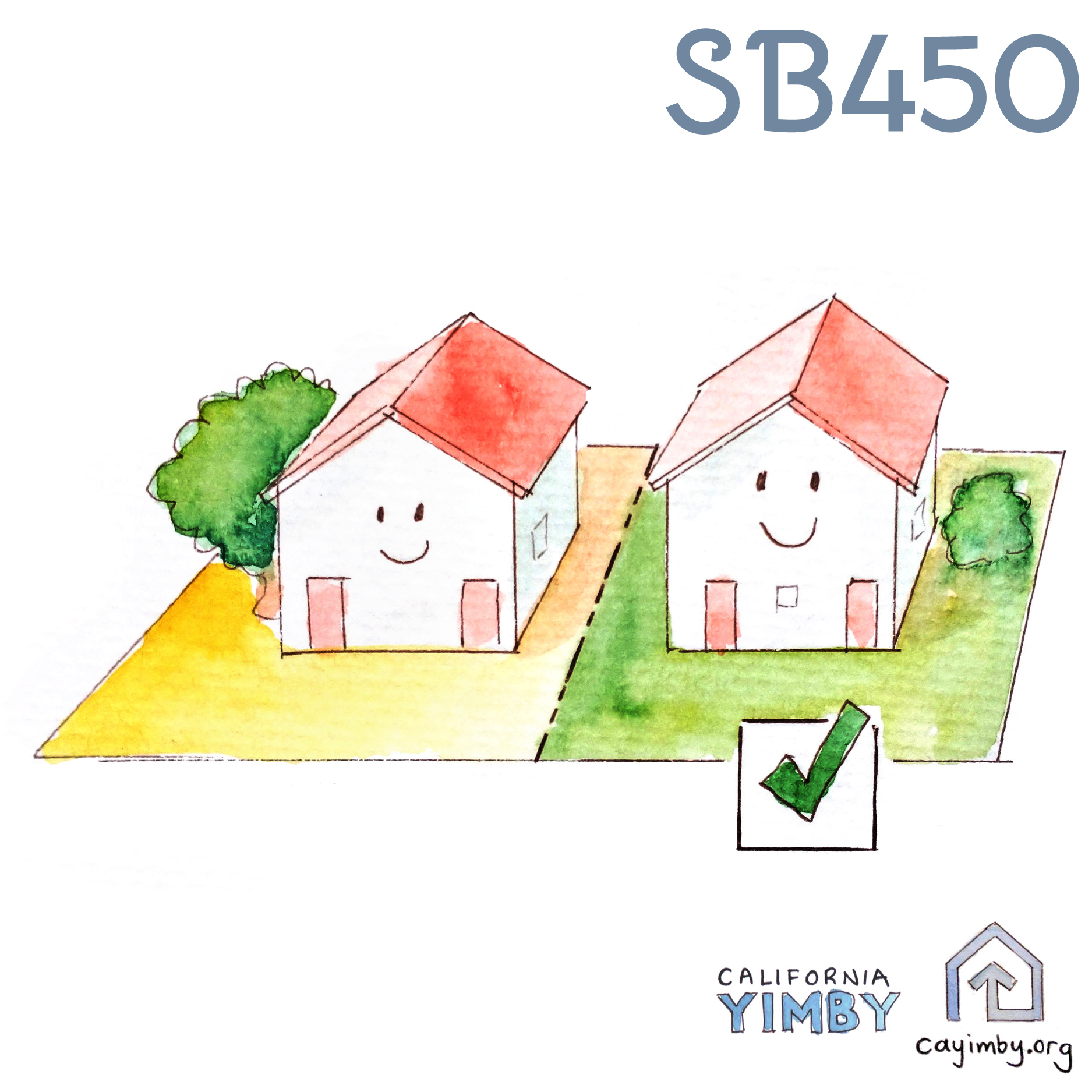 SB 9, passed in 2021, ended single-unit-only zoning and legalized duplexes and lot-splits throughout California. But many cities have found creative ways to effectively ban the housing made possible by SB 9 in their jurisdictions. SB 450 would strengthen SB 9 by clarifying the intent and purpose of the law, and by giving state agencies the authority to enforce its provisions in cities that try to block it.
SB 9, passed in 2021, eliminated single family zoning by allowing homeowners to split their lot and build a duplex on each new lot. Although SB 9 created an important tool for creating more homes in infill areas, cities have found creative ways to effectively ban SB 9 projects in their jurisdictions.
Following its passage, many cities enacted highly subjective standards that make it impossible to use the provisions of SB 9 to actually build housing. Some of these standards, such as onerous design reviews, create prohibitive costs; others, such as building setbacks and low height limits, make it physically impossible for homeowners to proceed with SB 9 projects.
Builders who use SB 9 to build homes, such as Homestead, have cataloged examples of onerous SB 9 ordinances. SB 450 addresses some of the most egregious examples of bad-faith SB 9 implementation:
Prohibits local governments from assigning objective zoning, subdivision, or design standards to SB 9 projects that do not apply to the underlying zoning (single-unit zoning)

Requires local governments to respond to SB 9 applications within 60 days, after which time the application will be deemed approved

Bars local governments from denying a lot split application based on its impact on the physical environment

Gives the Department of Housing and Community Development (HCD) oversight and enforcement authority over SB 9
Updates: SB 450 passed the State Senate on 5/24/23 by a 30-7 vote. It will now go to the Assembly for consideration.
Author: Atkins (D, SD 39)
Resources:
Contact your legislator
Sign our petition to urge your legislators to support our 2023 legislative priorities.
Donate to support our agenda
Donate now to support housing for everyone.
Join our Team
Sign up for our Rapid Response Team.