Our History
In the three years since our founding, California YIMBY has been at the forefront of major legislative victories that will help end the housing shortage and make California a more equitable, affordable, and livable state.
A Fast-Growing Movement

We've built a fast-growing, statewide movement for housing reform, with over 80,000 members and 20 local teams comprised of volunteers dedicated to ensuring all Californians and future Californians have a home. From Humboldt to San Diego, California YIMBY organizers are engaging voters, homeowners, renters, businesses, civic leaders, faith communities, affordable housers, and changing the conversation about housing. We connect our volunteers and members directly with the local and state leaders who write and pass policy.
Popular Solutions for the Housing and Climate Crises
Our solutions are wildly popular with California voters. Across the political, economic, and demographic spectrum, Californians understand that the housing crisis is the result of a shortage of homes — and that allowing more homes to be built is the solution. Fully 66% of Californians support making it legal for more homes to be built near transit and jobs while protecting tenants. That includes "Yes In My Back Yard" voters who would welcome new homes in their neighborhoods — and on their blocks.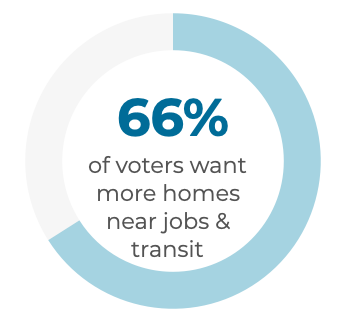 Grounded in Research
Our legislative and policy agenda is guided by empirical research into the causes of the housing shortage and housing cost burdens, and the measures needed to overcome them. We work closely with top housing researchers and academics from across the US, including California's extensive network of experts on land use, urban planning, housing affordability, transportation systems, low-income housing, and related finance and tax policies.  
Changing the National Debate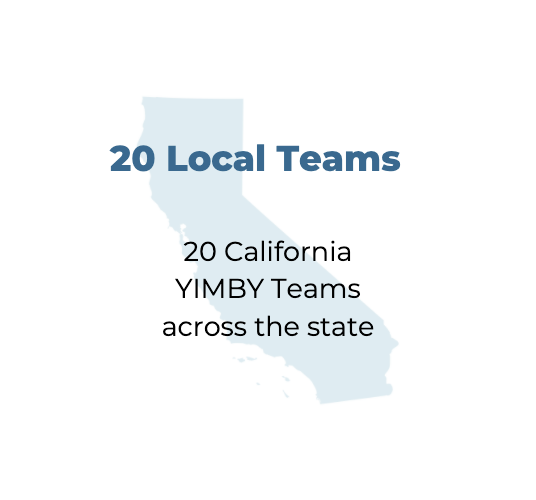 As the largest YIMBY organization in the largest state in the US, California YIMBY has played an outsized role in advancing the cause of affordable housing and urban land use reform across the country. As our policy priorities advance in the Golden State, other states are taking notice — and taking action: Zoning and land use reform is moving forward in states across the country, taking lessons learned and concepts from our efforts in Sacramento and bringing them to state houses far and wide. 
Our pro-housing agenda is also supported by scores of advocacy organizations, with policy partners like AARP, the League of Women Voters, NRDC, the California Labor Federation, the California Chamber of Commerce, the Nonprofit Housing Association of Northern California, Silicon Valley Leadership Group, and the California Association of Realtors.