What
California YIMBY is a 501(c)(4) non-profit organization that works to make housing more affordable and accessible. We're focused on growing the YIMBY movement in California and building a pro-housing coalition to pass state legislation to increase homebuilding, thereby making our state more affordable and inclusive.
---
Why
Over the past 40 years, California has built new homes at less than half the rate needed to keep pace with population growth, according to the State Housing and Community Development Department and the nonpartisan Legislative Analyst's Office. This underbuilding has created a huge rent burden, displacement, racial and economic exclusion, and increased commute lengths. Working to reverse these trends, California YIMBY's mission is to build a California for everyone.
---
Who
Brian Hanlon, CEO. Brian co-founded the California Renters Legal Advocacy and Education Fund (CaRLA) in 2015, which sues cities that violate state housing law. CaRLA's novel impact litigation strategy yielded victory against Berkeley, lead to the drafting of SB 167, generated enormous press coverage for the YIMBY movement, and put scofflaw cities on the defensive across the state. Prior to co-founding CaRLA, Brian spent 10 years working for the US EPA and the US Forest Service. When he's not fighting to expand housing affordability and access, Brian can be found cycling in the East Bay hills.
Stacy Cohen, Executive Vice President & Chief Advocacy Officer. After 20 years working as a film exec and producer, Stacy accidentally transitioned to a career in politics when she volunteered on Barack Obama's 2008 presidential campaign and couldn't stop. She joined the President's field team for the 2010 midterms as the CA Field Director and continued on through the 2012 campaign. Stacy​ ​worked ​to support the​ President's second term policy ​agenda​ as CA State Director at Organizing for Action. She's passionate about storytelling and training new organizers.
Louis Mirante, Legislative and Partnerships Director. As an analyst in the California Department of Finance, Louis worked to develop and pass Governor Brown's 2017 and 2018 budgets. This included work on legislation to improve the delivery of services and quality of labor protection. Previously, Louis was an Executive Fellow with the California Air Resources Board in the Office of the Chair and in the Legislative Affairs Division of the Department of Transportation. In 2016, Louis co-founded House Sacramento, a local YIMBY organization.
Joe Kavanagh, Director, Organizing Product Management. Joe has worked in political organizing data for eight years, having started with the DNC in the 2010 midterms as a Special Projects Manager and serving as the California Data Director during the Obama 2012 campaign.  Since then he has worked with various non-profit and for-profit companies to help them design better organizing systems to engage the communities they work with. When he's not busy in the office he acts as a judge for the Magic: The Gathering card game and currently serves as a senior adviser to the Southwest USA Region.
Aaron Eckhouse, Regional Organizing Lead. Aaron grew up in Iowa after his parents were forced out of the Bay Area by high housing costs and underfunded public schools. He moved to California two years ago, where he was taken by the beautiful landscape, amazing produce, and obscenely high rent. He is excited to apply his organizing experience from the 2012 Obama campaign and his YIMBY experience with East Bay for Everyone to the task of ending California's housing shortage.
---
Join Our Team
Job listings at California YIMBYJobs Provided by ZipRecruiter
---
How
California YIMBY's tripartite strategy to end the housing shortage: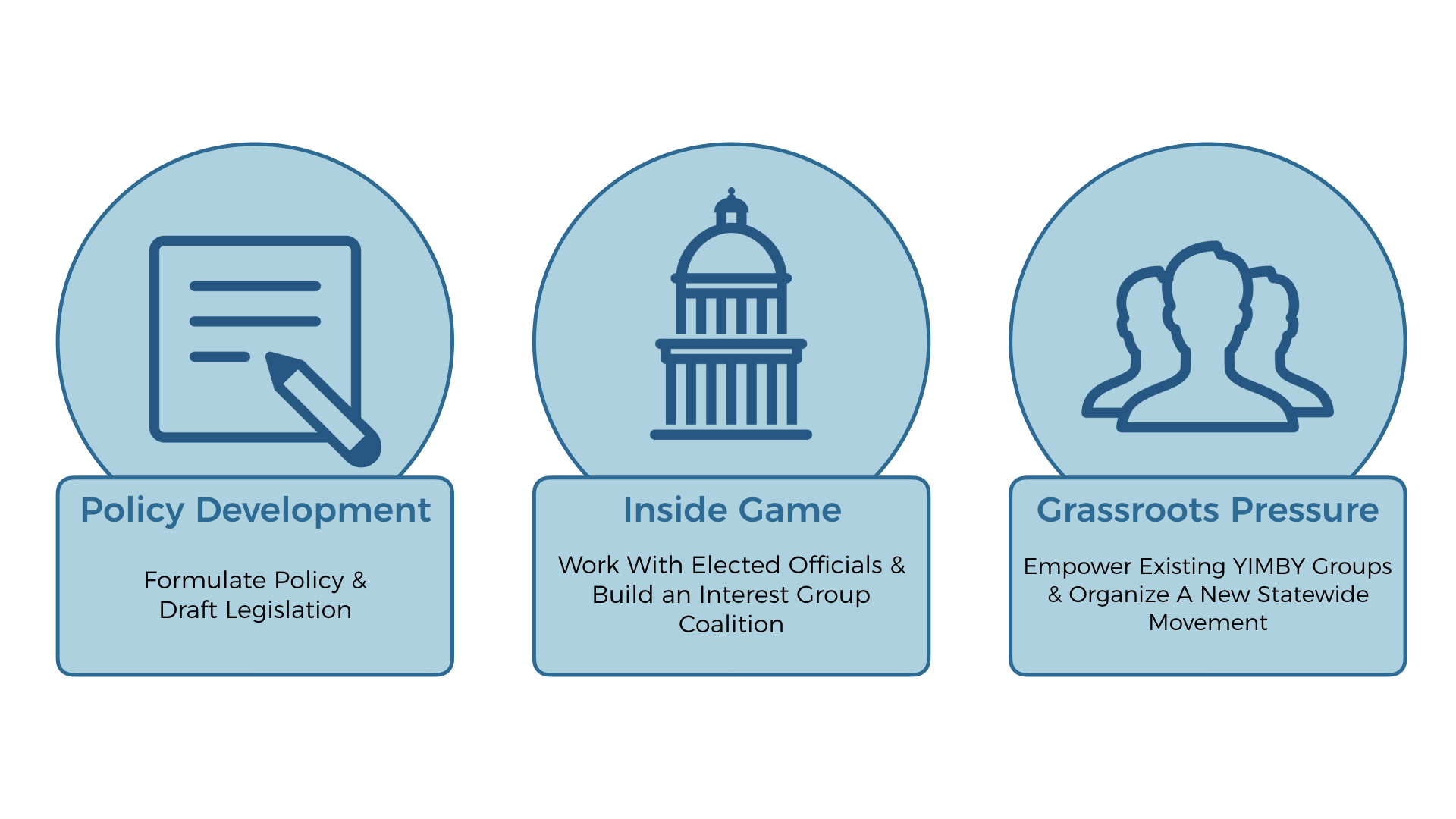 ---
Fundraising
Foundations and individual technology leaders have provided the vast majority of our funding. We hope to broaden our funding base by appealing to the millions of Californians who want a more affordable and inclusive state. Donations are very much appreciated, but are not tax deductible, since much of our works consists of issue advocacy.