AB 725 – Missing Middle Housing
AB 725 makes it easier for cities to allow medium-density housing by helping local governments, especially those in high-cost coastal areas, plan for more inclusive, multigenerational neighborhoods that accommodate various income levels.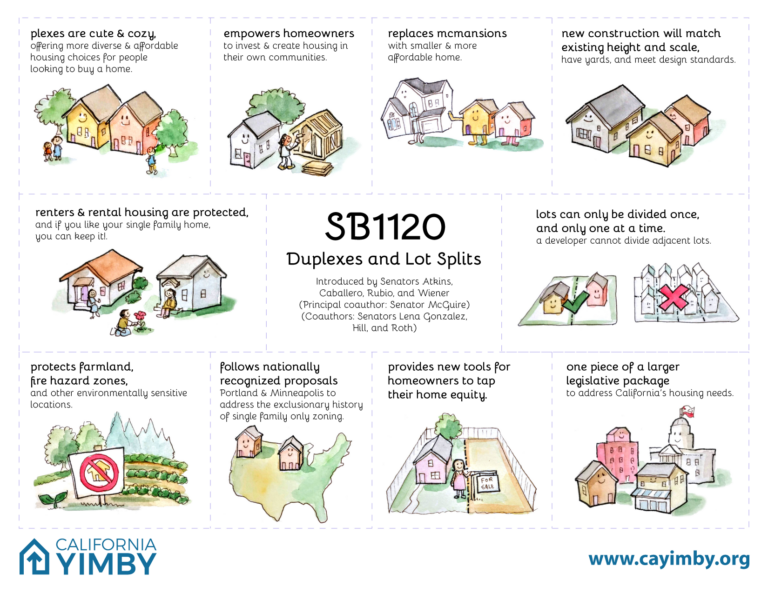 SB 1120 – Fourplexes Statewide
SB 1120 would have made it legal to build two homes on every property zoned for single-family homes in California. It would have also allowed single-family properties to be split into two lots, increasing the total potential to four homes (two primary residences and two ADUs).
AB 1851 – Help Churches Build Affordable Housing
AB 1851 would allow faith-based organizations like churches and other places of worship to reduce or eliminate parking requirements when they seek to build affordable housing on land they own or lease. AB 1851 would also allow faith-based organizations to build housing on their parking lots, and would prohibit cities from requiring the replacement of those parking spaces.
AB 3182 – Stop HOAs from Banning Renters
The overwhelming majority of new housing construction in California is governed by a Homeowner's Association (HOA). Due to a loophole in state law, these HOAs can prohibit homeowners from renting their properties, thereby limiting the pool of rentals and driving up rents in all other properties.
AB 3182 amends existing law to make it illegal for HOAs to ban renters.
Proposition 15 – Schools & Communities First
Proposition 15 (2020), or the Schools and Communities First Act, would have closed a corporate tax loophole that allows large corporations to avoid paying property taxes at current rates on properties they own. This measure would have reclaimed $11 billion every year to fund schools and strengthen local economies.
The ballot measure exempted all residential property and small businesses from reassessment, protecting homeowners and renters while leveling the playing field for small businesses.
Proposition 16 – Return of Racial Equity in Policy-Making
This initiative would have ended California's ban on affirmative action, which would have made race-conscious housing justice remedies more feasible.
Subscribe to The HomeWork -- the official newsletter of California YIMBY
A bi-weekly offering of data, analysis, curated articles, and other news you can use, from some of the best sources of information about the housing crisis — and how to solve it. Click here to subscribe.
We are currently formulating our 2021 legislation. Stay tuned for more by signing up for the Homework.